LOTTE ROTIE AUX ÉPICES GRILLÉES, RISOTTO SAFRANNÉ
Simple, delicious recipe provided by the Poissonneries de la Côte Catalane (La Criée) in Port Vendres. (All ingredients available there)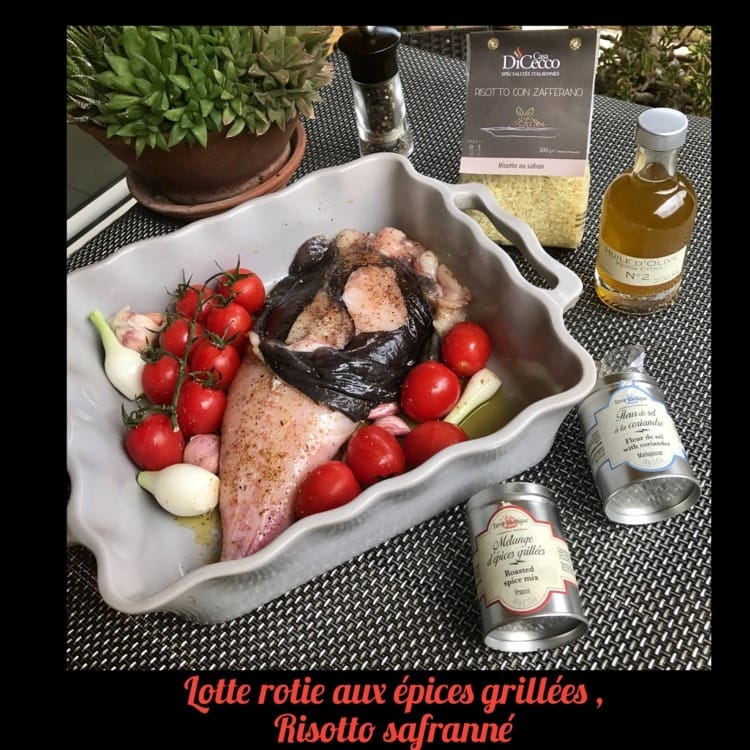 Roast Monkfish
– Preheat oven to 160°.
– Brush the cleaned monkfish with olive oil and sprinkle on the Terre Exotique grilled spices, followed by the Fleur de Sel à la Coriandre, and a twist of Poivre de Penja.
– Place the cherry tomatoes, spring onions and garlic heads around the monkfish and bake for 40 to 45 minutes.
Saffron risotto.
– Sauté the rice in olive oil until it is translucent.
– Drizzle in white wine to keep it moist, add the saffron threads or powder and leave to infuse..
– Add 700 to 800 ml of liquid (bouillon, water …) and simmer for 18-20 Minutes.
– once the liquid is absorbed, add butter or olive oil, and/or Parmesan according to your taste.
Bon appétit!