LOTTE ROTIE AUX ÉPICES GRILLÉES, RISOTTO SAFRANNÉ
Simple, delicious recipe with all but the cooking and eating organised for you.
IT'S IN THE BAG!
Pop into Les Poissonneries de la Les Poissonneries de la Côte Catalane (La Criée) in Port Vendres, hand over this recipe, watch the boats coming in as they put everything you need straight into a bag…. et Robert est ton oncle! How's that for easy shopping!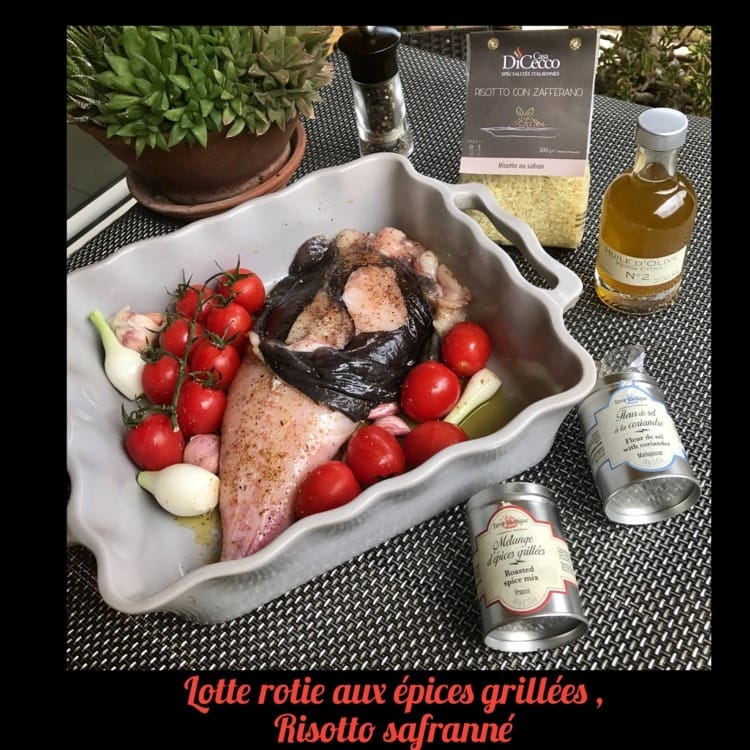 Roast Monkfish
– Preheat oven to 160°.
– Brush the cleaned monkfish with olive oil and sprinkle on the Terre Exotique grilled spices, followed by the Fleur de Sel à la Coriandre, and a twist of Poivre de Penja.
– Place the cherry tomatoes, spring onions and garlic heads around the monkfish and bake for 40 to 45 minutes.
Saffron risotto.
– Sauté the rice in olive oil until it is translucent.
– Drizzle in white wine to keep it moist, add the saffron threads or powder and leave to infuse..
– Add 700 to 800 ml of liquid (bouillon, water …) and simmer for 18-20 Minutes.
– once the liquid is absorbed, add butter or olive oil, and/or Parmesan according to your taste.
Bon appétit!