Wednesday 25th July 2012
Chevalissimo Tour 2012
21.30. Mas Pilou, Saint Cyprien
Andalusian passion and perfection
Watch man and horse unite in this flamboyant horse show presented by Sophie and Olivier Boutaud. Olivier is a master of doma vaquera, a Spanish cowboy horse riding art. The show will take you on a 90-minute trip into the world of Spanish riding, with a strong Camargue flavour and the accent on Flamenco rhythm.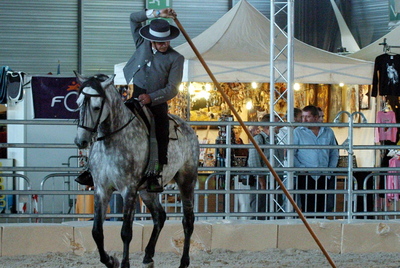 The group Andalucia and Florent Thomas will be the guests of honour along with their riders and the group Volteo.
Altogether, there will be 30 artists on 20 horses of the doma vaquero, rumba and flamenco, in a combination of gymnastics and acrobatics on horseback.
Gypsy group "Los Chiquitans" and Caroline Capitta will accompany them with live music.