Thursday 3rd May 2012

Le Grenat, Théâtre de l'Archipel, Perpignan
EL LLAC DE LES MOSQUES
Dance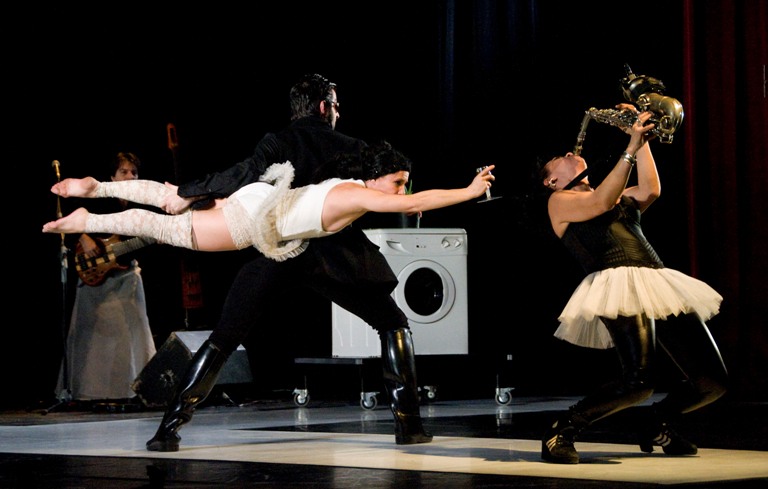 Catalan choreographer Sol Picó sets together dance, a rock concert and the female to create El Llac of the Mosques (the lake of flies). This ballet structured around a rock concert, is full of energy and questions about the female. A concert of rock and roll singer whose is not a singer but a dancer.
Sol Picó says…
Our 40's?-The good thing about being in your forties is that it is a good excuse to change your life. Be selfish, leave your children and husband and throw yourself into the void of a new relationship, or not. To be in a bad mood just 'because' or to go wild – all because of mid-life crisis.
And our 50's? The long awaited menopause.
And our 60's? Nicking stuff in the supermarket without ending up in prison, the trip of a lifetime and the long-awaited retirement.
Are we just carrying around too much baggage?
Do we even know what we are carrying around in our backpack?
Is our genetic inheritance weighing us down?
Perhaps the solution for giving up smoking is the menthol cigarettes that our mothers used to smoke?
Do we all have the same uncertainty?
When we reach a certain age it is fairly normal and dare I say recommendable to stop and reflect on our lives.
I propose a round-the-world trip with Aphrodite and her rocket-launching breasts remote controlled by the Mala Sombra (Bad Shadow) brothers.
I propose an adventure, a round trip, looking forwards and backwards, up and down -I feel sea sick!
How did we manage to get here? What else is there left to do? What haven't we been able to do or achieve so far?
More info:
‪Le Théâtre de l'Archipel‬
‪Avenue Général Leclerc‬
‪BP 90 327 – 66003 Perpignan cedex‬
‪Tel : 04 68 62 62 00‬
‪Email : info@theatredelarchipel.org‬

‪
Le Théâtre de l'Archipel‬
There is an exciting new addition to the Perpignan skyline. If you have been to Perpignan in the last few months you would have noticed a large construction along Avenue Général Leclerc and a giant concrete bubble. This bubble is ‬now‪ 'the grenat,' a large theatre space accommodating 1100 guests and the venue of the Théâtre de l'Archipel. Designed by renowned French architect Jean Nouvel, the theatre will bring a touch of prestige to the previously rundown edge of the city.‬
‪The new theatre and cultural precinct is designed to be an artistic & cultural hub for the city. Welcoming local and international artists, it is hoped the precinct will encourage a spirit of multiculturalism and social tolerance.‬
‪There is something for everyone in the season line-up including theatre, dance, circus, opera, classical & contemporary music, as well as a special programme for children. Some of the artists performing include Eric Cantona, Thomas Dutronc and Yael Naim. Ticket prices range from 11€ to 40€.‬
‪For ticket and performance information you can visit the theatre website: www.theatredelarchipel.org Here you will be able to read more about "the grenat" and take a virtual tour of the site.‬