CSF NEWSLETTER: NOVEMBER 2022
---
1st November 2022

-

30th November 2022
Event Navigation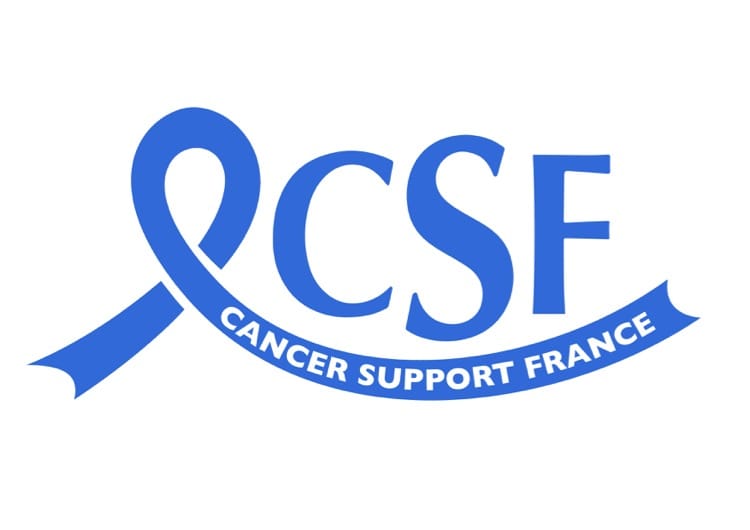 Hello Everyone
With the clocks going back and the hearts and minds of hundreds of small children and adults being preoccupied with ghouls and ghosts, spare a thought for Mother Nature who is trying to make sense of this topsy-turvy weather. Although the temperatures have dropped this week, my money is on a gentle winter with some really stunning sunsets. Evenings sitting outside wrapped up in a woolly scarf with a mulled wine and a few nibbles.
Autumn Open Meeting
On Thursday 13 October we met up for our annual Autumn Open Meeting in Perpignan.
Maggie spoke about the year so far and she read Penny Parkinson's report on the Help Line. Philomena O'Neill updated us on La Ligue.
I thought you might be interested to read about our talk from Gillie Steele- Bodger who runs a large Restos du Coeur Centre in Amélie les Bains. She told us why « Restos is much more than a food bank » She started right at the beginning with the founder – Coluche, a political satirist. He left school at 13 and was in and out of jobs and finally ended up in prison. By the 1960's he was doing alternative comedy. He even ran for President! He wanted to improve equality so in 1985 he started a soup kitchen calling it Restos du Choeur. 8.1 million meals were produced in the first year. Remember the food mountains in the 1980's? – he lobbied for this food to feed the poor. In 1987 aged just 35 he died following a motor cycle accident but by this time Restos was well on the way to becoming the well-run and well-funded organisation it is today.
Last year there were 20,000 centres with 142 million meals served to 1.2 million by 7,000 volunteers! In the P-O, 14,000 people registered and there were 629 volunteers. And it's not just meals. Centres are responsible for food distribution as well as donating secondhand clothes, linen, china, toys, books and school equipment, arranging hairdressers and annual medical screening for a variety of illnesses and vaccinations. Also there are french lessons and computer lessons and school help for children.
A huge amount of organisation and administration goes into the running of Restos and the volunteers at the Centres are people who are hardworking and motivated and committed to continuing the work started by Coluche all those years ago.
Art exhibition
On Sunday 23 October the Afternoon Tea with Art exhibition and auction was enjoyed by many despite the blustery Sunday afternoon. CSF Sud has profited handsomely from the generous gift from Bridget of her work and we thank her and those who donated to CSF Sud and took home a unique piece of art.
Urgent! Vacancy for a P-O Representative
Maggie Longworth's time as P-O Representative runs out at the end of December.
Her job involves co-ordinating events and activities across the P-O and participating in the general organisation of CSF Sud. It's a job that can easily be shared between two people.
Fortunately one person has come forward who is willing to share the role with someone else. If you would like to know more or you know someone who would be interested, please do contact Maggie by email sud-maggie@cancersupportfrance.org or by phone 06 80 38 65 96
The applicant(s) can be French or English and he or she does not have to be a part of CSF.
Drop Ins
**Christmas cards are on sale at all our events and on our website: https://cancersupportfrance.org/csf-national-shop where you can order online **
Wednesday 2 November, Pablo's Bar, Céret, 10.30
Come along for coffee and chat. There will also be books and Céret is a great place to meet up with friends.
Monday 21 November, Café des Artistes – Laroque des Albères, 10.30
Do come and browse the books and have a coffee. Meet friends and stay for lunch. We have a great deal of books and we would still like you to bring more! Please, no hardbacks and no non-fiction but we're happy to take French paperbacks and also children's fiction.
There won't be a Drop In in Prades this month – see below
Other events
Wednesday 16 November, Bien Etre Event, Villa Lafabrègue – Prades
Wellbeing is not just the absence of disease or illness. It's a complex combination of a person's physical, mental, emotional and social health factors.
We are very excited about our Bien-Être event which will bring together practitioners in various fields of well-being who offer inspiring, innovative, exciting and practical tools for a balanced mind and a healthy body.
The Villa Lafabrègue is a house of great character and charm. Built in 1873, it's set in beautiful gardens with a magnificent view of Mt Canigou, a perfect venue for an event such as this.
Here's what we will have on offer:
a naturopathic doctor will talk about natural solutions regarding food & lifestyle and natural remedies
a presentation using a juice extractor to demonstrate the health benefits of vegetable juice
a presentation from a psychotherapist who will be taking questions afterwards
a presentation from the founder of Equilibre66, a wellbeing centre in Perpignan for women recovering from cancer. She will talk about the benefit of self-examination of the breast for the prevention of breast cancer
a Reiki master will present this healing technique that promotes relaxation and reduces stress and anxiety
During the lunch break, for those who wish to try it, there will be a relaxing session of Indian head massage!
Tea and coffee will be free and for €10 you can have a light lunch.
If you are interested in coming along either to sign up for one of the talks or just for a look around, have a spot of lunch and enjoy the day, contact Maggie Longworth (sud-maggie@cancersupportfrance.org).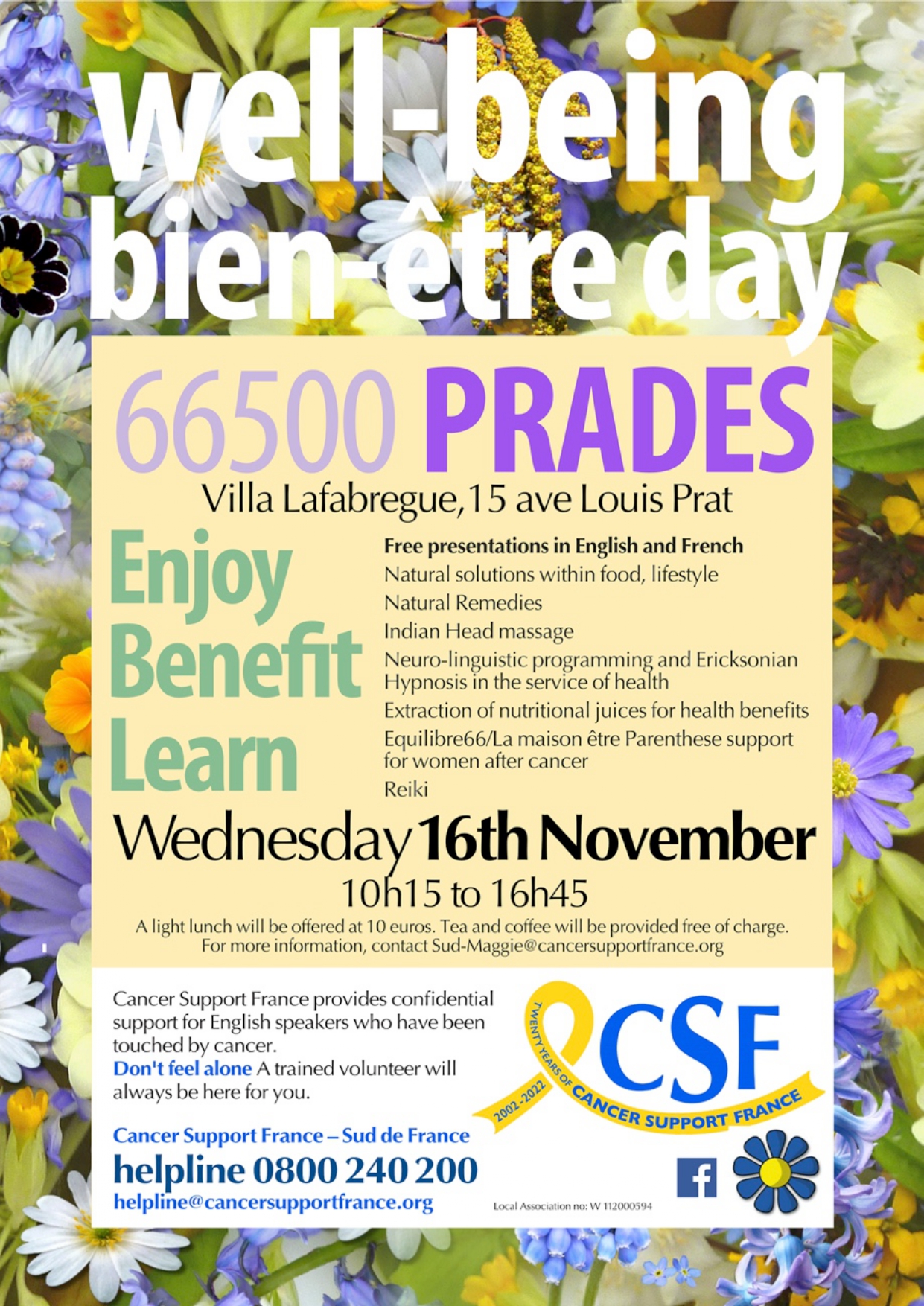 Sunday 27th November, Christmas Market, Trouillas, 8.30am – 6pm
Start your Christmas shopping early!
The Trouillas Marché de Noel is held in the Stade André Sanac, Chemin du Stade. It's not in the village of Trouillas but on D612, opposite the turning to the village.
Our friend Morag Todd has a table for her arts and crafts which she is very kindly sharing with CSF so that we can sell our Christmas Cards.
Last year it was quite a big event. There are usually several charitable associations there as well as lots of arts and crafts. Also a Tombola and during the day there will be visits from Father Christmas. Tea and coffee inside and vans outside selling crepes etc. .
Please remember
that if anyone is struggling or needing help, the CSF telephone and email helplines are always open. We are there for everyone needing assistance at this time as well as for those affected by cancer. There is also lots of information on our website.
Diana Eastaff