Fête de l'Espadrille
---

A yearly festival to promote the fabulous espadrilles of the "Création Catalane" and the iconic stripes fabrics of "Les Toiles du Soleil".
Guided visits of the workshops, with market and traditional Catalan entertainment thought the day. (tradition dance, castellers, bandas, singing, sardanes, …).
Free parking on the outskirts of the village, with free shuttle to run you to the venue.
Take a picnic or eat in one of the village restaurants.

Saint Laurent de Cerdans is well worth a visit any time for its church with tall steeple, its Retirada museum (not as harrowing as the main museum in La Jonquera, but informative and well presented) and its many local walks in the footsteps of escapees from the Spanish Civil War.
However the village is best known for its production of the beautiful striped fabric, the "Toiles du Soleil" and its long tradition of hand crafted 'espadrilles.
Two childhood friends, one dream….to restore the age old family tradition of espadrille making in Saint Laurent de Cerdans.

Unable to compete with foreign imports, the old espadrille factory closed down. In 2008 Céline and Cécile reopened, and breathed new life into the ancient building. The making of traditional Catalan rope soled shoes was reborn in Saint Laurent.
Unique and handmade, mainly with the brilliant colours of the Toiles de Soleil, you will find both traditional espadrilles, and an exciting range of colourful modern versions.
They make a fabulous regional gift, along with brightly coloured hats, bags, and other surprises – and they can be personalised with the name of the 'giftee', making them extra special.
Visit the workshops any Monday at 15h for a free and fascinating guided tour of the hand made fabrication process from conception to completion.
Catalan espadrilles are called 'vigatanes' pronounced with a b (bigatanes).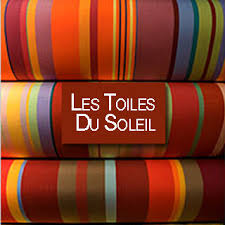 The colourful showroom of "les Toiles de Soleil" is the front to an appropriately Dickensian factory where the radiant striped fabric emerges from ancient machines, glowing with colours designed to brighten any day.
The story began in 1872, when 14 year old Joseph Sans, son of a muleteer, went to Barcelona to learn weaving techniques. He returned 2 years later to share his skills – and the rest is history.
Inspired by the iconic Catalan 'sanc i or', the blood and gold colours of Catalonia, the vibrant design of la toile de soleil burst onto the fabric scene, influenced by local colour; the Tech river, the Sardane, the traditional Catalan barque, the blues and greens of Med and Mountain…….
With dynamic Catalan couple Françoise and Henri Quinta at the helm, the iconic textile company has moved from 'vigatanes', and table linen, to curtains, bed linen, and complete furniture upholstery. This snazzy material is used around the world to brighten up your living space. Buy it by the metre, as cushions, table mats and napkins, table cloths, even teddy bears, and treat yourself to a slice of Catalonia!