Irish Celtic, Perpignan
---
14th April 2019
|
47€
Event Navigation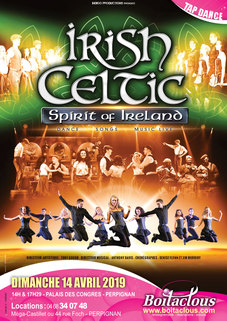 Irish Celtic
Le Figaro describes this show as 'Better than Riverdance and Lord of the Dance".
An enchanting evening of songs, stories and dance, in a legendary thousand year Old Irish Pub, featuring professional dancers from Lord of the Dance and Riverdance, and five of Ireland's finest traditional musicians. Unique, original, fully live and 100 percent authentic.
The story….
The 'Irish Celtic Pub' dates back a thousand years. It has witnessed a millenium of battles, migrations, hardship and beer. The landlord Paddy Flynn has looked after this pub for years but the time has come to hand the pub down to his son, Diarmuid, lazy and carefree, who prefers dancing with his broom to serving Guinness or a Jameson's Whisky to the pub's regular crowd of workers, poets, musicians and dancers.
But before Diarmuid inherits the keys to the pub, he must hear the stories of this Pub and learn the history of his people…the Celts of Ireland.
Two shows available – 2pm & 5.30pm
Buy your tickets:
Online here
Call 04 68 34 07 48
Email reservaiton@boitaclous.com