MAY 1ST 2015
l'Ermitage de Consolation, Collioure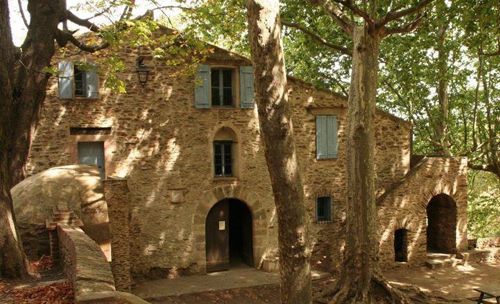 Our Lady of Consolation has been alleviating misery and offering comfort for hundreds of years to the families of local sailors and fishermen.
To judge by the eclectic collection of votive offerings, from scarlet embroidered hearts to stuffed crocodiles, that adorn her chapel at Collioure, her intercession has been a success.
From the centre of Collioure you can make the traditional pilgrimage along the Chemin de Consolation. Starting from the Carrefour du Christ turn right under the railway bridge. The oratories of St. Jacques, St. Teresa and St Anne mark the way to the l'Ermitage de Consolation and the discovery of a green world.
Under the centuries-old plane trees, legends abound. One says the site with its bubbling water was originally a place of ancient worship to the god Neptune. The water flows from a spring about 100 meters above the chapel. A path through the woods leads to the "Fontaine bleue", a fine example of 18th century balance and symmetry.
This monument is now unfortunately in ruins, although a small dolphin sculpted above the central tap can still be seen. The magic of the place continues to draw walkers, families and associations. The terraced picnic and barbecue spaces can be hired (one euro per person) for gatherings of friends or families. A bar and accommodation at very reasonable prices are also available.
All this is in need of substantial works in order to comply with "Norm", that most invasive of Europeans. The association which manages the site, privately owned but at the disposal of all, needs your help to fill its coffers and fulfill its mission to conserve the site.
You, too, can participate in saving Consolation by participating in events and inviting your friends. Start off on May 1st with a 'Soirée disco' with DJ from 20h and keep an eye on their website for further events.
Free admission to bar.
Tel: 04.68.82.17.66
Mob: 06.16.32.39.32