Saturday 11th – Sunday 12th October 2014 – Banyuls-sur-Mer
FETE DES VENDANGES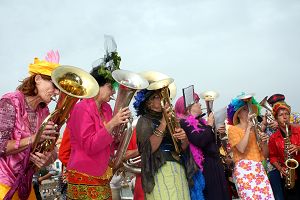 Local product market, grape pressing, musical entertainment in the village streets, special 'vendanges ball', blessing of the harvest, arrival by sea of the grape harvest as in days of old when the barques catalanes brought the grapes to the beach………
Every October the Fête de Vendanges takes place, this year on the 12th and 13th. The tastings, and merriment has to be seen and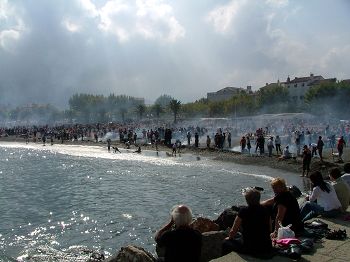 experienced to be believed.
On the Sunday the beach becomes positively medieval, the smoke from endless grillades rising in to the autumn air, musicians, stilt walkers and jugglers mingling with the crowd, food is consumed in great quantities, much wine is drunk and, towards the end of the afternoon, Catalan Barques zig zag a ballet in the bay before bringing the "harvest" in to the shore.
Book your own table (free) on the beach (info from town hall) and invite your friends to make a day of it with you. Take your own food and drink, BBQ, or buy food and wine from the many beach bars and restaurants.