Saturday 20th September 2014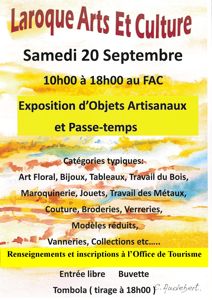 Laroque Arts et Culture is organising a 'grande exposition' bringing together all the diverse pastimes available to Laroque residents. Flower arranging, jewellry and toy making, wood work, metalwork, embroidery……..
The event will take place at the FAC de Laroque on Saturday 20th September from 10h – 18h.
Free and open to all
More info: Office de Tourisme