Sunday 28th September 2014

Fête du miel et des abeilles – honey and bee festival
Saint Michel de Llotes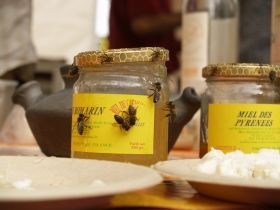 The pretty little village of Saint-Michel-de-Llotes at the foot of the Aspres will turn into a hive of activity, 'buzzing' (groan) to the sounds of the annual honey festival at which honey producers and 'apiculteurs' (beekeepers) meet to showcase their wares.
Around the Musée de l'Agriculture Catalane, you will find stands selling oils, jams, sweets, cold meats…. Learn how to make bread, have a go at pottery or enter the honey competition.
For the children there will be a painting workshop and poney rides through the streets of the village.
Lunch in the salle de fetes (honey base no doubt) will cost you around 12€.
Reservation can be made on the day at the venue.
TELL 'EM ABOUT THE HONEY MUMMY!