Saturday May 24th 2014
LATINO
Pop into Perpignan for a day in an Argentine village!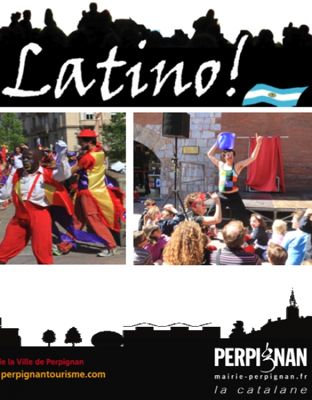 Popular entertainer Violeta DUARTE brings together her two homelands, Argentina and Catalonia for a day of 'LATINO' on Saturday 24th May at the foot of Castillet – and Perpignan goes Latin American!
PROGRAMME
12h – Exhibition 'Harpes Eoliennes' by David Codina Bosch
14h – Capoeira workshop (place Verdun)
15h30 – Murga Lunatika de Valencia (quai Vauban) and Ale Risorio, Argentine Clown (place de la Victoire)
17h – Aires de mi Tierra – traditional dancing from Latin America (place de la Victoire)
17h30 – 'D'Afrique en Amerique with Vincent Choblet (place Verdun)
From 18h30
Giant Pinata, tango for all, clowns and a range of entertainment with concerts starting at 20h with….
Sol Caribe
E2R
Las Hijas Cumbia
Why not combine a visit to Argentina with lunch or dinner in Italy?
Spaghetteri'Aldo
1 rue des Variétés,
PERPIGNAN
Email: spaghetterialdo@icloud.com
Tel: 04 68 61 11 47
For a true taste of Italy, come and sample your favourite pasta dishes in our typical Italian trattoria – lovingly prepared by our resident chef of 21 years.
Don't miss his famous mushroom risotto, nor his exquisite Tiramisu!
Plus other delicious, home-made desserts
We are open all year for lunch and dinner
Our nearest car parks are Clemenceau & Wilson
A take-away service is also available
It will be our pleasure to offer you a house apéritif when you mention P-O Life.
We look forward to seeing you soon!
Magali & Philippe
English spoken
Find us on Facebook: Spaghetteri'aldo