I arrived in Argelès in March with a view to staying for a couple of months but I'm still here! Below is a poem I wrote, a kind of ode to Le Bal Musette, inspired by its charm and timelessness, along with conversations I had with my 92-year old Catalan neighbour.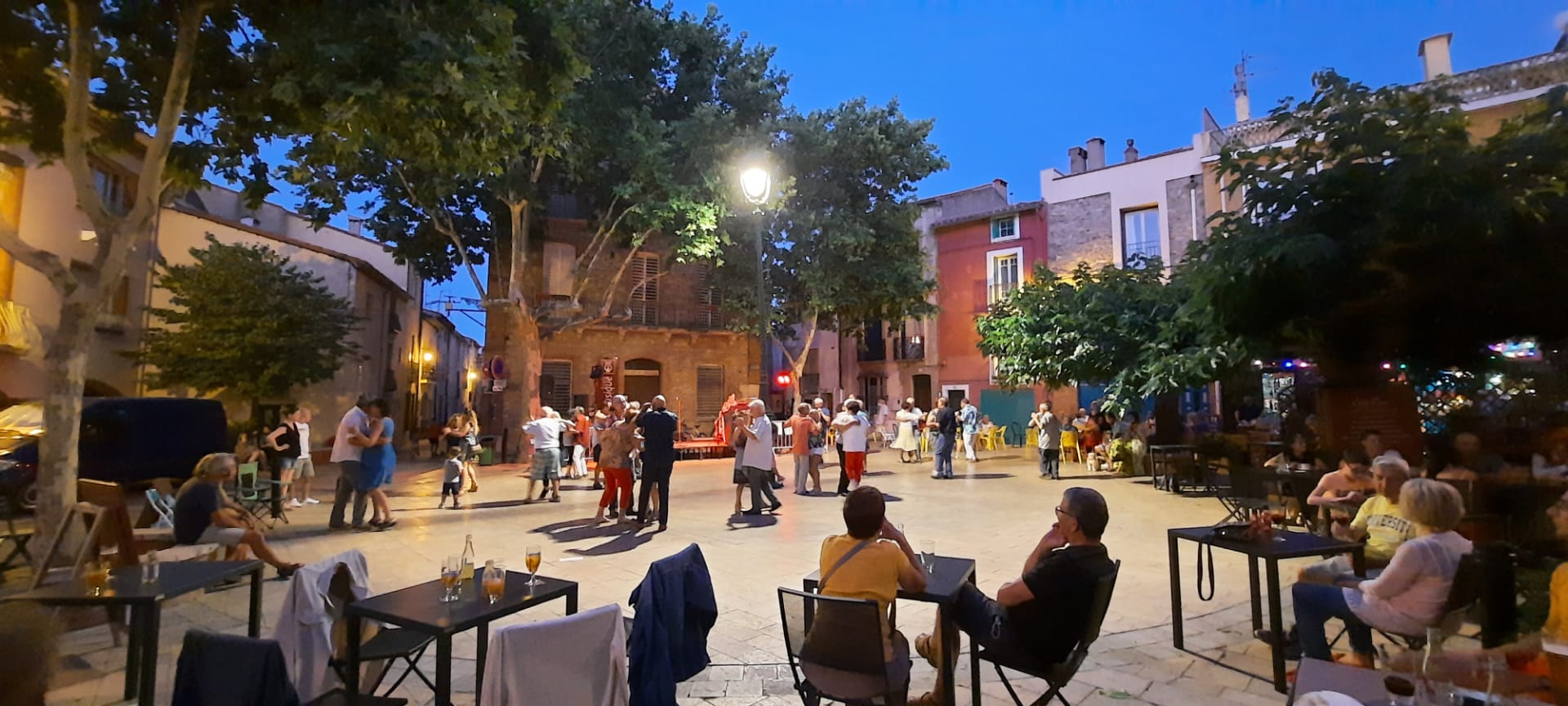 Le Bal Musette
I love the old couples in Place de la République
At the summer Saturday-night Bal Musette,
Turning in time opposite l'École de Musique,
A timeless scene in silhouette.
Lamps glow yellow against a blue-dark sky,
Spellbound observers hug the dancefloor,
Floating on warm breeze, notes travel high,
Songs of memory, love, loss and lore.
Always the two you would pass in the street,
Unremarkable in presence or dress,
Who are suddenly transformed when they rise to their feet,
With displays of great poise and tenderness.
Paso doble, java, waltz and tango,
Bodies shifting in perfect synchronicity,
Movements and steps learned long ago,
Dances of seduction rendered in harmony.
A black and white film of a bal from the archive
Reveals a comfortingly familiar sight,
La place still recognisable from 1935
Locals perform for the camera with delight.
Rien n'a changé et tout a changé,
Fresh coats of paint and inhabitants,
But the music of Trenet, Piaf, and Feré
Still echo and breathe life through those dances.
No more courting young couple perhaps,
Dramas once played out under watchful eyes,
Protective mothers and grandmothers enrapt,
Unfolding love stories, encounters and goodbyes.
Some of the younger generation are present,
But, like me, they don't know the steps,
To spin, strut, and sway and appear confident,
As those couples do set after set.
What exuberance, what spirit, what romance,
A couple that dances together remains…,
If you could move like that, I'd be yours for a dance,
I'm ready to be led for a change.
Maebh