Observations of a Newcomer
There is nothing quite like the exuberant feeling of installing oneself somewhere new. The abundance of mysteries there are in this new terrain; the excitement of finding contrasts between this new place and old reality. Curiosity is aroused, after a long spell of being dormant, withering away on a commuter train in and out of my old life in the city of Dublin.
Have I fallen into my dreams here in a place where I think of myself healthier and having a better demeanour? Have I made a clever move, like in a game of chess and improved my position? Am I all of a sudden a better version of myself? Really? If it was that easy, what on earth took me so long?
And so, I begin my life in Saint Cyprien Plage. From my balcony, I look down into the marina below. The waters are a mirror this morning. I see the clouds have dropped in, but just for a moment, as the bright blue backdrop quickly sweeps them up.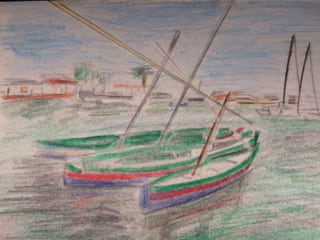 The shimmering surface water is the only movement in sight. The boats are parked. The trees are motionless, like in a painting.
Occasionally, a bird flitters into the scene, a body jogs past and a couple stroll around the marina, a dog follows, busy sniffing and investigating the shrubbery and grass that are part of the neat, landscaped areas.
This is stillness. Serenity; this, to me, is new. And the silence. Silence, my, I could talk about that for hours!
Time is newly invented for me here. I can drink a coffee at my leisure; I no longer have to stand irate in a queue for ten minutes, order it to go, dash out of the cafe and tear down the street with my coffee swishing back and forth in its cardboard cup and hope it will still be hot by the time I get to my desk when I slug it down before the day of drudgery begins.
In my little abode in St. Cyprien, the day stretches before me, I can plan my lunch, dinner, enjoy a book, sit, contentedly gazing at the fish veering their paths under the waterways around the marina.
It is November. There are no crowds at the beach, restaurants and shops are closed until the season restarts again. Yet, there are places dotted about that stay open all year. I go seek out the pleasure it is to become familiar with people who notice that I am one of them. Am I already a local?
Yesterday I was meandering around on my bicycle, as everyone does here. At Le Racou, I thought I might stop for a little break.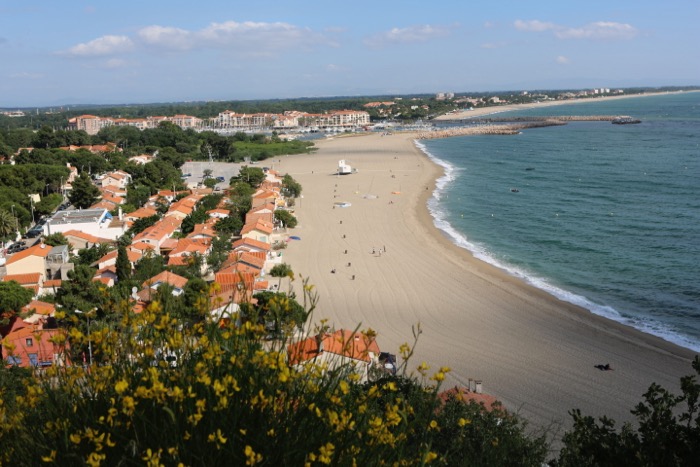 I noticed a restaurant, but, then I realised it was closed. When I saw the sign they had put up displaying their opening hours, I laughed out loud. It read:
"We open when we want." (Translated of course!)
Yes, I thought, I may have found a good home here.