Saturday 3rd August 2013 at 17h
Show Patrouille de France
French Aerobatics Display over the port of Banyuls (Red Arrows style)
This yearly events is guaranteed to leave you with a crick in your neck as the Patrouille de France meet up in the skies for a fabulous demonstration and exhibition of their skills in bleu, blanc and rouge.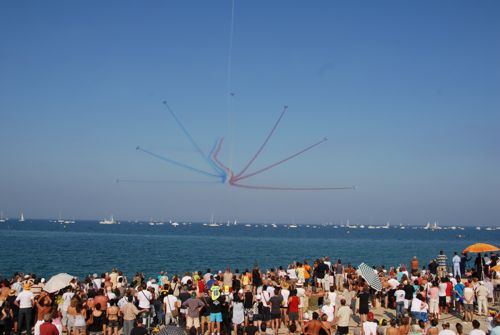 In a show that lasts more than two hours, the precision aerobatic demonstration team of the French Air Force perform formation flying of the highest class. Joining the Patrouille will be the Breitling Jet Team, the largest civilian aerobatic display team in Europe, based in Dijon, and flying seven Aero L-39 Albatros jets.
Included in the display will be close formation flying, opposition passes, solo routines and synchronised manoeuvres.
The Patrouille de France is the oldest and one of the best display teams in the world. The French team's history stretches all the way back to 1931 but it was not until 1953 that the name "Patrouille de France" was presented as the official name.
In 2009, Commandant Virginie Guyot was appointed leader, becoming the first woman in history to lead a demonstration team. She no longer holds the position, as no one can serve as leader for more than a year, but she still set a world record! Good ol' girl power eh?
17h. Banyuls Port.
Contact : 04 68 88 78 09