Perpignan is the capital of the Catalan region and  the centre of Catalonia culture.The town owes much of its heritage and cultural development to the kings of Majorca, responsible for the transformation of Perpignan into a thriving trading post during the middle ages.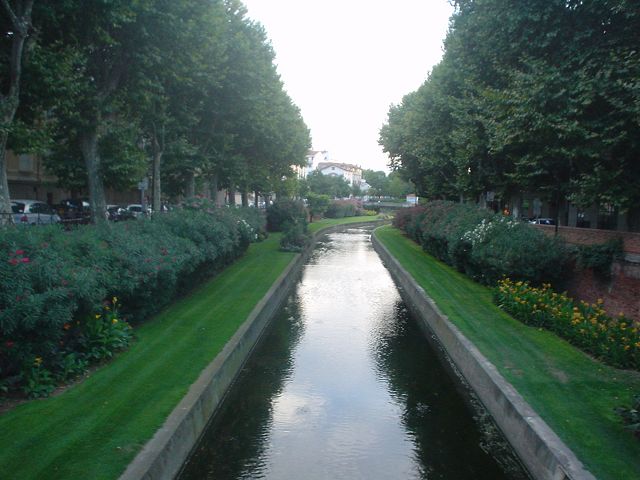 The Palace of the Majorcan kings still dominates the town while the Castillet, once a city gate, then a prison, now a museum, is all that is left of the original city walls.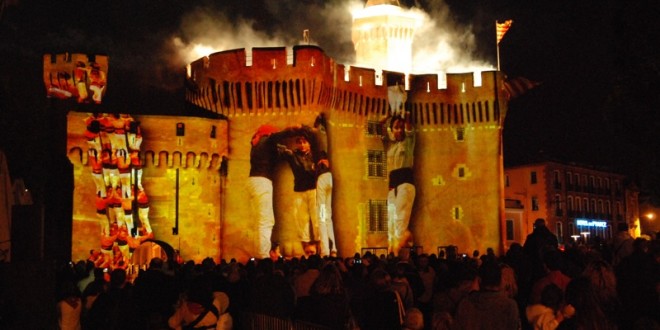 Today, Perpignan is a colourful mix of old and new, combining chic and stylish department stores, trendy boutiques and busy restaurants with narrow, cobbled streets and small intimate bistros – an easy city to wander through.
Gentle, laid back, a city of mixed races as befits the capital of the Pyrenees Orientales, it has absorbed Spanish fleeing Franco, French Moroccans and Algerians after Independence upheavals, a gipsy population and North Africans in search of a better future.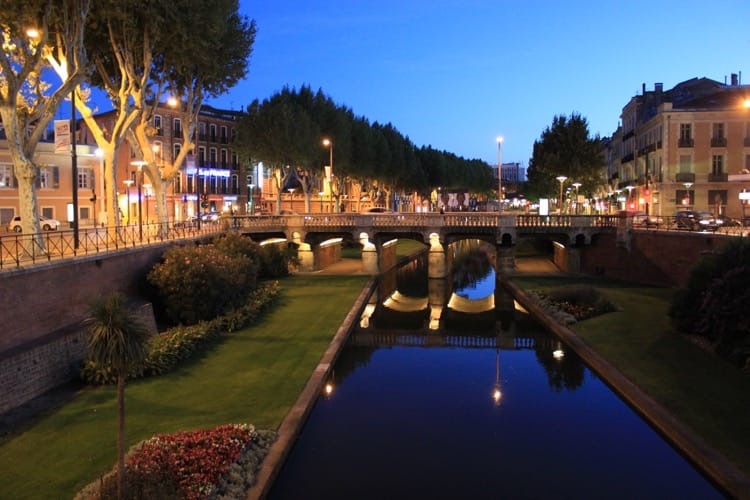 Not to mention English and other Northern Europeans on a similar quest.
There is almost always something special going on. For example, every September it hosts the world famous VISA exhibition of Photo-journalism. In more than a dozen historic buildings the world's best press photos are exhibited.
Each autumn the Jazzebre festival fills the night spots with music. In summer, the 'jeudis de Perpignan'  draw crowds of locals and holiday makers alike every Thursday evening.
Street entertainers and music of all descriptions: giants, jazz, fire-eaters, flamenco, puppets and performers fill the squares and streets.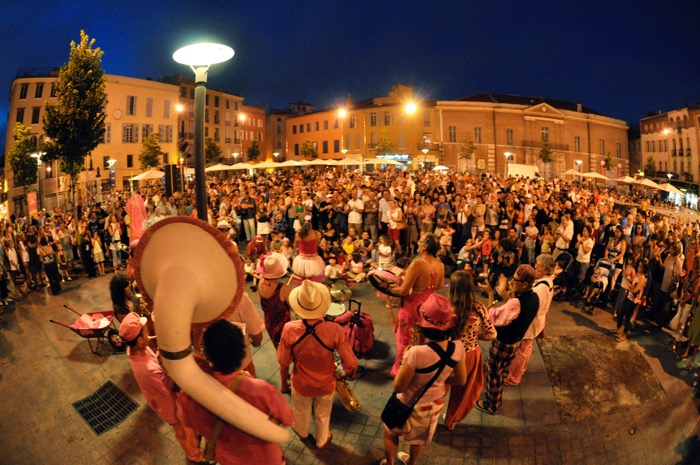 People flock to enjoy free entertainment for all ages. The warm summer air and festive atmosphere combine to make Thursday evenings very special in Perpignan.
The centre affords fascinating glimpses of the city's 800 years of history. Although definitely French and the capital of the Pyrenees Orientales, it is also very much the capital of Catalonia North.
The Tourist Office in the old Palmarium on Place Arago offers a selection of interesting tours of the historic centre and is well worth visiting. (Tel 04 68 66 30 30)
The Place de la Loge is at the heart of the pedestrianised centre. Marble paved, it is full of cafes and restaurants.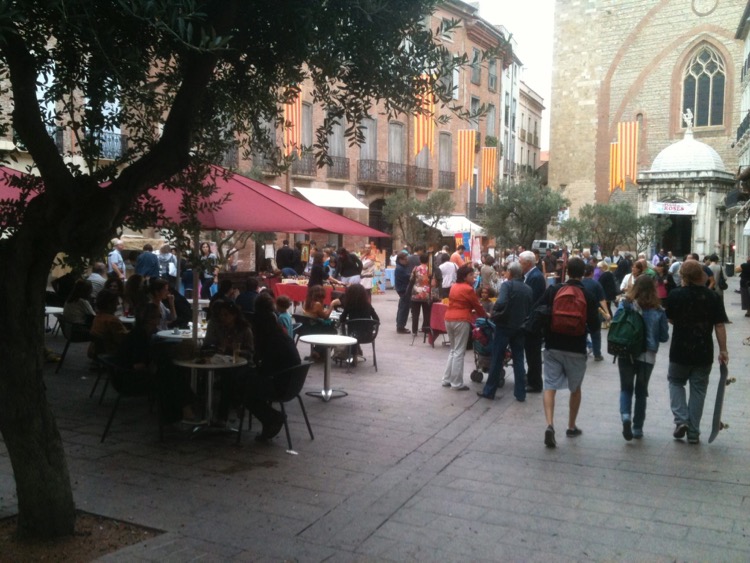 Maillol's voluptuous statue of Venus faces the 1397 Loge de Mer, once the Stock exchange and the HQ of the Consulat de Mer.
Next door is the XVI century Town Hall, a classic example of Catalan architecture, and, relaxing in the courtyard, La Mediterranee, another Maillol bronze.
Next door again, the Palais de la Deputation used to be the seat of the Roussillon Parliament and a sombre setting for a variety of gruesome executions: Garrotting, hanging, or beheading, depending on the prevailing nationality of the city at the time.
During the last war the Place de la Loge cafés were where the  "Passeurs" could be met to lead refugees over the border into Spain.
---
THE 'PLACES'……
The magnificent Place de la Republique has had a hideous multi-story car-park removed from its centre and placed underground and is now a delightful place to sit,eat, drink, shop and relax.
An old 1795 watercolour shows that this, indeed, was how it was planned. Then known as Place de la Liberte, the theatre was built in 1813 and there were plane trees under which each morning there was a market and each evening the good folk of Perpignan would stroll.
Not so very different from today except the plane trees no longer offer shade and one of the original fountains is now in front of the cathedral, the other, in Place Bardou Job.
Not far away is the Place Rigaud with jazz café, old labour exchange and statue of Hyacinthe Rigaud. Down Rue de la Fusterie is Place Pouilus (the hairy ones), named after the soldiers returning from the First World War, more restaurants and cafes and a fish market. Note the fish design pavement…
In the Place Cassanyes the influence of North Africa is omnipresent, herbs and spices, Moroccan bread and halal meat are sold in the daily market, and Arabic is the lingua franca.
Salvador Dali once claimed that Perpignan Railway Station was the "Centre of the Universe, because its waiting room is where he got all his best ideas." From it leads a palm-lined avenue ending in the Place Catalogne and Les Dames de France, a Belle Epoque Department store, well restored and now housing the FNAC.
---
…… AND THE FOUNTAINS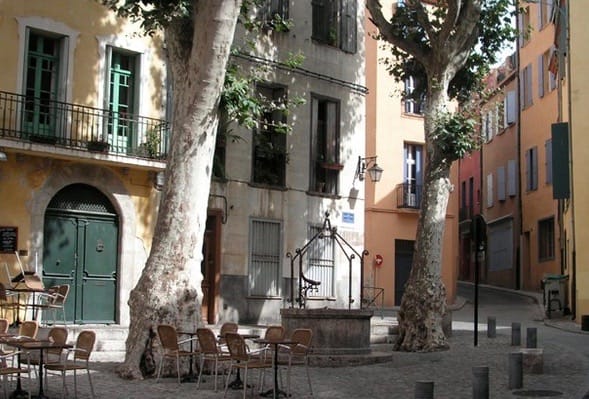 Perpignan's fountains alone would make an interesting tour: The frogs in the Place des Orfevres, the old hospital fountain now in front of the Cathedral, the lizard in the Place de la Revolution Francaise.
Three sirens hold up a vast marble bowl in the Place Bardou Job, (originally in front of the Jesuit Convent that became the theatre in the place de la Republique), lines of spouting water lead to Francois Arago's statue in Place Arago and more spouts spout in front of Les Dames de France.
---
MUSEUMS AND PLACES OF INTEREST
Prices, times and other details correct in 2015
Rue des Archers
Tel: 04 68 34 48 29.
Open every day from 1st October – 30th May 9 h 00 – 17 h 00 and from 31st May – 30th September 10 h 00 – 18 h 00. (Closed 1st Jan).
Prices: adult: 4 euros child: 2 euros, group 2 euros
The Palais des Rois de Majorque is a must-see if only for the fine view from the impressive red brick ramparts across the city roofs to Canigou, to Queribus and the plain in between.
It is made up of a succession of citadels starting in 1276 as a residence for Jaume II of Majorca, on to Louis XI in 1475, Charles Quint in 1535, Philippe II in 1564 and finally fortified by Vauban for Louis XIV in 1679.
It contains a beautiful chapel, some rather austere royal apartments and a grand courtyard. The wild lions that used to roam the moat have long gone. In summer free concerts can often be enjoyed within its walls.
Rocade Sud.
Open : 1st June – 30th September Tues to Sat 10 h 00 – 19 h 00, Sunday – 10 h 00 – 18 h 30 and 1st October – 31st May Tues – Sat 10 h 00 – 17 h 00, Sun 10 h 00 – 16 h 30. (closed Mon).
More info : direction de l'Environnement et Propreté urbaine 04 68 66 30 48 and direction de la Culture 04 68 66 18 66
Free admission
Situated in the south west of Perpignan the Fort of Serrat d'en Vaquer stands on the highest hill of the Roussillon plain, near the aqueduct les Arcades, which dates back to the fourteenth century. Its strategic position placed the fort in an excellent place to defend Perpignan against the Spanish. Superb views.
Campo Santo
Rue Amiral Ribeill
Tel: 04 68 51 19 80.
Open: 1st October – 31st March 11 h 00 – 17 h 30 and 1st April 30th September 12 h 00 – 19 h 00. (Closed Mondays and from June to September).
Free admission
One of only two cloister cemeteries in France, its graceful arcades contained the tombs owned by wealthy burghers in the Middle Ages, it is now used for open-air concerts, theatre…..
The Castillet
A combination of a gateway and fortress, the Castillet is one of the main attractions of Perpignan. A redbrick building dating from the 14th century, it houses the Musée des Arts et Traditions Populaire, also known as La Casa Pairal . It has exhibits of Catalan regional artifacts and folkloric items, including typical dress.
From the roof terrace there are wonderful views over the rooftops, up to the Palais Royal and, in the opposite direction, to Canigou.
. Under the adjoining Notre Dame Gate is a model of the city as it was in 1686, showing the proposed Vauban Fortifications.
Casa Xanxo
8 rue de la Main de Fer
Tel: 04 68 62 37 98.
Open: 1st October – 31st March 11 h 00 17 h 30 and 1st April 30th September 12 h 00 – 19 h 00. (Closed Mondays)
Free admission
Casa Xanxo, the house of Art and History, is a shining example of the XVI century wealth of the Perpignan merchants. Other Museums include the Casa Parail in the Castillet, the Museum of Beaux Arts Hyacinthe Rigaud containing a collection of art from the XIII century to the present day. Picasso once lodged there and his painting of his hostess hangs in his old room…. The Museum of Natural History is in Rue Emile Zola as are many "Maisons Particuliar" well worth visiting with a guide from the Tourist Office. As well as the Arab Market in Place Cassanyes there is a flea market every Sunday near the Palais des Expositions and a Bric a Brac market each Saturday under the Plane Trees in front of the Palais de Congress.
Cathédrale Saint-Jean-Baptiste (Gothic Cathedral)
Place Gambetta
Tel : 04 68 51 33 72.
Open every day from 7 h 30 – 19 h 00 except Monday
Free admission
The Cathedral St Jean, (St Jean being the patron saint of Perpignan), is nearby on the beautiful Place Gambetta. It was raised to cathedral status in 1602 when Perpignan displaced Elne as the seat of the Bishop. The vast, rather sombre interior houses some spectacular religious art, an impressive 5 XIV century organ and a large pre-roman white marble baptismal font. The original old Romanesque St Jean le Vieux is joined to the cathedral by huge buttresses but is unvisitable. It houses some very secular electricity equipment. A pity as it also houses the tomb of Sanch I.
Chapelle du Tiers-Ordre de Saint-Dominique
Place de la Révolution française.
Open Tuesday – Sunday from 11 h 00 – 17 h 30.
Free admission In 1245 James the Conqueror gave the Dominicans land on which a leprosy hospital stood.
It took them almost a century to complete the soaring and beautiful building we see today. A small courtyard joins the Chapelle Ste Dominique to the Chapelle du Tiers-ordre, full of dramatic 19th century art, where the "Trabucayres", (bands of highwaymen) who terrorised the roads of the Albères in the mid 19th century were tried and condemned to death or hard labour.
Outside is the Place de la Revolution Française where, in the dappled shade of tall plane trees, the lizard fountain spouts water at several tempting restaurants.
Couvent des Minimes
Rue François Rabelais
Tel: 04 68 51 25 63.
Open only during exhibition periods 1st October – 31st March 11 h 00 – 17 h 30 and 1st April – 30th September 12 h 00 – 19 h 00. (Closed Monday)
Prices depend on exhibition.
The rambling 15th century Couvent des Minimes, with a first floor gallery, is 11 metres wide, 25 metres long, its vaulted ceiling 16 metres high. During the Middle Ages Perpignan was blessed with any number of monasteries. Almost all religious orders were well represented. Many are now used for exhibitions and concerts.
11 bis avenue du Languedoc
Tel : 04 68 22 97 11 / 04 68 34 50 66.
By arrangement French doll Cathie, was manufactured in 1967 by Bella in Perpignan. In 1969, she was created with a growing hair feature similar to Tressy, preferred doll of my childhood. Up to 2,2 million dolls were made every year in the 70s but in 1984, the Bella factory closed. Today, around 500 different models of Bella dolls can be seen in the museum, set up not far from the original factory, including the first dolls made of papier maché, made in 1946 to 1952, along with those made of Celluloid from 1953 onwards, later to be replaced by PVC.
Musée des beaux-arts Hyacinthe Rigaud
16 rue de l'Ange
Tel : 04 68 35 43 40.
Open every day except Tuesday
Winter : 11 h 00 – 17 h 30, summer : 12 h 00 – 18 h 30.(closed 25th December)
Prices: Adult : 4 euros child 2 euros group 2 euros Court Painter to Louis XIV, the works of Hyacinthe Rigaud can be seen in this Museum which bears his name.
Musée des monnaies et médailles Joseph Puig
42 avenue de Grande-Bretagne
Tel : 04 68 62 37 64 / 04 68 66 24 86.
Open Wed and Sat 9 h 30 – 18 h 00.
Groups, researchers and students Tues – Sat by arrangement.
Prices: Adult : 4 euros child 2 euros group 2 euros If you just love money, head for the Joseph Puig Museum of Coins and Medals in Perpignan Apparently the only museum of its kind in France and the largest in Europe, it displays coins and medals from all time periods and locations, with some very rare coins from Catalonia and the Roussillon.
AND A FEW MORE….
Musée de l'Algérie française
52 rue du Maréchal Foch, entrée C, 2e étage
Tel: 04 68 54 87 56.
Open Wednesdays 15 h 00 – 18 h 00 or by arrangement
Free admission
Musée de l'Aviation
Mas Palegry
Tel: 04 68 54 08 79 / 06 18 92 64 14.
Open 15th June – 15th September from Tuesday to Sunday, 15 h 00 – 19 h 00.
From 16th September – 31st December by arrangement.
Muséum d'histoire naturelle
12 rue Fontaine-Neuve
Tel: 04 68 66 33 68.
Open Monday – Friday 11 h 00 – 17 h 30.
Price: 2euros
Notre Dame des Anges
32 rue du Maréchal Foch
Tel : 04 68 51 77 19.
Open 1st June – 30th September 10 h 30 – 18 h 30 and 1st October – 31st May 9 h 30 – 17 h 30. (Closed Sun and Mon).
Free admission
Église des Dominicains
Rue François Rabelais
Tel: 04 68 66 33 66 / 18 66.
Open only during exhibition periods
Prices depend on exhibition.
---
MARKETS
MARCHE AUX PUCES
flea market
every Sunday morning
7h – 13h45
Avenue du Palais des Expositions
BROCANTEURS ET ANTIQUAIRES
Antiques and bric-a-brac
every Saturday
8h – 18h
Allées Maillol (in front of the Palais des Congrès)
MARCHE DES ARTS
art and craft market
the first Saturday of every month
10h – 17h
Allées Maillol
LES MARCHES DE PLEIN AIR
Open air market
7h – 13h45
 Monday to Sunday
Centre Ville – Place des Poilus
Marché Saint Louis – Avenue Joffre
Marché du Haut Vernet – Rue du Méridien
Marché Cassanyes – Place Cassanyes Du Mardi au Dimanche
Tuesday to Sunday
Market – Place de la République
Wednesday morning
Marché du Moulin à Vent
Windmill market
Place de la Sardane and Place Montbolo
Wednesday and Saturday morning
Market Saint Martin
Avenue Foch