Walk the Region : Banyuls sur Mer
With Tim and Chris Parker
PLAGE DES ELMES TO COL DEL GASCONS, BATTERIE DE LA GALLINE AND BACK TO LA PLAGE VIA VINAIGRERIE DE LA GUINELLE
Access: map IGN 1:25000 Banyuls, Col de Perthus, Cote Vermeille 2549OT
A straightforward 4 hour walk over 12 km with approximately 400m of ascent. Superb views across the hills and down to the sea. Walking boots and poles highly recommended.
Some yellow way marks with red and white on GR10 section. A great winter walk or choose a cloudy day or cooler weather in summer as there is no shade on much of walk. Take a hat and plenty of water. Mix of footpath, broad tracks and some sections of road.
START
Take N914 towards Banyuls sur Mer but turn left in front of the hotel at the first beach you reach (plage des Elmes) a couple of kilometres before the main town.
Pass hotel and turn right beside it to find a public car park. Trees offer shade and public toilets are available. Arrive early in peak season but at this time of year, parking is rarely an issue.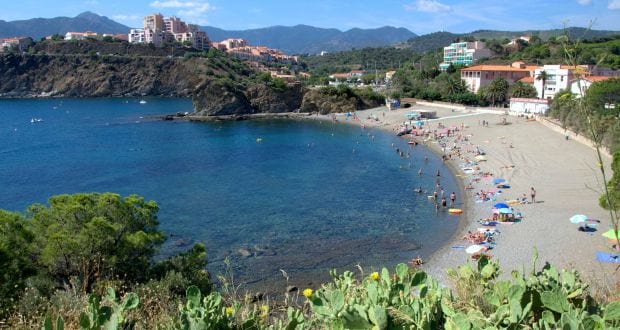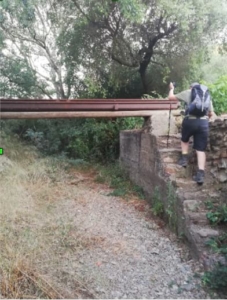 Follow the broad track beside the car park and go under the bridge which is behind the car park.
The track goes into vines, past a mas and has walls on each side. After very heavy rain this track becomes a river, but most of the year it is dry. (If there is water in it you will have to take a walk across the back of Banyuls to find start of the GR10 just after another railway bridge on the other side of station)
After 5 minutes the track becomes a footpath along the dry river bed. Have no fear – this is a path well trodden by locals!


Follow it for 5 minutes until you reach steps on right to metal bridge. Go up steps, turn left and cross using bridge.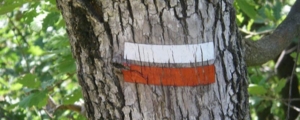 Follow broad track uphill, bending right at top. Turn right when you meet another broad track.
Pass a mas with horses and drop slightly to meet the GR10 coming in on left near Coll de les Vinyes.
Look down to Banyuls and across to the white church of Notre Dame de la Salette behind the town. Continue on GR10, pass a house, and meet D86. Cross road and continue on opposite side.
Excellent path heads gradually upwards, cuts the corner of a broad track/piste and then back into footpath. Views open up towards Tour de Madeloc and
further mountains.
Carefully follow the red/white signs for GR10 along piste, principally, at this point, to emerge at the D86 with the Table d'Orientation alongside it at Col de Llagastera.
Find out more about the GR10 route at the end of the article.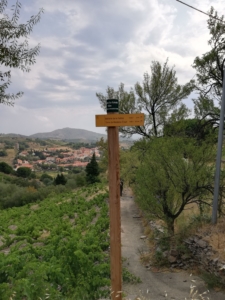 GR10 now takes to the road for a while so head upwards round a couple of bends to find a guidepost on the right. Take the footpath here and pass the Font del Falgueras to rejoin the road.
Cross the road and climb upwards, cross again to make final climb to D86 near Col del Gascons (387m). Turn right to reach the Col. (1h 35mins from start)
If you have not climbed to Madeloc before there is the option of doing so from the Col – follow the GR for 50metres and strike up right to a Batterie, to meet the tarmac road to the top. Allow a good hour for the aller/ retour and add this to total time for walk.
From the Coll, walk along the D86, contouring below Madeloc ridge, round a couple of bends, for approximately 1km.
As soon as you see the tower on left, find a sign to La Galline on right and turn right down zig zag road to Batterie de la Galline. (2h 20m from start)
Pass the front entrance of la Galline and follow the piste downhill in a series of zig zags. Emerge at the hamlet of la Guinelle after 20 mins.
TWO ROUTE OPTIONS FROM HERE
Option 1
Take steps down from road in la Guinelle, just after sharp bend left and cut through to locally used lane below. Start of footpath from la Guineille.


Turn right and soon pass the Vinaigrerie de la Guinelle in the valley, or call in for a tasting or purchase (more info below). Follow the little used lane for about 2.8 kms to reach the N914 at a roundabout.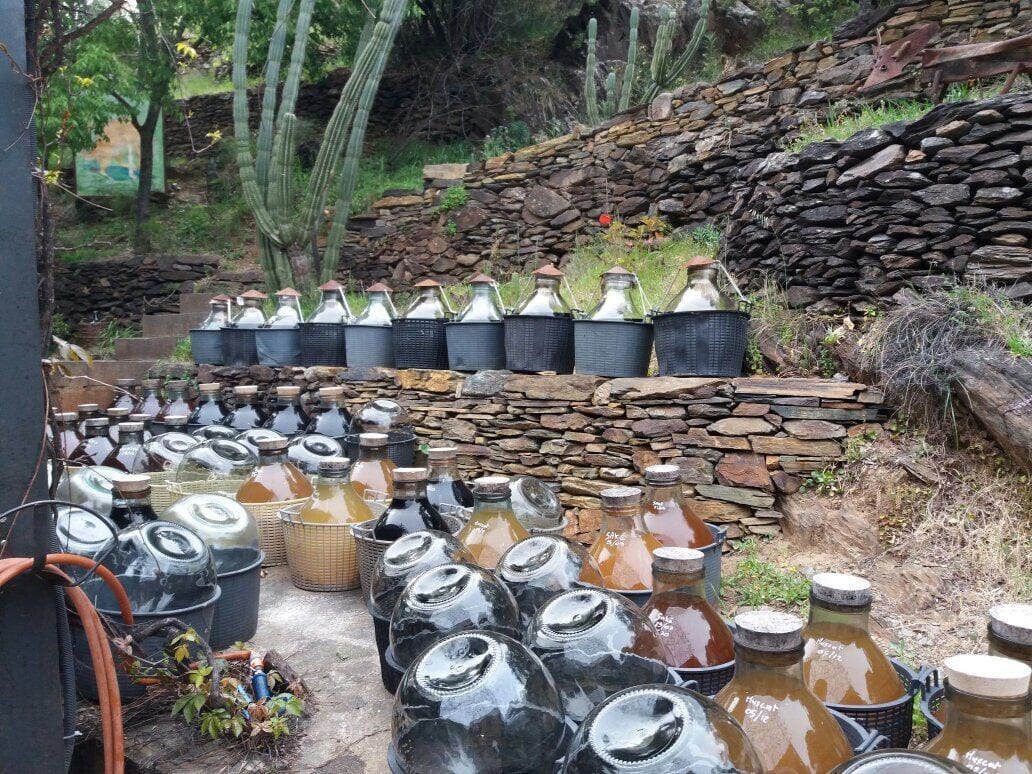 Option 2 (about 1km longer than 1st option)
Follow the road through la Guinelle and down to bridge over river. Turn right and walk into and through Cosprons. About 0.75 kilometres the other side of Cosprons find a waymark sign to Paulilles and Banyuls.
Turn right and follow path downhill. It changes from broad track to narrow path beside a wall. Turn left in valley to reach railway bridge. (Rear entrance to Paulilles car park on left).
Pass under the bridge, turn right and take path alongside railway, gradually moving above and away from railway to emerge at roundabout on N914.
Both Options
Cross main road carefully and enter vineyard on other side. Immediately take footpath right at way mark sign. Drop down slightly and contour along the valley. The owner has stencilled his name on rocks!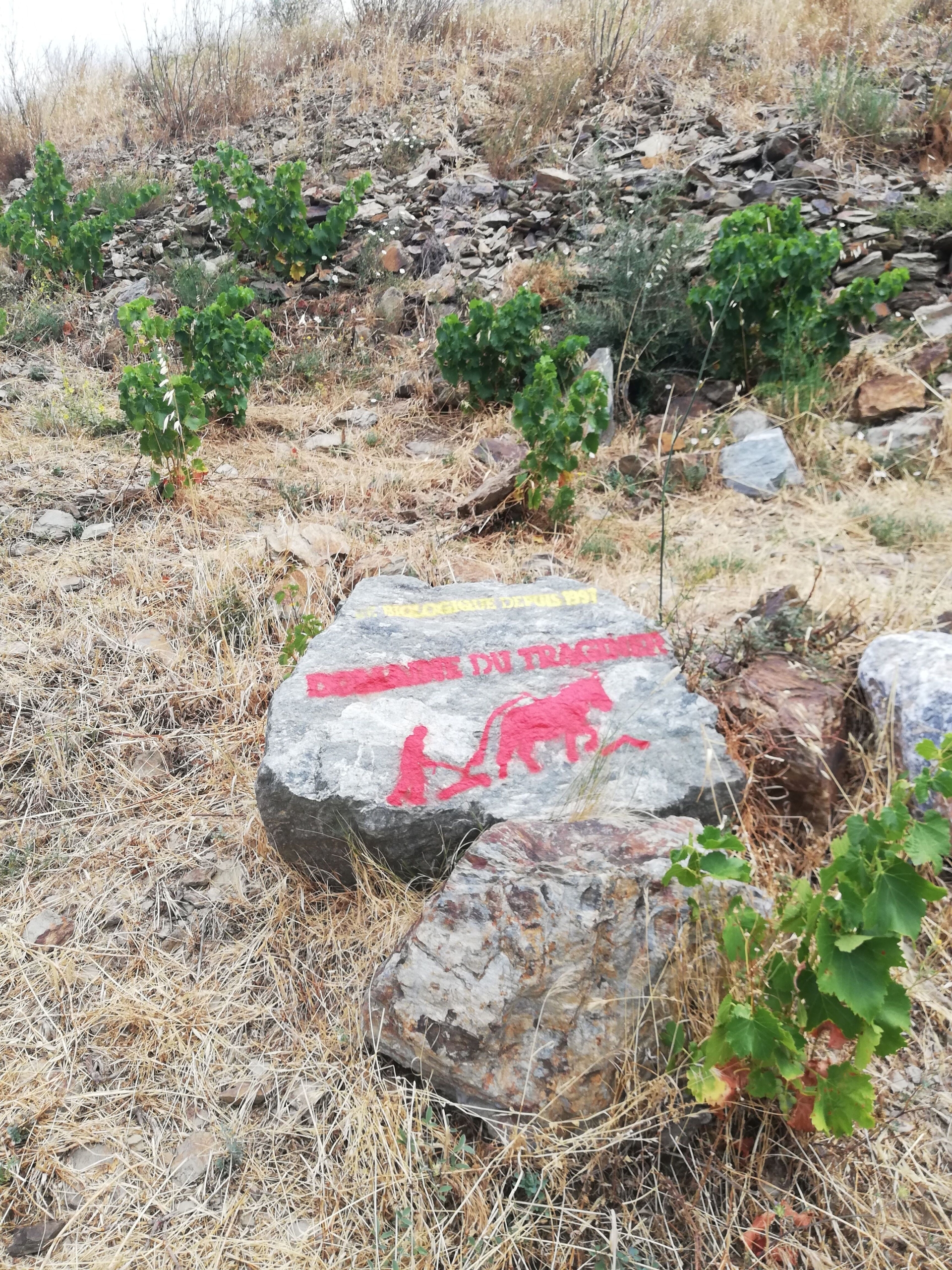 From valley do not exit onto main road: follow footpath alongside the convalescent home – Helios centre. At entrance to the centre turn right and look down onto plage des Elmes, and maybe head down for a refreshing dip if the temperatures allow.
Or why not discover the science behind the beauty you've just witnessed with a visit to the Biodiversarium?
Otherwise, head into Banyuls for a drink or dinner at one of several recommended restaurants.
GR10- ATLANTIC TO MED
In 1947, the 'Comité National des Sentiers de Grande Randonnée' (CNSGR), later to become 'la Fédération Française de Randonnée Pédestre', began the creation of the GR or Grande Randonnée network; long-distance footpaths throughout France, Belgium, the Netherlands and Spain, recognised by their distinctive trail indicators of a white stripe above a red stripe.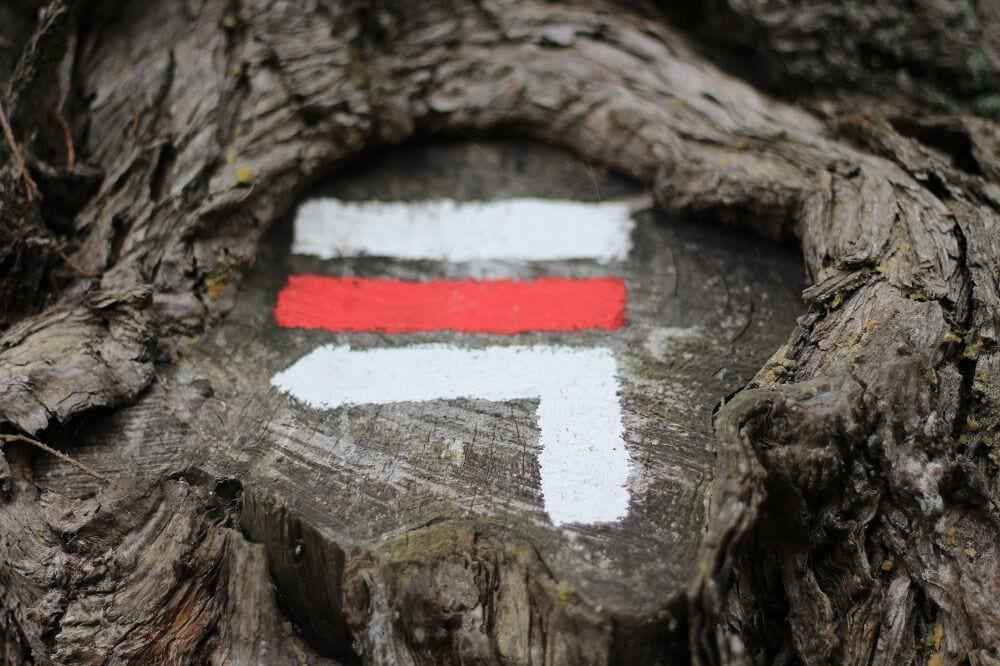 Today, many GR walking routes cross several countries.
In 1964, work started on the GR10 to join the Atlantic to the Mediterranean. The GR10 or 'Sentier Pyreneenne' as it is sometimes called, crosses the Pyrenees from ocean to sea via 866 km of indicated walking paths, with 48 km of ascent.
The route follows the French-Spanish border, sticking to the French side. Those attempting the entire trail often choose to do it west-to-east, from Hendaye on the Atlantic Ocean to Banyuls-sur-Mer.
Following red and white paint strokes, it's a linear walk, mainly waymarked very well, although at times the markings can be difficult to spot.
It is mostly planned so that accommodation can be found at the end of each day's walk. Many walkers do individual sections over days or weeks, rather than take on the challenge of the whole walk in one go.
Although the footpaths are less demanding than the tracks on the higher level of the mountain (known as the HRP – Haute Route des Pyrenees) it is not an easy option, with some steep climbing, and the full walk apparently would take 50 – 60 days.
The best time for walking the GR 10 is late spring to early summer and late summer to early autumn, as the mid summer heat can be very challenging and the midwinter snow renders some parts of the walk dangerous or impassable.
Find out more here.