Walk the Region – Puig de les Daines
with Tim and Chris Parker
A circular 2 1/4 hour walk from Collioure with good paths and lovely views. For those who know the area a lot of variations are possible in order to make a longer/slightly different walk. 333m of ascent. Yellow signs at some points on the route but it is not a waymarked route. Walking boots recommended.
Access: map IGN 1:25000 Banyuls, Col de Perthus, Cote Vermeille 2549OT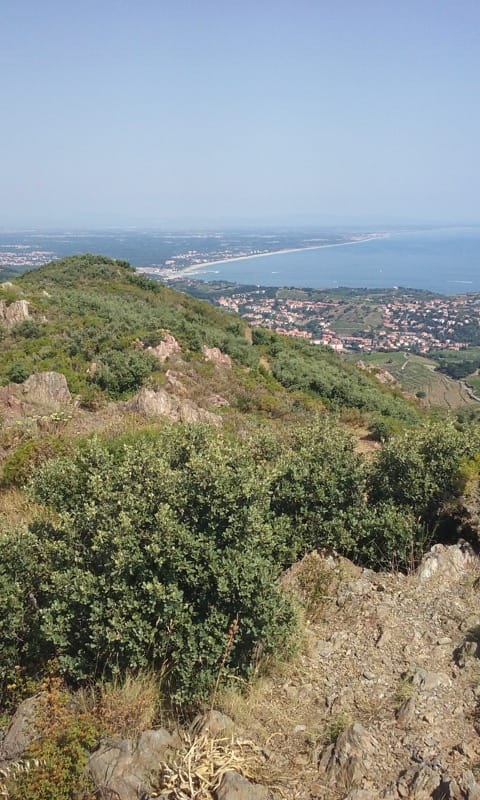 Start of walk
Park in Collioure (be there by 8.30am in July/August!) OR after taking the Collioure Centre exit from the D914 and passing under it, turn immediately right into the valley (before first roundabout), descend to below viaduct and turn right to park near the start of the path to La Consolation (end of walk).
Walk back into town if you have used the second option for car parking. Start from the main road (D114) in Collioure opposite the Tour d'Avall and small car park at the Port Vendres end of town.
Drop down into Rue de la Coma Xerric.
The walk
Follow the street round to right then keep left onto Rue du Correc d'en Baus and look for Carrer de St Elme on left. Turn left uphill, past several properties to emerge on broad track where a footpath to Fort Dugommier/ Fort St Elme is soon signed on left.
Follow the narrow path upwards through trees. Path becomes broader and delightful views of Collioure open up. Continue ascent to emerge on road at ridge.
Chance here to visit Fort St Elme to left.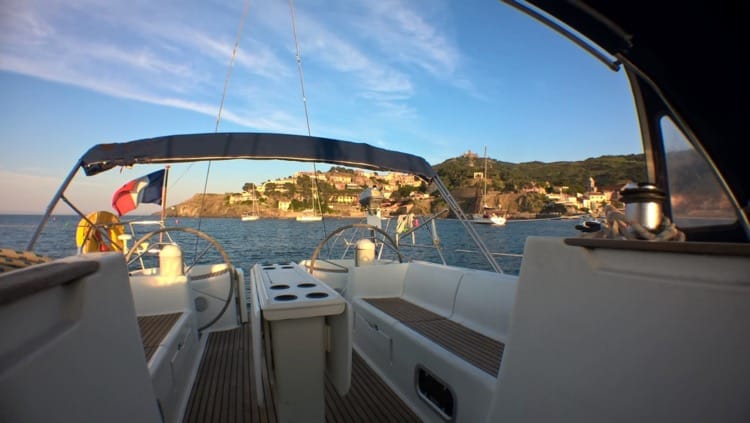 Now privately owned, the well preserved Fort is open to visitors, a reminder of former centuries when the border between France and Spain was fought over.
The Fort has its origins in the 14th century, being built on and extended in successive centuries until taking its more final form following designs by Vauban in the 17th century.
It was badly damaged at end of 18th century by Spanish cannonballs! During the second world war it was occupied by the German navy and used as a look out point.
Turn right on ridge and follow footpath to right of road emerging at Fort Dugommier, (or walk along road), pass the Fort, continue to Col d'en Raixat. Note the stripped cork oaks en route.
On bend at Col, ignore waymarked piste to left, walk a few yards and look for a narrow path on left just after 2 steel posts on left of the right hand bend. If you miss it, turn left at wide track also just round bend. Find a flat square area of shale. At far left corner of this square a stony footpath rises to Puig de les Daine with 360 degree views of coast and mountains open up at the summit. A good place to take a break.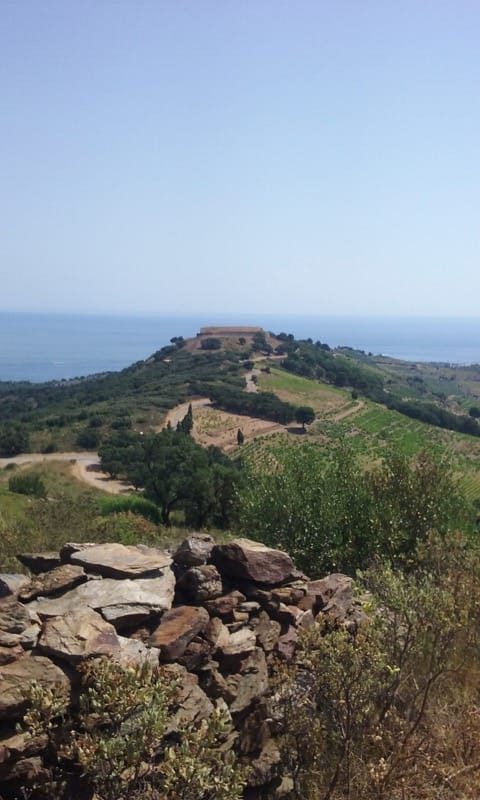 Turn right. A narrow tarmac road descends to right.
Option 1 is to follow this downhill.
Option 2 is to take the lower piste on right from Col, passing beneath ruins of Mas de la Colona. After Mas, turn left off this onto grass/earth track into vines then cut through vines to lower edge of vineyard and follow right to emerge on road – this cuts out a zig zag on the road.
Follow road downhill until a concrete track is seen on left going down into valley and more vineyards. Take the track downhill and follow it through vines to emerge at foot of "La Consolation" (footpath to Ermitage) on narrow tarmac road.
Turn right and walk under the viaduct back into Collioure. If you have put plenty of time on your parking ticket take time to enjoy all the sounds, sights, tastes and scents of this "paradise" of the Cote Vermeille!