Saturday 6th July 2013 at 21h


Le Grenat, Théâtre de l'Archipel, Perpignan
CLOSER - NIGHT BOX – HARRY

PERFORMED BY BJM – LES BALLETS JAZZ DE MONTRÉAL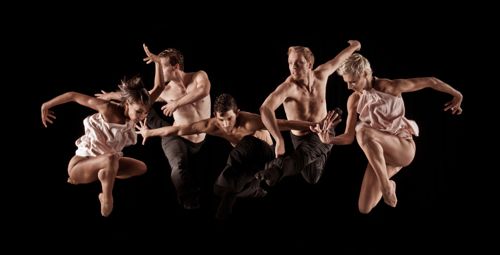 This internationally renowned contemporary dance company, BJM (Les Ballets Jazz de Montréal) presents a form of dance that is part ballet, part modern, part street dance, with a delicious blend of hip, funky moves and infectious energy, humour, and imagination.
One of Canada's most popular dance companies, they have presented more than 2,000 performances in 65 countries to more than 2 million spectators; and achieved a high level of skill in the ever-evolving art that is contemporary dance.
Under the artistic direction of Louis Robitaille, the troupe presents a mixed bill of contemporary works from three contemporary choreographers: Closer by France's Benjamin Millepied; Night Box by Chinese-Canadian Wen Wei Wang; and Harry by Israeli-American Barak Marshall.
Closer (2006)
Choreographer: Benjamin Millepied
Closer is an intense, physically dynamic yet subtle male-female pas de deux by French-born choreographer Benjamin Millepied.
Night Box (2012)
Choreography: Wen Wei Wang
Created especially for Les Ballets Jazz de Montréal, Wen Wei Wang was inspired by urban street life, as it unfolds at night, sound of the city, sounds, rhythms, music and an incessant blinking of lights, Night Box combines contemporary ballet with street dance in alternating sequences for group, trio, duet and solo.

Harry (2012)
Choreography: Barak Marshall
Israeli-American choreographer Barak Marshall was inspired by the inner turmoil and battles we all wage. "Life is a constant struggle," he says, "in which we are continually faced with conflicts with regard to culture, gender, species." Between men and women, in particular, compromises must be made to achieve balance and harmony. This piece revolves around the character of Harry, who struggles to overcome forces both physical and existential. A score subtly combining jazz, Israeli folksongs, and traditional music, with alternating group sequences, trios, and duets in an extravaganza of dynamic and humourous dance.
More info:
‪Le Théâtre de l'Archipel‬
‪Avenue Général Leclerc‬
‪BP 90 327 – 66003 Perpignan cedex‬
‪Tel : 04 68 62 62 00‬
‪Email : info@theatredelarchipel.org‬

‪
Le Théâtre de l'Archipel‬
Wander around Perpignan and you can't miss the large construction along Avenue Général Leclerc and the giant concrete bubble. This bubble is ‬the 'grenat,' a large theatre space accommodating 1100 guests and the venue of the Théâtre de l'Archipel. Designed by renowned French architect Jean Nouvel, the theatre brings a touch of prestige to the previously rundown edge of the city.‬
‪The new theatre and cultural precinct is designed to be an artistic & cultural hub for the city. Welcoming local and international artists, it is hoped the precinct will encourage a spirit of ' multiculturalism and social tolerance'.‬