Friday, October 12th 2012 – 20h30, MJC THUIR
« Tout va bien monsieur k »
Family show from anyone from 6 years old upwards (duration 1 hour)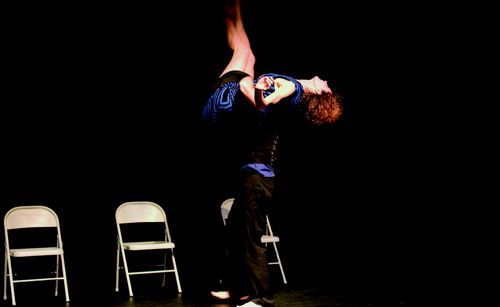 An unlikely 'pas de deux' between dance and pantomime … a comic strip of gesture and vocal expression.
To open the cultural season 2012-2013, Thuir welcomes two choreographers and performers: Pascale Chambon (dancer) and Romuald Leclerc (comedian) in a show halfway between dance and theatre with a "cartoon " atmosphere.
Fun for both young and old with many visual Jacques Tati style.
The company Monsieur K (Haute Savoie) presents a playful, energetic and rhythmic show which will make you want to get up and dance!
Entrance: 6 € adults, 5 € for children up to 15 years of
Possibility of pass for 3 or 5 shows for the season
Seating limit: booking advisable
Information and reservations: 04 68 84 67 87 or by mail to villedethuir.culture @ wanadoo.fr