BOUTEILLES À LA MER
---
Bouteilles à la Mer
'Dégustation' stroll amongst the vines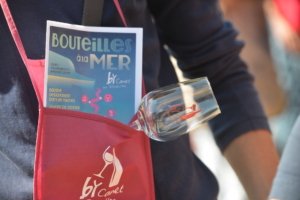 Whilst 'terroir' describes the characteristics of the land from which grapes are grown, giving the wine that unique quality specific to that growing site, 'aquaoir' is the concept that oceans might also age wine to give its own set of unique characteristics.
Bottles and sea? Two of our favourite things! Go along and give it a try!
And once you've worked up an appetite walking through the coastal vines, enjoy a sea-inspired lunch prepared by a «Toques Blanches du Roussillon» chef at l'Air du Mas, with live music to round off the visit.
40€ (includes a taster kit, tastings from 8 local vineyards, nibbles during the visit and lunch). Group discounts available.
Here's how it went in 2019
Disclaimer : For 2021, Covid precautions will be enforced