Foire Exposition, Perpignan
---
Event Navigation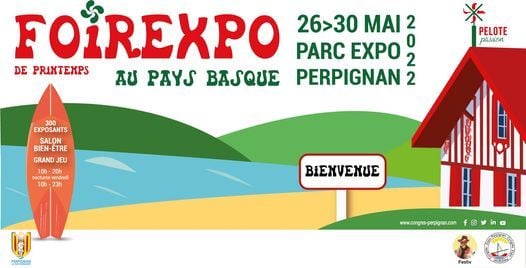 Foire Expos
With a plethora of different themes, this yearly exhibition brings together all the specialists in kitchens and furnishings, equipment for the home, pool and garden, DIY, leisure, tourism, heritage and patrimony, vehicles….
Impossible not to find something you absolutely 'have to have' with such a varied menu!
This year's theme : les Pays Basques!
With a whopping 250 exhibitors, you can peruse local, national and international businesses, showcasing their latest products and services.
Far from a purely commercial event, the weekend is always bursting with entertainment and fun. This year, (re)discover the culture, the food, the music, the art of our south-western neighbours, the Basque country.
Stroll through the (reconstructed) streets of a traditional Basque street market, try your hand at the game of pelote basque (a bit like squash) and enjoy the musical fanfare of the txaranga.
You can also win a huge range of amazing prizes as part of the Grand Jeu.
Don't forget to call in to say bonjour to the guys and gals from Gaiété fu Feu, who'll be showcasing their wares in the outdoor exhibition space.