Grand Golf Trophy and Gastronomic Charity Buffet, Saint Cyprien
---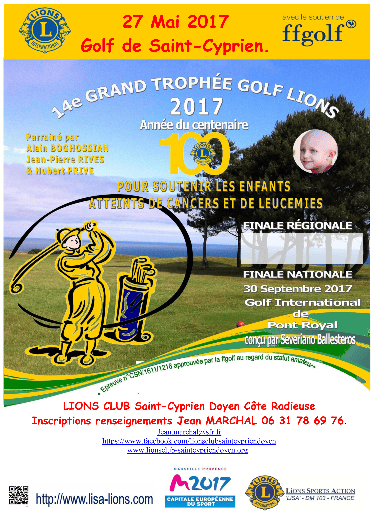 Despite recent medical progress, cancer remains the second biggest killer of young people. Each year, 2200 children are affected by cancer. 440 will not survive.
For 14 years, Lions Clubs around France have been loyal financial partners to the fight against cancer, raising over €3 million for children and young persons services. In 2017 they will be celebrating their 100th anniversary with yet another grand fund-raising event.
Bringing together over 10,000 amateur players at 200 courses across the country, the 14th Lion's Club Grand Trophy golf competition is taking place this summer.
Organised in 3 stages, the first, local play-offs will be held at the beautiful Golf de Saint Cyprien on Saturday 27th May. Teams of 2 will enter the competition, in a bid to qualify for the regional finals in September, before potentially making it to the national finals on Saturday 30th September.
Players and supporters can make the most of the day, with plenty of off-course entertainment too. New and used car exhibitions, blackjack demonstrations from the Joa Casino, and a grand, gastronomic buffet at the 4 star Mas d'Huston restaurant from 1pm.