Las Querencias, Céret
---
30th June 2017

-

1st July 2017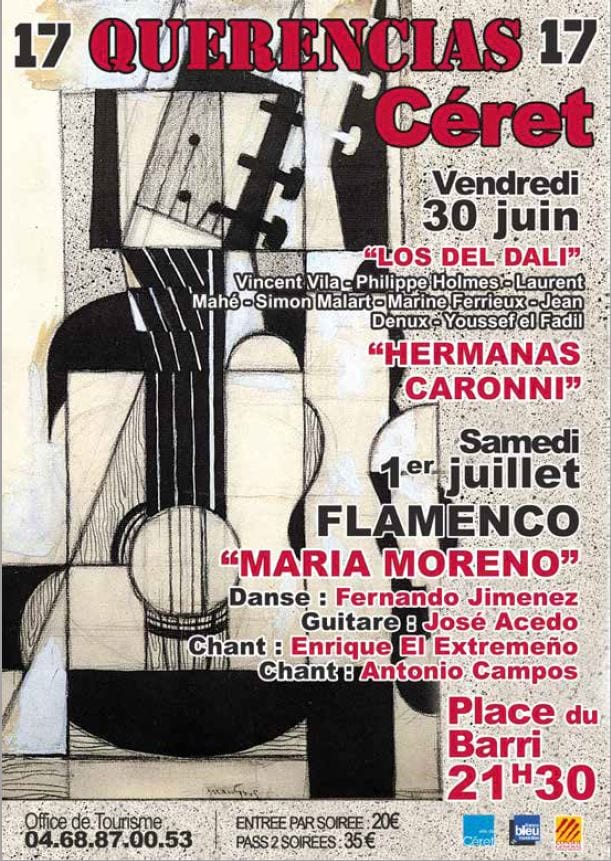 Las Querencias de Céret
Querencias is actually a bull-fighting term, signifying the spot in the arena where the bull makes his stand and prepares himself, ready to charge. Embodying this drama and passion, the 2016 Querencias Festival is sure to ignite the Flamenco spirit in anyone attending.
Danced proud and upright, this emotionally intense artform is highly technical and demands years of dedicated study. The racing rhythm requires absolute concentration and meticulous precision from musicians and dancers alike. The duende, the soul of flamenco, is a powerful and solemn magic, raising the hairs on the back of your neck and sending a shiver down your spine.
PROGRAMME
FRIDAY
Los del Dali: Local group combining the wide-ranging talents of Vincent Vila, Philippe Holmes, Laurent Mahé, Simon Malart, Marine Ferrieux, Jean Denux and Youssef el Fadil
Hermanos Caronni: Argentinian-born twins, Gianna and Laura, play their unique blend of Tango.
SATURDAY
Maria Moreno: world famous flamenco dancer performs with Fernando Jimenez (dance), José Acedo (vocals), Enrique El Extremeno (guitar), Antonio Campo (vocals)
Friday night pas: 20€
Saturday night pass: 25€
2 night pass: 35€
More details and reservations at the Céret tourist office Tel: 04 68 87 00 53