Les Musicales d'Argelès-sur-Mer 2017/18
---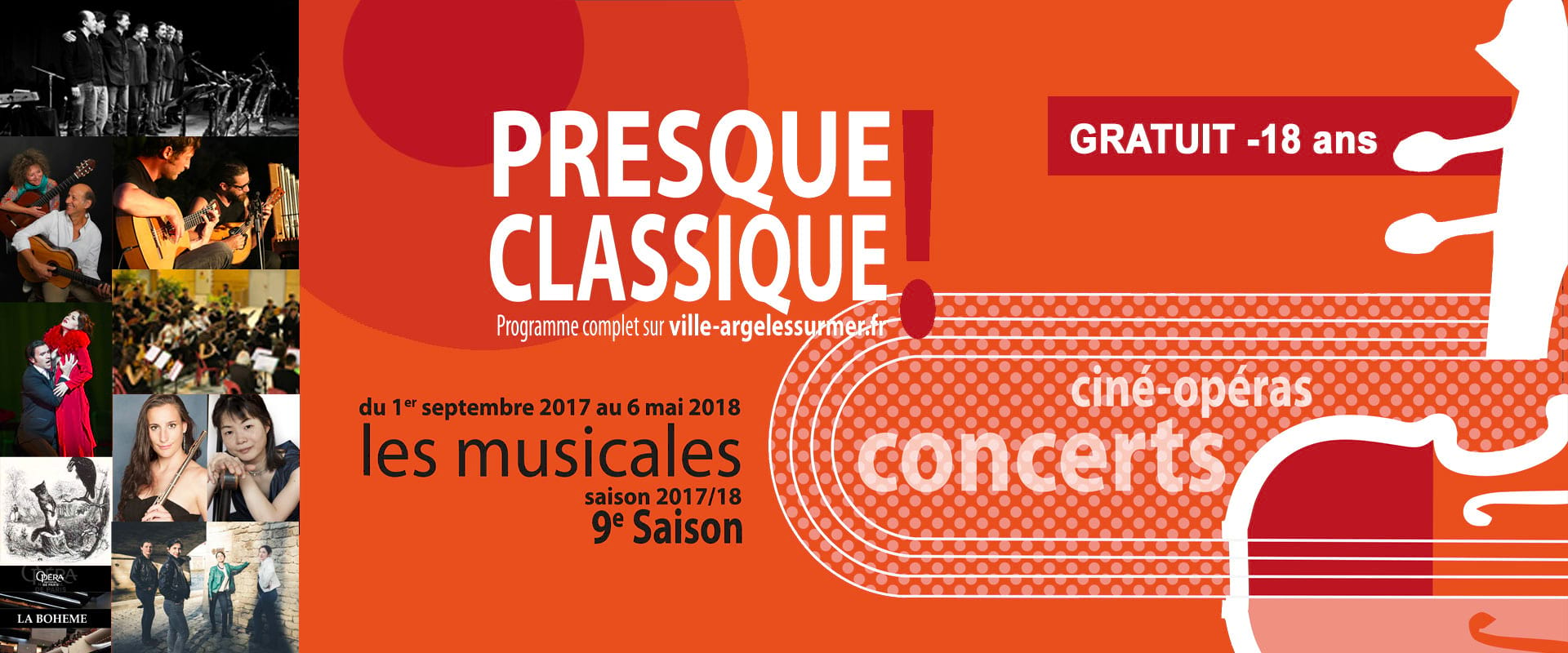 Les Musicales d'Argelès-sur-Mer
Described as 'la culture pour tous' the concerts by known artists of the Musicales d'Argelès-sur-Mer, held between September and May, are accessible to all. From sacred music to jazz, chamber music, contemporary and choirs; the aim of the concerts is to provide a variety of styles to satisfy all tastes. Performed at the église Notre-Dame-del-Prat, the cinéma Jean Jaurès or the Galerie Marianne, admission is just 5€ and free for under 18s.
Programme 2017-2018
Friday 1st September 8.30pm
Parc de Valmy
La Traviata : Giuseppi Verdi's 3 act opera based on the classic Dumas tale, The Lady of the Camellias.
Sunday 15th October 5pm
Cinéma Jaurès
Unitsax- Spiritual Jazz : 4 saxophonists, a pianist, a double-bassist and a drummer, all at the top of their game. 5€.
Sunday 19th November 5pm
Galerie Marianne
Les Guitares Improvisibles : guitar duo interpreting classical themes via a contemporary, improvisational approach. 5€.
Sunday 2nd December 8.30pm
Espace Jean Carrère
Presque Classique : the annual grand show from the inter-generational ensemble, Harmonie. Free entry.
Tuesday 12th December 7.30pm
Cinéma Jaurès
La Bohème : The classic Puccini opera filmed live and projected on the big screen with subtitles in French and English. 17€.
Friday 19th January 7.30pm

Cinéma Jaurès

Si L'opéra-comique m'était conté : The gala show from the 300th anniversary of the Opéra-Comique chronicles the tumultuous development of the iconic institution.
17€.
REPLACED BY THE 1953 MUSICAL SINGIN' IN THE RAIN
Sunday 11th February 5pm
Cinéma Jaurès
Bruits de couloir : Quatuor Ariane, comprising 3 singers and a piano, perform an operatic medley of classical greats. 5€.
Sunday 18th March 5pm
Cinéma Jaurès
Duo Flute et Piano : Performing a repertoire of pieces from the 17th, 18th, 19th and 20th centuries, this duo harmoniously combines energy and delicacy. 5€.
Sunday 15th April 5pm
Galerie Marianne
Duo Presque Classique : Two musicians, one a virtuoso guitarist, the other a master of rare and interesting instruments such as the nickelharp, revisit and interpret classical greats. 5€.
Sunday 6th May 5pm
Cinéma Jaurès
Concert of La Fontaine faery tales : To close the 2017/18 season, a grand musical performed by talented musicians and the IRVEM children's choir. 5€.