Les Musicales d'Argelès-sur-Mer 2018-19
---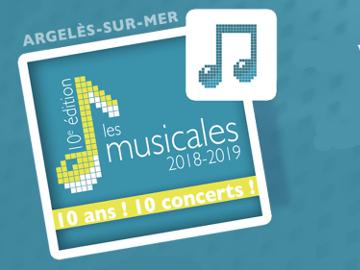 Les Musicales d'Argelès-sur-Mer
Described as 'la culture pour tous' the concerts by known artists of the Musicales d'Argelès-sur-Mer, held between September and June, are accessible to all. From sacred music to jazz, chamber music, contemporary and choirs; the aim of the concerts is to provide a variety of styles to satisfy all tastes. Performed at the église Notre-Dame-del-Prat, the cinéma Jean Jaurès or the Galerie Marianne, admission is just 5€ and free for under 18s.
Programme 2018-19
Saturday 18th May 8.30pm
Espace Jean Carrère
5€ (free for under 18s)
Les 10 ans des Musicales : Thirteen musicians and two soloists under the baton of Eric Louis will perform two concertos, one for piano with Stéphanie Fontanarosa, the other for cello with Mélody Giot. Talent, fantasy and mischief will be the key words order of the day for this surprising concert.
---
Friday 21st June 7.30pm
Cinéma Jaurès
17€ (15€ for under 18s)
Mozart's Don Giovanni : Broadcast live from the opera Garnier, this cine-opera will be performed for the Fête de la Musique. Don Giovani seduces, submits and conquers women one by one, pursuing through them an obscure object that is always out of his reach.
---