Miguel Caldentey open to visitors
---
Event Navigation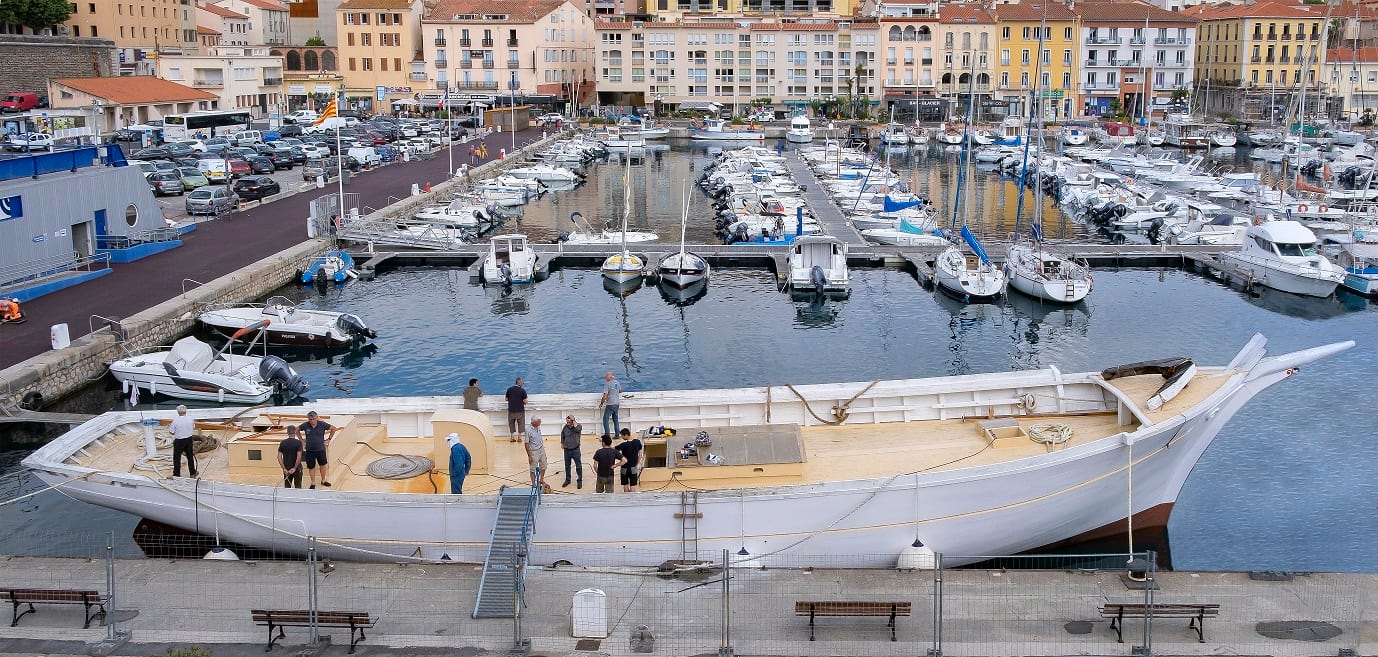 Miguel Caldentey open to visitors
The Miguel Caldentey, a schooner classified as a Historic Monument, returned home to Port-Vendres on Saturday 30th May 2020 for essential restoration and repair work.
This hundred-year-old ship will be open to visitors on Thursday 19th August.
Join one of the 4 guided visits each day and discover the incredible history of this incredible vessel. Places are limited to 10 per visit so book early to avoid disappointment : sivu@port-vendres.com
Mask obligatory.
Restoration
Restoration of the schooner began in 2008 in Mandirac, as part of an collaborative project carried out by the Parc Naturel Régional de la Narbonnaise en Méditerranée.
Once in Port-Vendres, the last phase of work, a 3 year project, will be entrusted to another passionate group, this time combining the forces of the communes of Port-Vendres and Argelès-sur-Mer.
A training boat and ambassador of regional maritime heritage, the Miguel Caldentey is at the heart of a social, educational, economic and ecological development. It will be a model of sustainability: a mixed operation of yachting in summer and freight of local products in winter.
History
1913 Construction in Palma de Mallorca. Named after her owner, the Miguel Caldentey was crafted in the workshop of master carpenter Don Sebastian Llompart Mateu.
1916: Launching. For more than 50 years, the Miguel Caldentey transports cereals, wheat, corn, rice, wood and citrus fruit between Mallorca, Valencia, Barcelona, Marseille, Sète and Port-Vendres.
1972: Last commercial crossing.
1973 : Bought by a group of enthusiasts who intended it for pleasure boating and brought it back to Canet-en-Roussillon. The town soon became the owner. From then on, long years of uncertainty and abandonment.
1988: Classification as a Historic Monument.
1999: A storm lasting several days badly damaged the Miguel Caldentey, causing her to sink to the bottom of Canet Port.
2006: Launch of a spectacular rescue operation. Public authorities and the associations of maritime heritage preservation mobilised to give the vessel a second wind. The commune of Port-Vendres bought it for just 1€ and quickly joined forces with the communes of Argelès-sur-Mer and Banyuls-sur-Mer in an intercommunal union : le Syndicat Intercommunal à Vocation Unique.
2008 -2019 : Beginning of the restoration, managed by Yann Pajot, marine carpenter and expert with the Ministry of Culture. Nearly 75% of the ship was rebuilt using traditional methods!
For more info, follow them on Facebook.