Wednesday 5th September 2012
Festa Gitana
Perpignan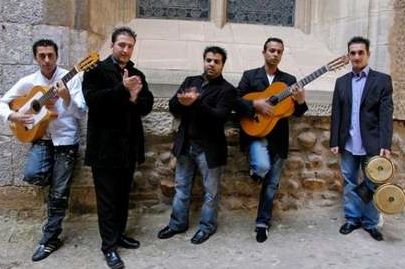 As part of Visa pour l'Image, the well known Perpignan band Tekameli will open this Gypsy music festival at 18h on the patio of the Hotel de Ville in Perpignan From 20h in front of the Couvent des Minimes, it's flamenco time with students from the centro Espagnol, then on to Catalan rumba with its inimitable percussive guitar in "Rumba del Vernet". Finally, Tekameli will close the evening, accompanied by gypsy guitarists from Montpellier and Camargue.
Tekameli
Perpignan-based gypsy band Tekameli, meaning 'I like you, I want you, I love you' in Calo was created in 1992 by Jean Soler, guitarist and singer, along with Salomon Espinas and Julio Bermudez. Their rhythmic, soulful songs speak of love of life, love of family and love of God.
From lively dance music to slow, heartfelt spirituals, Tekameli has been compared with world-famous Gypsy Kings, with their upbeat rumba style of gypsy music. Tekameli are however more spiritual gypsy gospel music.
Informations et réservations
Mission des Relations internationales et Développement territorial Tèl : 04 68 62 38 66