Saturday 2nd September 2017
Amélie-les-Bains-Palalda
Festival Festibanyes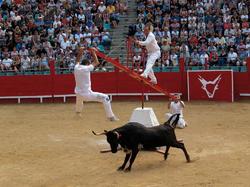 Different countries and cultures meet up for the *"Bous a la Plaça" (bull games in which I am assured that bulls are neither ill treated or teased/tortured) in the improvised bullrings of the Théâtre de Verdure at Amélie-les-Bains-Palalda.
Jumping over the bull as it charges, and other acrobatics in the bull ring seem a reasonable alternative to the corrida, although how much fun the animals have themselves is debatable! The show itself is described as 'un spectacle unique, tant artistique que sportif'.
Programme
10h00 : en centre ville Passa Vila avec les Danseurs Catalans d'Amélie-les-Bains-Palalda
11h00 : Abords du Théâtre de Verdure : « CAPEA» Entrée GRATUITE (Bar « Le Château » : Bar – bodega toute la journée
12h00 : Ballada de sardanes
13h00 : Repas animé
16h00 : Plaça de Bous del « Théâtre de Verdure » BOUS A LA PLAÇA
Els Bous del Mediterrani a l'Atlàntic 8 VAQUES BRAVES i 1 TORET dels Germans OZCOZ GRACIA (SARAGOSSA – Aragó) Ball d'entrada : Sardanes ECOLE TAURINE FORCADOS ARTE Y EMOCION QUADRILLA AFICIÓ CATALANA Música : Cobla «TRES VENTS»
Bar «Le Château»
18h00 : Apéritif animé par la Banda «LES CANAILLOUS» de Millas
20h00 : repas
22h00 : grand Bal et Concert du Groupe «Al CHEMIST»
Sardanes, Giant paella, live music and dancing…..
More info: : 04.68.39.91.38