Sunday 7th October 2012
La Face Cachée des Sous-Bois
Jardin des Plantes, Saint Cyprien
As part of the Festival Jazzèbre, take part in participate in a bike ride and musical picnic in the Jardin des Plantes in Saint-Cyprien.
The cycling event will begin at 10am at the foot of Castillet and head for the Jardin des Plantes in Saint Cyprien where a musical picnic awaits in the shade of the Jardin des Plantes!
'La Face Cachée des Sous-Bois', Franco-African afro-jazz funk. Rhythmic drums, saxophonist, bass….
More information about the band
PROGRAMME
10h – start of the cycling… place de la Victoire, Perpignan
12h – Picnic (not supplied) at the Jardin des Plantes
14h – concert.
FREE EVENT
About Le Jardin des Plantes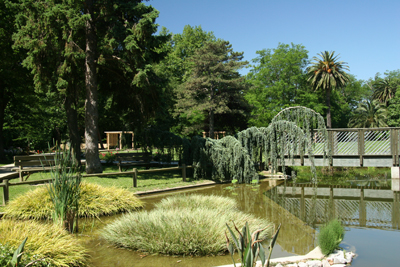 Le Jardin des Plantes des Capellans next to the sports complex on Rue Verdi has a collection of palms and a bambouserie, the star of which is the giant from Japan that, in May, grows up to a metre a day, over a centimetre an hour. There is also a collection of over four hundred roses as well as many local Mediterranean plants through which peacocks strut.
It is to the Grand Stade des Capellans that the whole family can go for a summer of sporting and less-sporting-more-artistic entertainment. There are seventeen out door tennis courts, and a further four indoors. There is squash, swimming, body building and fitness gym. There is an 'ESPACE ZEN' where sauna and jacuzzi await as well as face, feet and body massage. You can join for an hour, a day, a week, a year and the prices are very reasonable. And whilst you're relaxing in the spa, children will have a whale of a time at the kids club for a half or full day of fun including rugby, football, circus, archery, painting or dance. Join as a family and all will profit from the wide variety of skills and activities available. Most of the staff are young, enthusiastic and bi-lingual.