Tuesday 13th – Wednesday 14th August 2013
Les fêtes de la préhistoire, Tautavel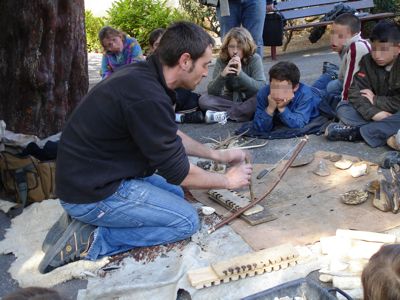 Prehistoric demo techniques every afternoon: fire making, stone cutting…. Free museum entry.
Démonstrations de techniques préhistoriques en après-midi : feu, taille d'outils, poterie, bijoux préhistorique… en extérieur, à proximité du Musée, de 14 H à 18 H, accessible à tous, GRATUIT.
Guided visits of the cave
Visites guidées Grotte de Tautavel

Nature walks – Visit of Caune de l'Arago – Bring your own picnic to eat at the gorges du Gouleyrous – Return to village by the petit train – Various activities – visit the musée de préhistoire and expo of first inhabitants of Europe.
Promenade botanique – Visite de la Caune de l'Arago – Repas tiré du sac aux gorges du Gouleyrous – Retour au village par le petit train – Activités diverses – visite du musée de préhistoire et de l'exposition des premiers habitants de l'Europe
In July and August, the whole village goes back into 'prehistory' with a festival to which you are all invited. A programme of entertainment will include fire making workshops, stone cutting, painting and make up sessions, slingshot, a prehistoric market and dinner in the village square.
En juillet et août, le village tout entier se met à l'heure de la préhistoire. Les personnels du Musée, de la Mairie, les étudiants, des fouilleurs, des chercheurs du centre de recherche, des bénévoles de tout horizons proposent une grande fête au public du Musée mais aussi aux nombreux habitués qui viennent d'années en années toujours plus nombreux.
Pendant ces jours de fête, un programme très dense en animations autour de la préhistoire est proposé au public, tous les ateliers du Musée sont en activité, taille de la pierre, allumage du feu, évolution humaine, peinture et maquillage, tir au propulseur, galettes préhistoriques, atelier de fouille, l'après midi, un marché préhistorique est présenté sur la place du village, un repas préhistorique pour plus de 300 convives est également organisé le Jeudi soir lors de chacune des fêtes.