10 -12 OCTOBER 2014
IT'S THE TALK OF THE TOWN! IT'S THE JAZZCOTECH INTERNATIONAL JAZZ DANCE WEEKENDER
CASA MUSICALE, PERPIGNAN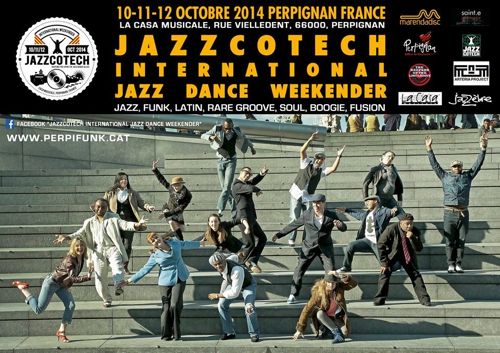 Hosted by Perry Louis, we are proud to present the very first International Jazz Dance Weekender, a weekender 100% focused on the UK Jazz Dance scene celebrating all the styles within it and with an unrivalled lineup of international DJs connected to it past and present.
If Jazz Dance is your thing there is simply no other place to be! Several hundred Brits will be descending on Perpignan for three days of dance and music, and the Perpignanais themselves are promising to show up in large numbers.
Perry and his crew have danced with all the greats, from James Brown to two months ago at the proms at the Royal Albert Hall with Gregory Porter, over many years and are at the top of their field, and they invite you to come and dance with them.
At the weekender you can experience three of London's most iconic Jazz Dance club nights of recent years.. but right here in Perpignan at the Casa Musicale, a fantastic central Perpignan venue.
This is a Jazz festival like no other, as it's contemporary and 100% focussed on dance. We will also have dance classes on the Saturday, photographic and Art exhibitions and all sorts of other things going on during the days of the festival (10-11-12 October) so come along, we're sure you'll find it exciting and interesting.
It takes place on the 10 -12 OCTOBER 2014, AT THE CASA MUSICALE, PERPIGNAN FRANCE
The venue is very central, and about a 5 minute walk from the central Square, Place de la Republique.
Tickets on the door are €10 and the dance classes on the Saturday afternoon are €5 for one, and €10 to attend all four. There is also a kids class between 15.30 and 16.30
MAIN EVENTS
The weekend will consist of dance classes during the day and club sessions by night (except the legendary Shiftless Shuffle which will take place as it does traditionally in London on Sunday afternoon) with a fantastic lineup of UK and international DJs. The idea is to have a different theme on each night based on three of London's most iconic Jazz Dance club nights of recent years, each with a music policy relating to a different facet of Jazz dance, so we have:
FRIDAY 10 OCTOBER: 18h – 21h
OPENING OF THE PHOTOGRAPHY EXHIBITION OF STEFF SAINT E AND THE ART OF OSCAR ROMP (free admission)
FRIDAY 10 OCTOBER: 21h – 02h
"WEAK AT THE KNEES" (Music Policy: Funk, Disco, Rare Groove,JazzFunk and deepest Boogie – entry €10) with:
DEB JOY
DEEJAY PHAROAH
PERRY LOUIS
PAUL TROUBLE ANDERSON
SATURDAY 11 OCTOBER: 13.30h – 20h
THE JAZZCOTECH VILLAGE with Dance Classes, Local Djs, Record Sellers, Bar and snacks (free admission but dance classes €5 for one or €10 for access to all four, there is also a free Children'dance class.) Dance classes with:
14:00 > 15:15 Jazz Rock avec ROBERT MODESTINE
15:30 > 16:45 Jazz Fusion avec KWESI JOHNSON 

17:00 > 18:15 Tap avec ROXANE BUTTERFLY
18:30 > 19:45 From Funk to Fusion avec PERRY LOUIS

Children's class 15.30-16.30
SATURDAY 11 OCTOBER:
"MESSIN" AROUND" 21h -04h (Music Policy: Latin, Afro Beat, Soul, Disco, Brazilian and a touch of Jazz with a live Dance performance by your hosts, the JazzCotech Dancers – entry €10) with:
ESPEN HORNE
DJ CAROLL
DJ PSYCUT
PERRY LOUIS
PATRICK FORGE
SUNDAY 12 OCTOBER
"SHIFTLESS SHUFFLE" 14h -20h (Music Policy: Out and out UK Underground Jazz Dance, Hard JazzFunk, Latin, Be Bop and Jazz Fusion – entry €10) with:
GLEN MCLEAN
COLIN PARNELL AND BOO
NICK HOSIER
PATRICK FORGE