In the peaceful surrounds of St.Cyprien, we are all destined to live until we are 150. People are relaxed cycling around, pottering around on market days and taking long walks by the sea.
---
There are times when the mind is a swamp, one moment a sanctuary, the next, fraught with difficulties and imponderables.
Things can get a little cramped up there in those heads of ours' and a short walk to the beach and simply staring out at the horizon and rising sun resets the busiest of minds to calm.
The other day, I wondered how one might describe the sea to someone who has never seen it. The sea is as repetitive as music, I think. Days come when there is no rippling, no movement, a pause, but there is never a full stop for the waves go on beating relentlessly.
Sometimes the sea owns the stage and other times takes a back seat, like the rhythmic drum in an orchestra but it is always the backdrop of the earth. You have to witness it for yourself, I think and it is inconceivable to me that so many people I have met in my life have never seen the ocean and sadly, never will.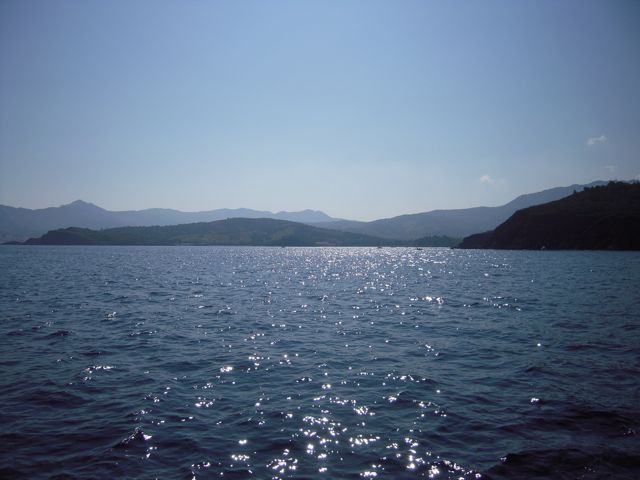 I haven't yet ventured in for a swim this year as a friend suggested there were shark sightings nearby.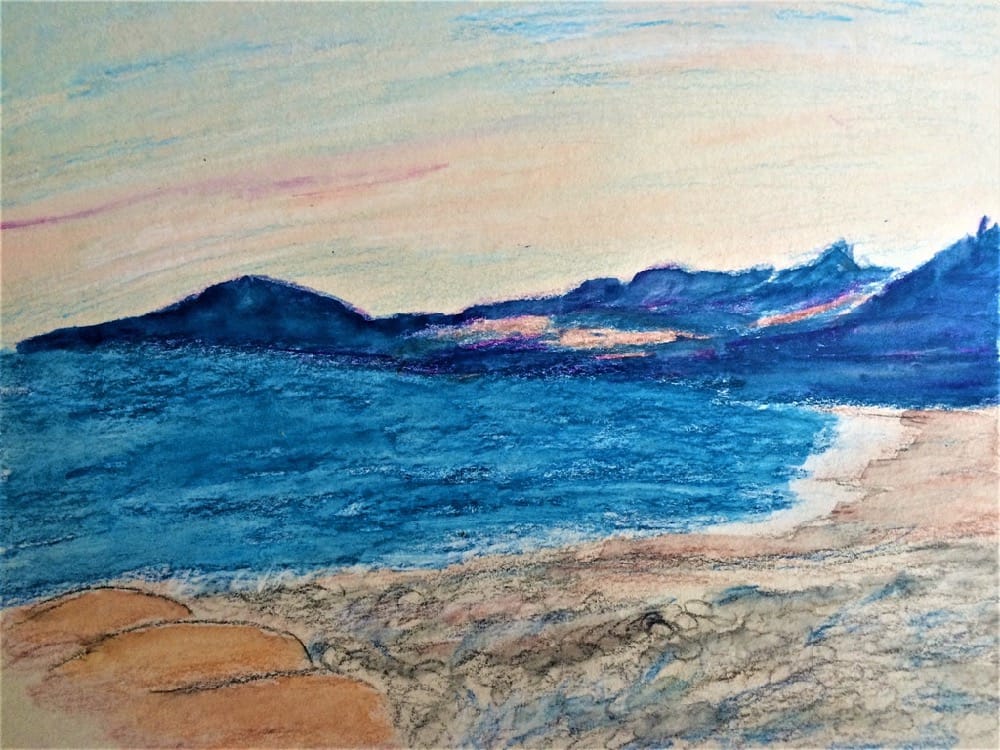 Being gullible is part of the journey of being a curious traveller and my friend indeed considers himself to be a great comedian, but I can't decide if he was serious, or not. I have yet to see anybody else gadding about in these shark-infested waters.
There was a snake on the cycle path last week on the road to Canet and so, naturally, I have deduced that the region is awash with exotic creatures. Still reeling from the shock of almost pedalling over a reptile, I am reluctant to seek more trouble among the sea creatures. There is safety in numbers so, as soon as I spot a few bodies happily bobbing about, I will put my dainty self in as bait.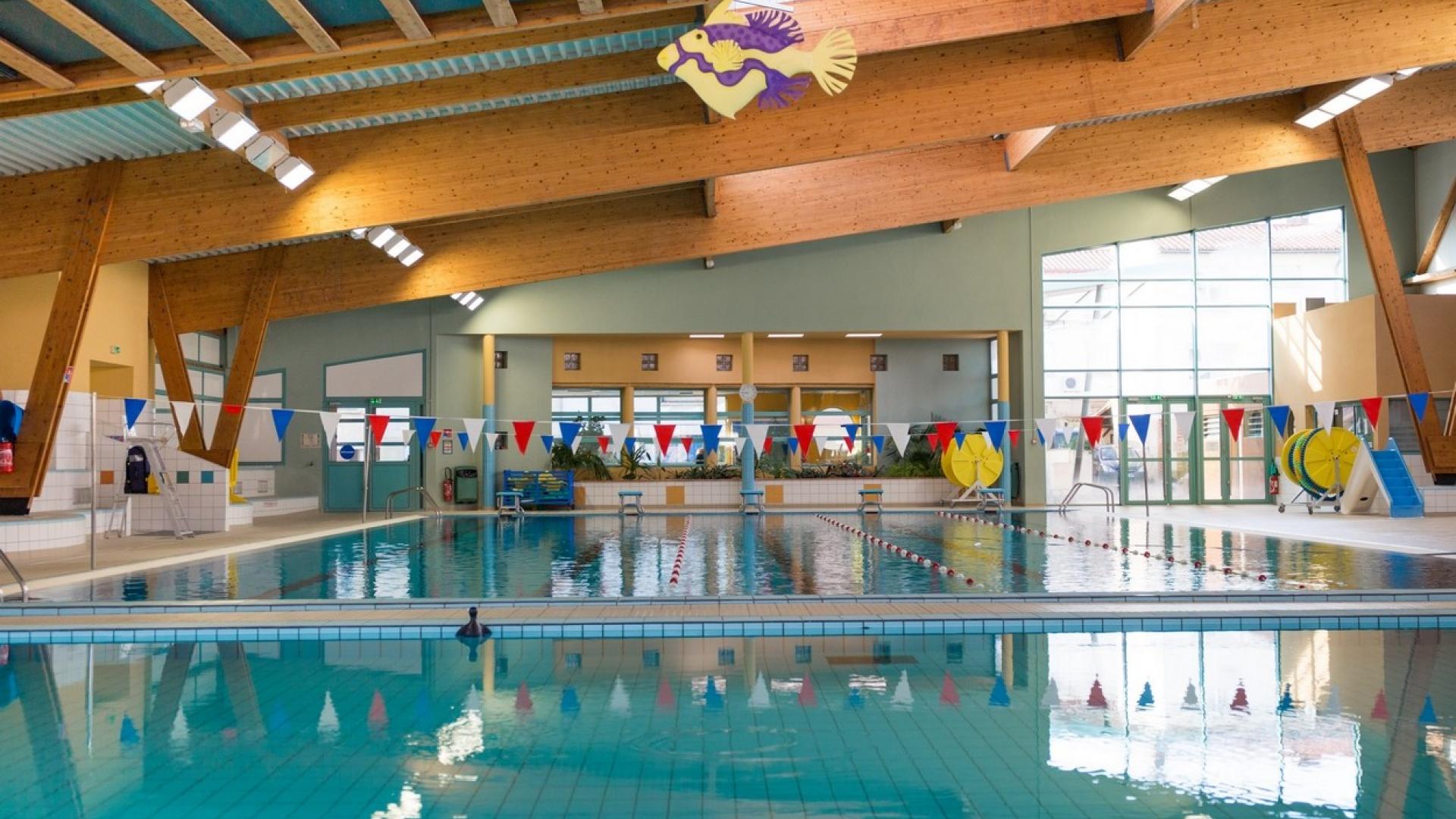 In the meantime, I frequent the swimming pool here in St. Cyprien. Evidently, I am rather slow at dressing myself, mothers have attended to all their flock before I emerge half-dressed and looking for a hairdryer. My tardiness is a little known fact to me, but the staff are hollering to check if anyone is left in the pool and turning off lights before I slitter out, embarrassed, ashamed that perhaps an hour slipped away as I was preening myself.
Back home in Ireland this never happened, so I find the whole thing rather mystifying and can only conclude that I have stumbled upon a little known cultural difference between us.
The pool has a Hamman where I can't help but imagine a ridiculous mix of eras.
I am one moment Cleopatra, the next bathing with the Romans. I lay down on the hot tiles and wonder how sweating out my pores can feel so luxurious. A body slinks in through the fog, heads to the sink, fills up the watering can and slowly pours water over the tiled seating where we are seated and laying around.
I wish to interfere with the silence, pat him on the shoulder and inform him that the chap that just left has just done that same water pouring business mere seconds before him, but, I realise there are people in this world that need a task, even if it is entirely unnecessary, so I leave him alone.
The next person comes in, and off he goes, picks up the watering can and off we go again, more hosing down the tiles. Cross-legged yogis sit oblivious to anyone else around them; a zen state arises when one drowns out the presence of other humans. Couples gently massage each other, momentarily forgetting they are in a public venue until they realise they are being stared when they then abruptly end their little romantic spectacle with an abrupt peck on their partner's shoulder.
The unsuspecting partner gets irritated, checks for signs of blood and they both sulk and silence and propriety is fully restored to the room where we all pretend we are ignoring each other. There are also people there who are alone, but a little bored, so they tend to scrutinise their bodies, searching for all sorts of moles and holes, I suspect. We are all strangers in the fog, but we steal glances at each other so that by the time I am finished I almost want to say,
"A bientôt!"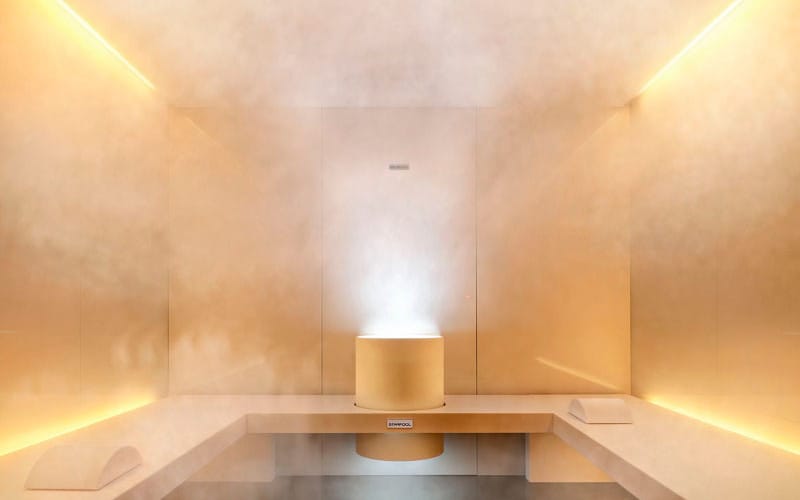 We have established something of a community: we are 'the Hamman club,' which sounds more like a rock band than a group of sweaty bodies who sit around and indulge in breathing in each others' bacteria.
Now and then a little noise eeks into the Hamman from outside when there are some exercise classes on. Never mind wondering about why one would want to pedal furiously underwater when people have been doing it satisfactorily for centuries on dry land, an essential component of this class necessitates blaring music that vies with the teacher who is bellowing out instructions as she leaps about furiously by the poolside.
Even more curious is that another class hurl trampolines in the water. I can't imagine what their instructor is shouting at them, except to remind them to jump up and down at intervals, but this also necessitates accompanying loud, dance music.
I will come one day and find the pool full of ironing boards, washing machines and old junk that anyone wants to bring along to class and chuck in the pool to entertain oneself with and I do not doubt that there will be music and an instructor there too.
Even in the swimming area where there are no classes held and one is free to do as one wishes, people wear flippers and all sorts of equipment between their legs and arms. Whatever happened to just swimming up and down the pool?
For an entirely different experience, you can go into the Pyrennees mountains and wind your way up to the hot springs in Fontpédrouse, a village located in the canton of Pyrennes Orientales and arrondissement of Prades.
It took us about an hour and a half to get there but, I warn you might find your head wanders off left and right and it might slip your mind that you are, in fact, in charge of a mechanically propelled vehicle. I may have appeared drunk driving in the belly of the mountains when, in fact, I was distracted by the splendid views, but we managed to get there. I think my French friend found himself appreciating life more fully for, albeit, slightly different reasons: he blessed himself as soon as he stepped out of the car.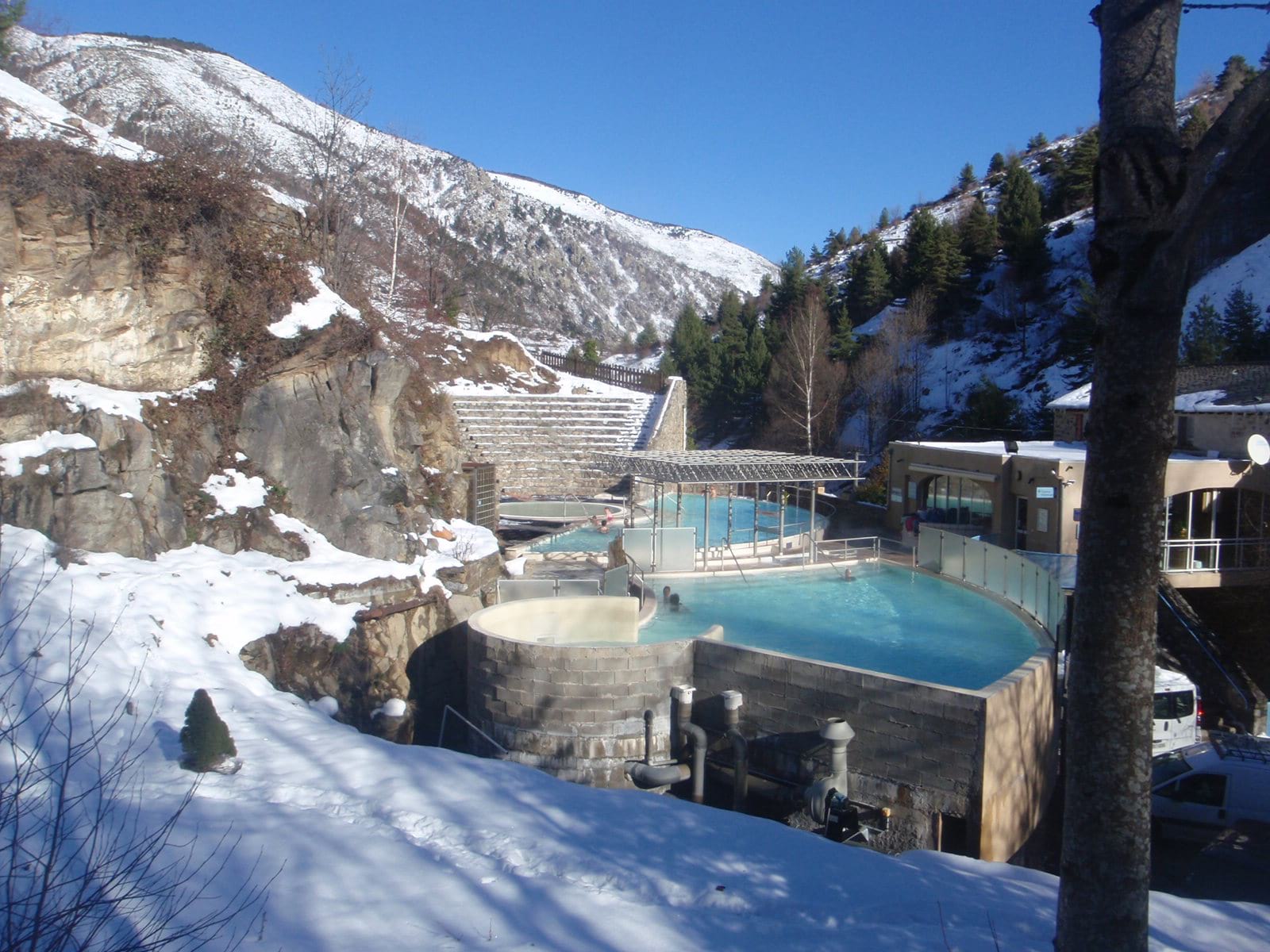 We passed Les Bains de Saint Thomas on the way and the facilities that are on offer there will certainly entice me back to investigate another time, particularly when there is lots of snow I can imagine it must be wonderful to sit in one of their pools.
My friend is a bohemian chap (he didn't want to pay into the baths) and so, we turned off the main road and attempted to rock climb my car up that mountainside. My nose was glued to the windscreen. The rear of my car felt like it was dragging us back down as I engaged in a battle with gravity. A snow-capped peak jutted up behind the azure sky and this sight prompted me to visualise myself shivering in my swimsuit in the open-air imminently, even though the sun was out throwing it's gaze over the dusty climb down to the hot springs.
I had worked up quite as sweat as my friend pointed out that there was no official parking here in this secret spot reserved for people with local knowledge. I had to manoeuvre my way skilfully alongside all the camper vans parked around the secret entranceway to get any parking at all. I noticed all the licence plates were Spanish, so I guessed local knowledge spreads quickly in these hills.
We finally got to our destination, a place where water leaks down through the rocks. We changed and tip-toed over the rocks into the pool. A small waterfall spilt down through the rocks to fill the pond we lay in. In the pool, my French neighbour, a new acquaintance, explained that he came daily to the pools as the hot springs help his ailments.
In the pool just below us, there was a group of Catalans. I caught more than glimpses at tattooed bodies and nakedness, as I was so intrigued I had to keep looking back again at them.
In the meantime, I occasionally saw a dog wander in the direction of the tree I had lately left all my belongings. Nothing untoward happened except that it wasn't easy for me to relax, submerged in hot water, as I was conscious that dogs might be rummaging through my clothing and picnic that I had brought along and I kept wondered if I should quickly hop out and rescue it and I see-sawed through these thoughts.
On the other hand, my companion lay with his head tilted back against the rocks and a blissful smile on his face and I know he hadn't a care in the world whilst I was convinced our car keys were gone. When it was time to go, I somehow found myself entrenched in conversation with a naked Spaniard.
I do tend to attract bewildered souls and so was not at all surprised when the naked man put a crystal in my palm and then advised me to:
"Go with the flow."
We spoke in Spanish and perhaps I didn't fully understand, but I believe he was trying to explain how to remove the negative karmic colours that were circling me. I had noticed the dream catchers dangling in the trees earlier and the ambience of the place was such that when I saw my new pal throw on his robe and pick up his mandolin and lead us back up through the scrubland, I thought we might end up paying a visit to a cave that he might reveal is his permanent residence.
On the way, he explained some of the great mysteries of life, but I didn't catch all that he said as he had a kind of spring in his step as he walked and tendency to leap and scurry ahead of us and then double-back again, so I shall forever remain confused about life's mysteries. But, it was a very fine day out in the hills.
When I recovered, back in St. Cyprien, I went to the gym nearby in the Stade des Capellans.
The classes are excellent and I am destined to have the most perfect body without enhancements.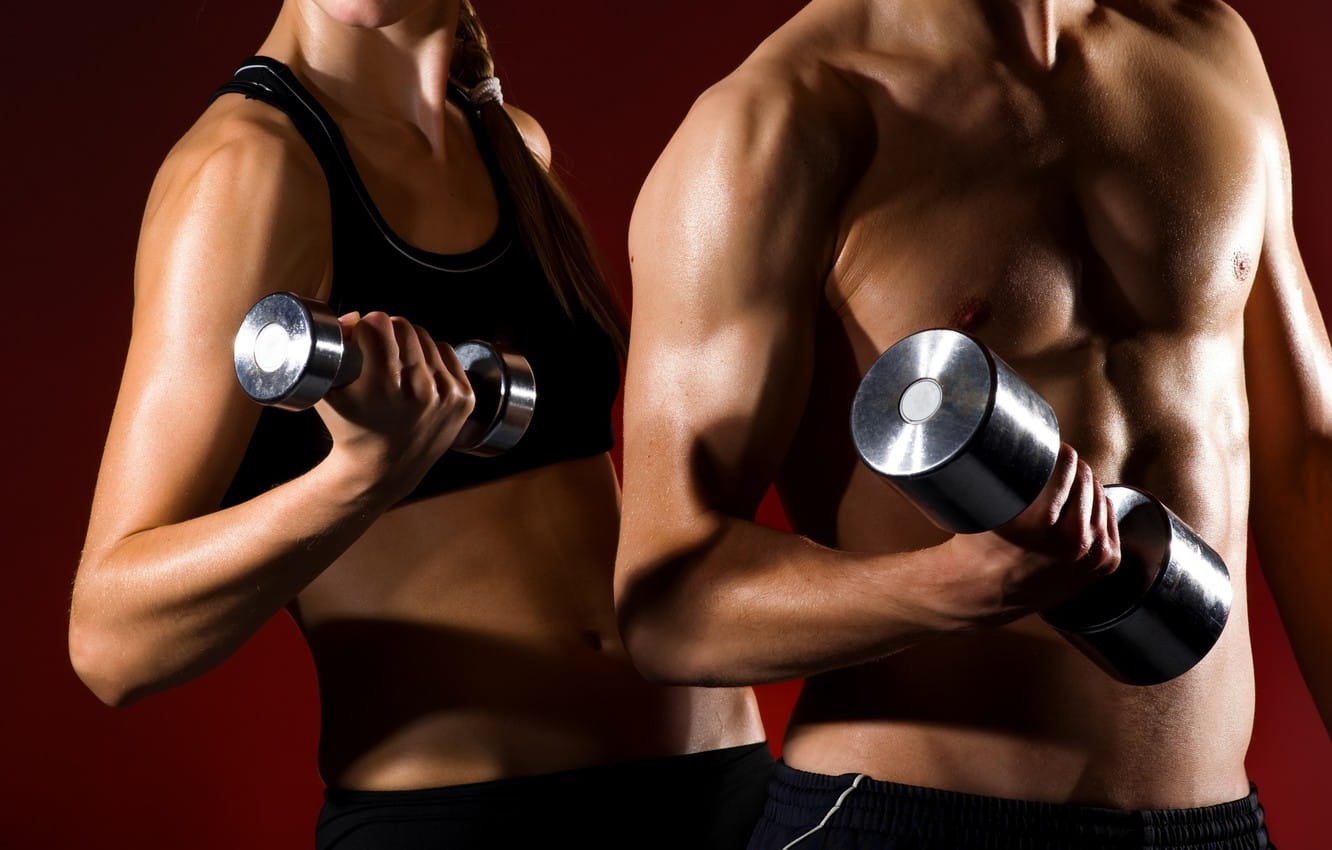 The building is set in the midst of woodland and right next to it, there is a lovely restaurant called La Main a La Pate. Muted terracotta colours the bricked building and it blends perfectly into the natural setting. Brown wooden shutters surround windows and the entranceway. An old cart and wrought-iron farm tools are strewn about as decorative objects in the grassy patch outside.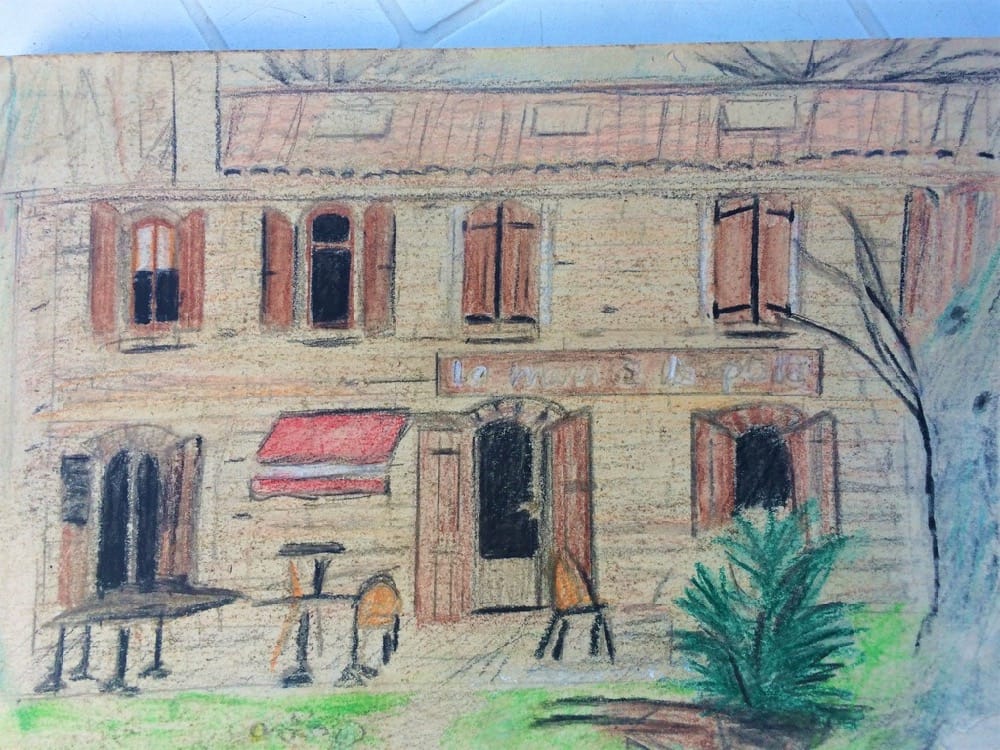 A rustic menu board leads onto the small pathway to the restaurant and there is a paved dining area outside that is surrounded by grand trees that have their barks wrapped in army camouflage attire. Directly behind the restaurant is the Jardin du Plantes a wonderful park to wander around in after lunch. If I was in Ireland I would dream about France and this scene would come to mind.
I have had a few too many delicious pizzas in the restaurant, whilst looking guilty at the gym, so the desired body might come with a few gentle creases around the midriff. On those days that I lift weights, I look at Serena Williams beside me and swear I will eat less.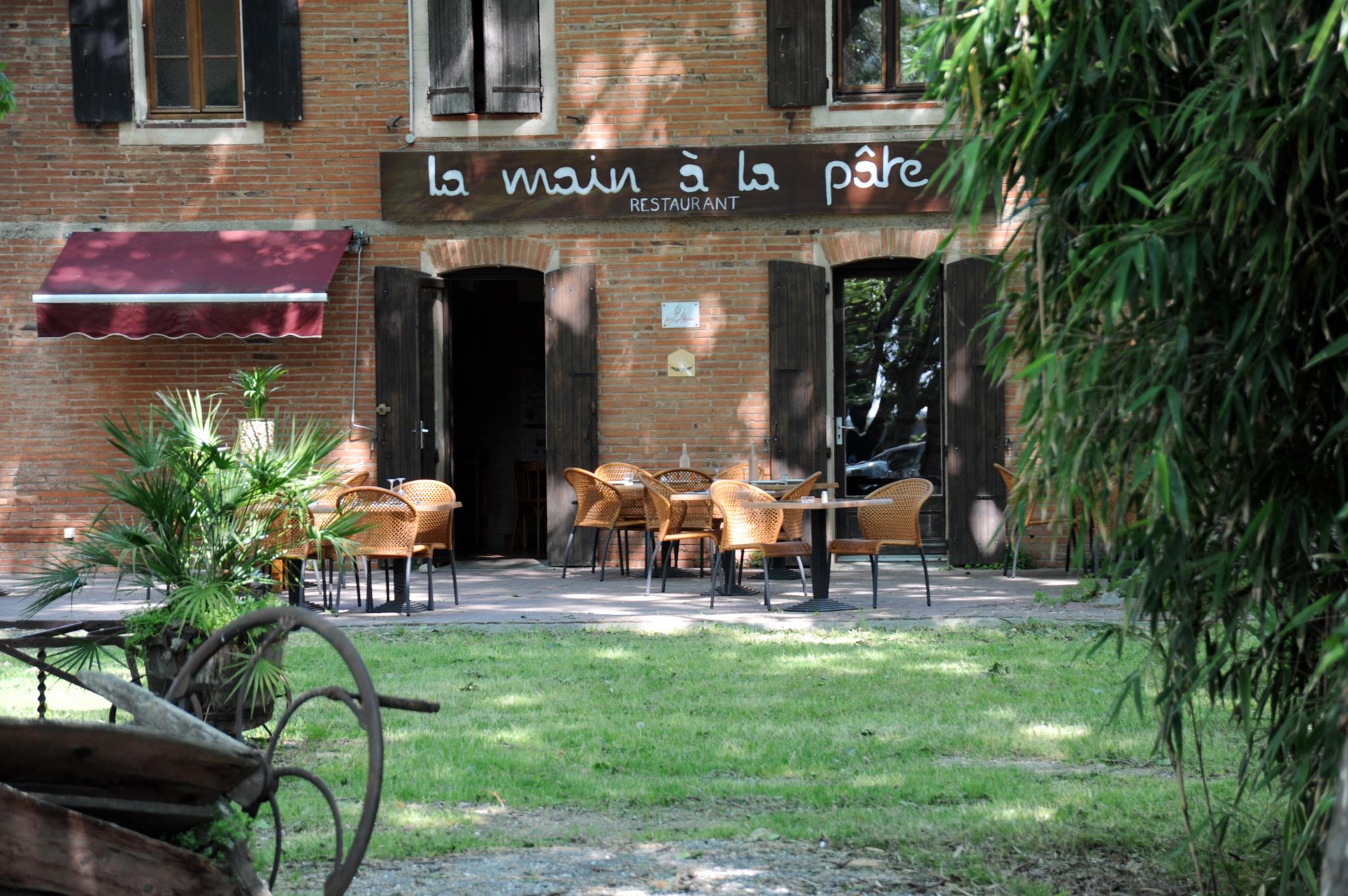 I tend to make this promise frequently, almost every time I get to the last minutes of class when I think I'm feeling faint, or, when I see the teacher write down on her whiteboard the number of burpees to do before skipping and another million tasks that involve moving limbs this way and that, the object of all these exercises is to acquire pain at some point.
Clearly, I lie, for as soon as I cast my eyes on that restaurant, I throw caution to the wind and declare life is too short and nothing can be better than a glass of vino and a pizza sitting outside in this glorious setting. I swear that all the gain of eating is worth it, at least until I finish eating.
And then, one evening at Canet walking along with a friend we came across a gym park, which is a small area allotted to exercise equipment that the public is free to use and so we tried it out. I felt my breaths get louder as they dashed after each other and into the night air. I could hear the sound of the waves breaking and kicking at the shoreline. The dark sand led towards the sea, which was just visible, as luminous and shimmering white froth framed in the black night.
It was a simple event, my legs and arms flailing on a machine that looks as if it was made for a kangaroo it has such big feet to slip into. I could have accelerated and taken off to the stars, but I didn't, I remained steadfast, the repetitive movement continuing until I stopped, dismounted and wobbled around recovering my balance on earth. I loved it! There are gym parks around St. Cyprien too and so I am running around trying them out now too.
When the sharks attack, I'll certainly make a healthy snack for them!
ENJOY LEONE'S BLOG? CLICK HERE LET HER KNOW