Sunday 8th June 2014 –from 9h30
Olive festival and parade of the Giants
Place Méditerranée, Canet Plage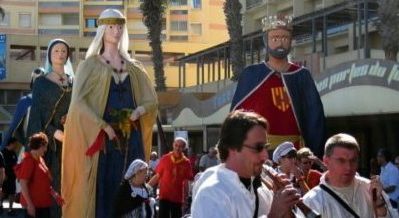 Olive festival and local produce market where the 'oléiculteurs' (olive growers) get together to bring you a wide range of natural olive based products ( olive oil, tapenades….) plus olive woods, breads.

To make the day really BIG, there will also be a parade of the 'Géants de Catalogne Nord' who will leave from the centre, down the ramblas and avenue Méditerranée. The Canet giants, Vicomte Guillem de Canet and his wife Gueralda will be accompanied by giant friends from Perpignan, Elne, Argelès, Thuir and Tautavel and accompanied by the « Gralle » traditional music band. Watch out for the dance of the giants at 11h and 15h!
*Gegants are enormous painted papier-maché figures, sometimes 14 or 15 ft tall, with traditional clothing and a person inside. Most towns have their own giants, often representing some important person in the history of the town. They usually appear in couples, often as king and queen, or some other important person and go out during the patron saint holiday of the town (Festa Major) or on special days, and dance in the streets with little "big-heads" or "cap-grossos".