Friday 5th and Sunday 7th October 2012

Le Grenat, Théâtre de l'Archipel, Perpignan
LES NOCES DE FIGARO (LE NOZZE DI FIGARO)
Wolfgang Amadeus Mozart
Performed by the Chœurs de l'Opéra national Montpellier Languedoc-Roussillon / Orchestre national Montpellier Languedoc-Roussillon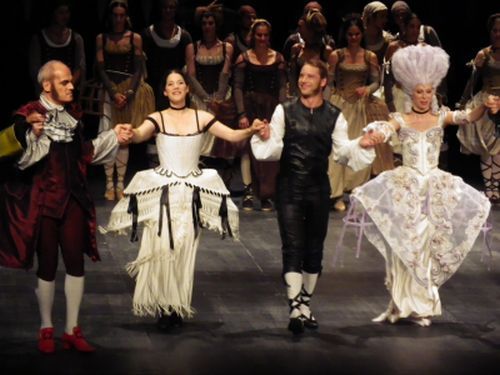 Set in Count Almaviva's castle in Seville in the late 18th Century, Le Nozze di Figaro is based on Beaumarchais's 1784 play La Folle Journée, ou Le Mariage de Figaro, a sequel to his earlier play, The Barber of Seville.
In The Marriage of Figaro, Beaumarchais continued their story. The Count has married Rosine but their marriage has gone sour because of his philandering. Figaro has quit barbering and is now the Count's major-domo. He is engaged to Suzanne, who is Countess Rosine's maid — and the Count's intended conquest. Old Bartholo is back to seek revenge on Figaro for taking Rosine away from him, with the help of the slimy music-master, Don Bazile. Adding to the fun are an amorous teenager, a scheming old maid, a drunken gardener, and a silly young girl. Much happens on a single 'folle journée' – a crazy day.
Beaumarchais's Marriage of Figaro was at first banned in Vienna because of its licentiousness,but Mozart managed to get official approval for an operatic version which eventually achieved great success.
Charming, lighthearted and endlessly enjoyable, Mozarts most popular opera is full of vivid characters, glowing wit, mistaken identities, and carefully constructed intrigue
More info:
‪Le Théâtre de l'Archipel‬
‪Avenue Général Leclerc‬
‪BP 90 327 – 66003 Perpignan cedex‬
‪Tel : 04 68 62 62 00‬
‪Email : info@theatredelarchipel.org‬

‪
Le Théâtre de l'Archipel‬
There is an exciting new addition to the Perpignan skyline. If you have been to Perpignan in the last few months you would have noticed a large construction along Avenue Général Leclerc and a giant concrete bubble. This bubble is ‬now‪ 'the grenat,' a large theatre space accommodating 1100 guests and the venue of the Théâtre de l'Archipel. Designed by renowned French architect Jean Nouvel, the theatre will bring a touch of prestige to the previously rundown edge of the city.‬
‪The new theatre and cultural precinct is designed to be an artistic & cultural hub for the city. Welcoming local and international artists, it is hoped the precinct will encourage a spirit of multiculturalism and social tolerance.‬
‪There is something for everyone in the season line-up including theatre, dance, circus, opera, classical & contemporary music, as well as a special programme for children. Some of the artists performing include Eric Cantona, Thomas Dutronc and Yael Naim. Ticket prices range from 11€ to 40€.‬
‪For ticket and performance information you can visit the theatre website: www.theatredelarchipel.org Here you will be able to read more about "the grenat" and take a virtual tour of the site.‬