Mare Nostrum Musicae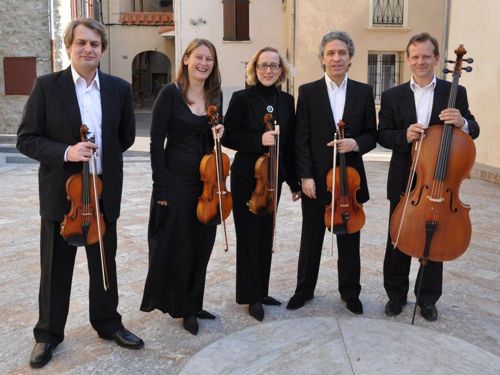 Mare Nostrum Musicae (formed in 1995) is a group of professional musicians, all living in Languedoc Roussillon or Catalonia (north & south). The artistic director is François Ragot, the Ceret-born cellist with an international reputation.
They are supported by the association FCPC (Formations de Chambre des Pays Catalans) which, based in Céret, was formed in 2007 to ensure that people in the Pyrenees Orientales have the opportunity to hear, for an affordable price, classical music played by world class musicians.
François and Mare Nostrum Musicae also play with a number of other orchestras and ensembles both in the PO and elsewhere.
PROGRAMME 2013
Sunday 26th May at 17h30
Chapelle St Ferreol, Céret
Concert with Francois Ragot, Divna Delmas , Claude Delmas and (soprano) Ulrike van Cotthem. Works by Albeniz, Bellini, Beethoven, Haydn and Caccini. Further information: Tourist Office Ceret – 04 68 87 00 53
Sunday 2nd June at 17h30
Concert in the church Ste. Marie in Le Boulou.

Mare Nostrum Musicae quartet,
Frederic Descargues, Lidia Millet, Fanny Kobus, Francois Ragot playing works by Albeniz, Turina and Massenet with the choir 'Serenata' and works by A. Loti, Pergolese, Handel, John Rutter etc

Information: 04 68 83 18 87
Saturday 22nd June at 9pm
Concert in the church Ste. Marie de l'Assomption, Palau del Vidre.

As part of the 14th Festival of music and poetry at Palau del Vidre the cellist François Ragot will be joined by the accordionist Ambre Vuillermoz to play works by Granados, Albéniz, Mozart, Piazzolla and others. Tarif 15 Euros.
Information and reservations: 04 68 37 98 38 or 04 68 81 64 26
concert.d.ete@wanadoo.fr
Saturday 6th July at 9.30pm
Concert in the church Ste. Marie de l'Assomption, Palau del Vidre.

As part of the 14th Festival of music and poetry at Palau del Vidre the Trio de Basses – François Ragot and Divna Delmas (cello), Claude Delmas (double bass) accompanied by soprano Ulrike van Cotthem – will play works by Scarlatti, Handel Caccini, Haydn, Fauré, Beethoven, Romberg, Bellini, Albéniz and Gershwin. Tarif 15 Euros.
Information and reservations: 04 68 37 98 38 or 04 68 81 64 26
concert.d.ete@wanadoo.fr
MORE TO FOLLOW