Saturday 5th – Saturday 19th April 2014
Sacred Music Festival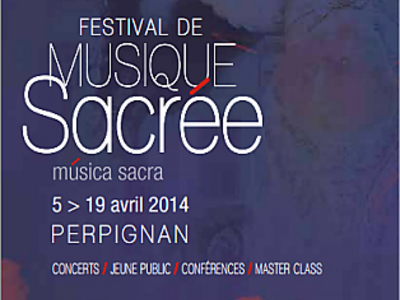 Created in 1987, the Perpignan Sacred Music Festival celebrates its 27th anniversary this year. Last year's programme included Bach, Liszt, religious and ceremonial vocals, the Psalms of David, a Mediterranean journey……
This year there will be prestigious evening concerts with known artistes as well as a variety of other musical entertainment.
Saturday 5th
120h30, Église des Dominicains
Les cantiques de Salomon. Polyphony and madrigals at Mantoue
Profetti della quinta directed by Elam Roten
Modernity and biblical tradition! Salomone Rossi, one of the favourite disciples of the Prince of Musicians, Claudio Monteverdi, with a work that is magnificent and unique: the songs of Solomon!
Sunday 7th
20h30, Église des Dominicains
Odyssey for cello and imaginary choir
Sonia Wieder-Atherton, cello
For Sonia Wieder-Atherton, outstanding artist, the Odyssey is in her imagination , its Mediterranean … From Bach to Aperghis, Schuman and Prokofiev, the voice of the cello will echo the powerful breath of traditional songs of the Mediterranean from Egypt to Andalusia, Syria …
Tuesday 8th
20h30, Église Notre-Dame La Réal
Le souffle de Montserrat
The Escolania of Montserrat directed by Bernard Vivancos
The prestige of this Catalan choir is recognized around the world. His visit to Perpignan is a real event. Forty of these young singers will celebrate the great masters of Montserrat, musicians of their time, past and present.
Wednesday 9th
20h30, Casa Musicale
L'envol, Femmes mystiques d'Orient et d'Occident
Leili Anvar, narrator and Renaud Garcia-Fons, bass
Leili Anvar, specializing in mystical literature, and Renaud Garcia-Fons, well travelled bass player, invite us to a concert reading about a selection of texts and poems by women mystics of East and West. A great opportunity for the public to find out about the distant travels of Garcia-Fons!
A concert in partnership with the festival Jazzèbre
Friday 11th
20h30, Théâtre de L'Archipel
Hear my prayer. Sacred Music of Henry Purcell
Les Arts Florissants under the direction of Paul Agnew
The Festival of Sacred Music Perpignan and Theatre Archipelago combine for an exceptional concert of Les Arts Florissants, a prestigious and renowned musical formation worldwide. As requested by the famous Franco-American conductor and harpsichordist, William Christie, Paul Agnew will lead this magnificent choir.
Sunday 13th
18h00, Église des Dominicains
The spirit of Granada, Chants Arab-Andalusian, Jewish and Spanish Cantigas de Santa Maria
Françoise Atlan, singing, and the Arab-Andalusian Orchestra of Fez under the leadership of Mohamed Brioulel
To evoke Granada is to use fantasy filled exchanges, tolerance, brotherhood and human intelligence at the heart of a land where Muslim, Christian and Jewish cultures intermingle. Françoise Atlan embodied by her singing this long history combining the Arab-Andalusian repertoire and Judeo-Spanish.
Saturday 19th
20h30, Église des Dominicains
Leçons de Ténèbres, Cristobal Morales. Office du Samedi saint à Rome au XVIe siècle
The Doulce Mémoire ensemble directed Denis Raisin Dadre
Easter Saturday, two in the morning. In the churches and chapels of all Christendom, the Passion of Christ is commemorated. In Rome in the sixteenth century, the Lamentations of Cristóbal de Morales (1500-1553) was sung in the Sistine Chapel. It is this magnificent music that Denis Raisin-Dadre and his band will perform at the church of the Dominicans
VISIT THE FESTIVAL FACEBOOK PAGE