Friday December 21st 2012
"Soirée ChanSong"
Bistrot du France, 21 Quai Forgas, Port-Vendres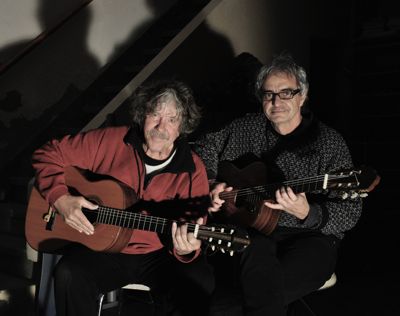 A l'occasion de la fin du monde annoncée par les Maya, venez à Port-Vendres au lieu de Bugarach pour le
SPÉCIAL NOËL de la soirée « ChanSong » !!! Ari Hantke & Pierre Leberger chantent leurs grands classiques ET des chansons de Noël françaises, anglaises, espagnoles et allemandes.
French chanson (Brassens, Ferrat, Moustaki…), a bit of Spanish (Paco Ibanez) and German (Franz-Josef Degenhardt) songs, along with some US folk & Country & Blues, style "Me & Bobby McGee", "On the Road again", "16 Tons", "Take me home, Country Road", "Lucille", as well as some Donovan, Leonard Cohen, Mark Knopfler………. and some Christmas songs for a festive evening from around the world.
Come along and join Ari Hantke & Pierre Leberger on vocals & guitars at the Bistrot du France, 21 Quai Forgas, in Port-Vendres. Come along to listen, sing along, or bring your guitar or other instruments and have a jam!
Apéritif de Bienvenue :

Vin chaud à l'allemande offert
*****
Repas « Soirée ChanSong spécial Noël »
proposé Bistrot du France :

Tartiflette & Salade Verte (€ 10 par portion)

*****
En raison des places assises limitées, nous vous prions de bien vouloir réserver jusqu'au 20 décembre par courriel à ahantke@wanadoo.fr