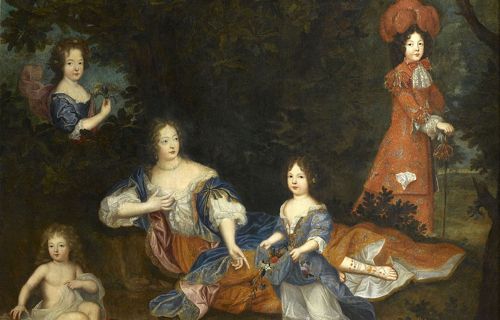 Athénaïs, Marquise de Montespan and her children
Basil Howitt almost blushes as he traces the white-hot, eleven-year love affair between Louis XIV and his second Maîtresse en Titre, Athénaïs, Marquise de Montespan. Among her many nicknames were La Reine Sultane, The Diamond Marquise, The Beautiful Enchantress, The Torrent, and Quanto.
"Somewhere between November 1666 and July 1667," writes Antonia Fraser, "Louis XIV seduced the Marquise de Montespan. Or was it the other way round? Either way, the great sexual adventure of his life was about to begin." Louis XIV was then in his late 20s (born 5 September 1638), Athénaïs two years younger.
Athénaïs, Marquise de Montespan, was actually baptised Françoise but became known as Athénaïs (the Greek goddess of wisdom) when she began to circulate in the Parisian circles of Les Précieuses – those oh-so-refined women of letters ridiculed by Molière.
Harem
When she became the King's mistress, Athénaïs effectively created a harem within the royal household. In the space of six years, Louis had three children by his wife Queen Marie-Thérèse (in 1667, 1668 and 1672), two by his still-then official mistress Louise de la Vallière (1666 and 1667) and the first of seven children by Athénaïs (in 1669).
Apparently, no matter whose beds he occupied during the day and most of the night, he normally ended up in the dawn hours with his long-suffering Queen – usually just to sleep! Then after a few hours with his Queen, Louis went to his own room for the time-consuming Lever (the ritual of getting-up): the petit lever for his inner circle and the grand lever for the whole court.
Altogether Louis had six children by his Queen (only one surviving infancy), four by Louise and seven by Athénaïs. You can find the full roll call of all these 17 children here. All the surviving royal bastards were legitimised.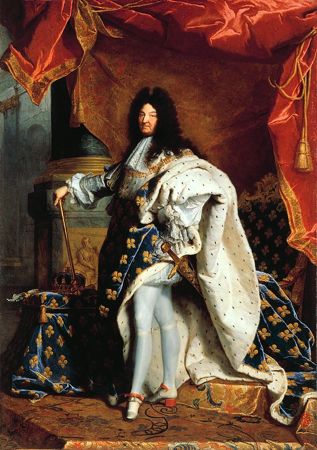 Naughty afternoon?
In addition, Louis the arch-philanderer may have fathered the child conceived by Athénaïs's maid, Claudine (the Demoiselle of the Carnations) in 1676. This child, however, wasn't formally recognised.
Avesnes June 1667
In her meticulously researched historical novel The Mirror Makers, Clare Colvin places Athénaïs's seduction of Louis, or vice versa, more precisely than Antonia Fraser – to June 1667 at Avesnes. So does Michel de Decker in his La Grande Sultane. Amazingly, the town's website narrows the date down to 9th June – though on what grounds is not revealed!
In the summer of 1667 France was invading the Spanish Netherlands in the War of Devolution, claiming that the territory "devolved" on Marie-Thérèse after the death of her father Philip IV. Hence the presence of the King and his entire entourage near the fields of battle. Athénaïs was there as a Lady-in-Waiting to the Queen and, ironically, as a close confidante of Louise de la Vallière, who was soon to fall permanently out of favour with the King after the birth of their last child in this same year.
However, Louise didn't finally leave court until 1674 when she took the veil and wrote a religious tract.
We shall never know exactly when the vital spark between the King and Athénaïs was first ignited. Louis being a fanatical and highly accomplished dancer, they may well have caught each other's eye when they were twirling together in court masques, operas and ballets. As to who seduced whom, there had been every incentive for Athénaïs to make the running. Louis was, after all, the supreme royal catch in the whole of Europe, "the Sun around which France revolved …The best artists, architects and garden designers were scooped up by his insatiable need to build. The greatest writers and musicians provided the court's entertainment. Lives were made and unmade by him."
Athénaïs also wanted out of a miserable marriage to the Marquis de Montespan, by whom she had born two daughters. He was an ill-tempered, spendthrift boor who had taken her jewellery (including a precious pearl necklace) and her money to settle his gambling debts. They struggled to keep one step ahead of the bailiffs. What was worse, Montespan continued to demand his conjugal rights. And when Athénaïs's affair was later in full spate, the enraged Montespan tried to wreak revenge by infecting her (and the King) with syphilis, before he was thrown into the prison of For L'Eveque.
Comfrey comfort – those first nights
After Louis's and Athénaïs's first nights together in Avesnes, Claudine (in Colvin's words) noticed how the mood and appearance of her mistress changed from day to day. She spent most of one day asleep, exhausted, she said, from the travelling. Then she went to confession and afterwards seemed more carefree. A convenient confessor, thought Claudine, who believed in absolution rather than penance.
One morning she asked Claudine to massage an extra quantity of comfrey into her face, as he skin was roughened from the weather. Obviously the king could do with a shave … Absolution would not always come so easily in the future, as we shall see.
Three times a day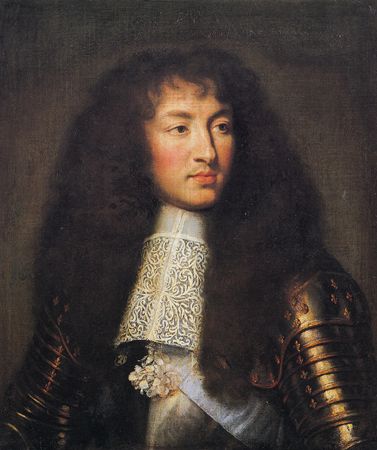 Meanwhile they would soon be making love "sometimes three times a day for long sessions" and the king would be indulging her every whim, to the dismay of his first minister Colbert, dour and forever clothed in black. It was he who had somehow to find the money also for France's costly wars, and for the inordinately expensive building of the château of Versailles on a swamp, 20 kilometres south west of Paris. Not to mention also a palace and a château for Athénaïs.
Want must have
Je veux je veux je veux (I want I want I want) Do everything necessary to give her satisfaction and inform me of the steps you have taken.
(Louis to Colbert)
Athénaïs's "empire" over Louis reached its zenith in the 70s. He showered pearls, diamonds, earrings and gems on her like confetti – and settled all her gambling debts! In 1670 he built an exquisite love nest for the pair of them, the Trianon de porcelaine in the grounds of his château-in-progress at Versailles. Here or wherever else they were she revelled in their lovemaking – a pleasure not usually experienced by women (according to Antonia Fraser) in those days. Most regarded it as "commerce" or "conjugal debt" to be endured.
Clagny – The Palace of the Enchantress
Then in 1674 Louis ordered the building for Athénaïs of a château at Clagny (just to the north east of Versailles) with an orangerie paved with marble. A snip at 3 million livres! What can I tell you [wrote Mme de Sévigné rather breathlessly of Clagny], it's the palace of Armida (The Enchantress) … You know the style of Le Nôtre (the King's head gardener). He has left alone a dark little wood which is fine as it is. There is also a wood of orange trees in huge boxes; one can walk there, there are paths in the shade, and to hide the boxes there are on both sides palisades high enough to rest against, all bedecked with tuberoses, roses, jasmines, carnations. It is assuredly the most beautiful, the most surprising and most enchanting novelty imaginable; one truly loves this wood.
Here at Clagny Athénaïs indulged herself inordinately. She employed 1,200 gardeners, and in one season ordered 8,000 daffodils to be planted. The head gardener was reputed to have a stock of 2,000,000 flower pots. One could go on and on – but you get the picture.
Not just a pretty face
Athénaïs, by the way, was not only ravishingly beautiful: she was also stimulating company. In the words of Mme de Sévigné (of whom see below), As well as her most surprising beauty [Athénaïs] has the liveliest, most refined and cultivated mind – something she has inherited. Hence her patronage of many of the most talented writers of the time including La Fontaine, Molière and Quinault.
"I understand that my time is over."
Inevitably all this came to an end. Athénaïs started to put on weight and the king's desire for her waned, even with the stimulation of "powders of love". More crucially, in 1675, their confessor Bossuet refused them absolution for their heinous sin of double adultery, and they were forced to abstain from sex altogether for 15 months.
There was a reconciliation and reunion afterwards and Athénaïs had her last child by Louis in June 1678 – the year in which their 11-year affair is said to have ended.
There were more women to come in the life of Louis XIV – including a bewitching seventeen-year-old provincial girl, Mademoiselle de Fontanges – Angélique – who was reportedly sotte comme un panier (a basket case?). And of course there was the severe, motherly Mme de Maintenon whom he was to marry secretly – and from whom he would demand sex, much to her dismay, well in to their seventies.
But these are other stories. After weathering successfully the "Affair of the Poisons", Athénaïs withdrew to Paris in 1691. Thereafter she devoted the rest of her life to prayer, repentance and good works. She died on 28 May 1707, having made a public confession of her sins.
© 2010, Basil Howitt
She [Athénaïs] was astonishingly beautiful. She had long, thick, corn-coloured hair which curled artlessly about her shoulders when she was in a state of déshabille. Her eyes were huge, blue and very slightly exophthalmic; she had a pouting mouth. There was something at once sexy and imperious about her appearance that ravished the eye while her lusciously curved figure appealed to contemporary taste in contrast to that of slender Louise [the king's previous Maîtresse en Titre]. This voluptuousness makes plausible at least one story by which Louis plotted to spy on her at her bath disguised as a servant; awestruck, he gave away his presence, at which Athénaïs laughingly dropped her towel.
[Antonia Fraser: Love and Louis XIV]
Athénaïs's real power consisted in the sexual thrall or "empire" – the word generally used – which she exerted over the king. There were tales that his passion was so great that he would not even wait for his mistress to be properly undressed by her ladies, before starting to make love to her.
[ibid]
He [Louis XIV] was dressed entirely in scarlet and gold. He wore a flame-red plumed hat on a head of extravagantly long, curled hair that cascaded over his shoulders, a gorget of gold and a sleeved jerkin covered with gold and silver embroidery. Under the jerkin was another garment of gold brocade, worn over a billowing pale shirt. His knee-length breeches were scarlet, embroidered with gold and fastened with garters of flame-red ribbons. The stockings were scarlet and the shoes soft, pale calf, with scarlet heels, diamond buckles and scarlet ribbons.
[Louis XIV when out and about: from Clare Colvin's The Mirror Makers]