SATURDAY 19TH OCTOBER AT 20H30
Maurey Richards and the Screamin' Jones Quintet
Theatre Jean Piat, Canet
Tribute to Ray Charles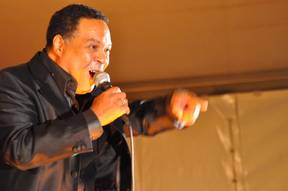 The Platters : If you're in your sixties, you must remember this legendary name, one of the most successful vocal groups of the early rock and roll era of America in the 50s. Over the decades, this quartet remained faithful to their trademark style of R & B with particularly tight, catchy vocal harmonies.
Originally from Chicago, Maurey Richards made his debut at the age of 23, singing in small clubs in Los Angeles. He joined The Platters in the 80s, a collaboration which lasted more than 10 years during which he did world tours and recorded three albums.
In 1990, he decided to change careers, left The Platters and becomes a solo artist as well as appearing in musicals ( Starlight Express, The Genius of Ray Charles , Dancing in the Streets , Porgy and Bess … ).
Accompanied by talented musicians, the Screamin' Jones Quintet, his warm jazz voice is not to be missed in this concert which pays homage to the great Ray Charles
Theatre Jean Piat,
3, rue Joseph Lafon
Canet en Roussillon
Tel: 04.68.86.72.65