YOUR BRITISH CAR IN FRANCE
with Polly Cannie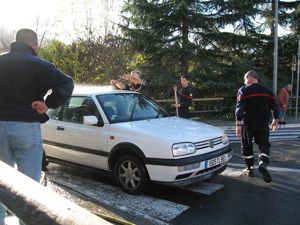 If you're intending to hang on to your British car in France and re-register it, make sure before leaving the UK that you have at least 30 days insurance cover to tide you over and that you bring ALL your documentation with you including – very important this – your original sales invoice.
You will also need to have your car's Certificate of Conformity: I think newish cars have this automatically but if you don't have it then contact the manufacturer's Customer Service Department. Ours came within a week and was free of charge (Honda), although you may have to pay a small fee if you're unlucky, and possibly an even larger one if you go the Internet route using one of the many sites available.
OK, so you've arrived in your British registered car, with headlight stickers attached, and you need to arrange an appointment for a Contrôle Technique at one of the many centres dedicated to this service. Take with you your UK vehicle registration document, the Certificate of Conformity and proof of ID; expect to wait about half an hour and be charged just under €70.
Your car may pass with the headlight stickers on but if not, or if there are any other minor problems, you should still pass the CT but with written conditions for which you have two months to put right. (New headlights could set you back over €500, ouch!) You would then take the car back to the same centre for checking and have the conditions removed at no extra cost.
The CT sticker is displayed on your windscreen and now add the Contrôle Technique certificate to your growing pile of documentation. The good news is that this will last for two years rather than just the one for an MOT and also, more good news, there is currently no road tax to pay in France.
The next visit will be to the Hôtel des Impôts (tax office) in your nearest large town where you need to obtain a 'certificat d'acquisition' which proves that the car belongs to you and that tax was paid at the time of the car purchase, so the original sales invoice is vital here. Also take proof of address (utility bills), proof of ID, UK car registration document, Certificates of Conformity and Contrôle Techniqueand you'll also need to find out the 'puissance fiscale' of your vehicle. You can do this easily online by 'Googling' puissance fiscale and the make, model and year of your car. It will be something between 1 and 11cv – most medium sized cars are around 5cv. The tax office will issue this latest certificate on the spot and without charge.
The (almost) final stage has changed slightly. You can take everything along to the Prefecture in Perpignan and get a temporary Carte Grise (French-style registration document) but be prepared to be shunted around and spend a lot of time there.
What is different is that now you can take all of your paperwork to the Mairie in your nearest large town, together with a cheque book! They will double check the paperwork and calculate the charge for your new Carte Grise based on the age of the car and the 'cv'; I paid just over €200 for mine. They will send off the necessary paperwork and your Carte Grise will arrive by recorded delivery a week or so later.
At this point all you now have to do is to take your Carte Grise to a number-plate making booth in one of the larger supermarkets and expect to pay around €25 for the pair – if you're lucky the chap may even put them on for you!
Take photos! Your car is now French! And you can arrange breakdown and insurance cover – take proof of your UK no claims bonus, as many years as possible! The insurance sticker you'll be given also needs to be displayed on your windscreen.
The very last thing is to complete section 11 on your UK registration document 'Notification of permanent export' and send it off to DVLA.
Bonne route!