Mare Nostrum Musicae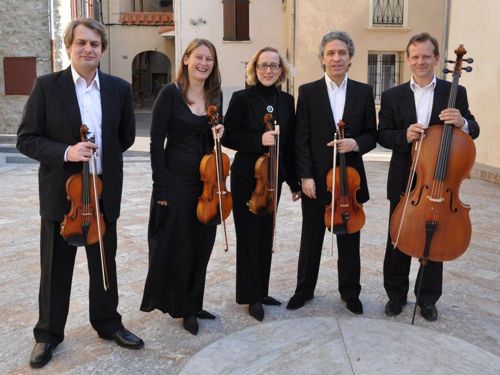 Mare Nostrum Musicae (formed in 1995) is a group of professional musicians under the artistic direction of François Ragot, the celebrated Céret-born cellist.
They are supported by the association FCPC (Formations de Chambre des Pays Catalans) which, based in Céret, was formed in 2007 to ensure that people in the Pyrenees Orientales have the opportunity to hear, for an affordable price, classical music played by world class musicians.
François and Mare Nostrum Musicae also play with a variety of other orchestras and ensembles, both in the PO and elsewhere.
October will see the forth edition of the superb music festival, Automne Musical en Vallespir.
PROGRAMME October 2013
Friday 4th October
20h30 at Taillet in the church St Valentin:
Trio 'Syrto': accordion, clarinet and double base will play music from South America to the Balkans.
Saturday 5th October
20h30 at St Jean Pla de Corts in the Salle Polyvalente:
Quintet 'Mare Nostrum Musicae' with two soloists, F. M. Rignol (piano) and F. Ragot (cello), under the direction of Michel Peus, will play works by Puccini, Servais, Ocón, Falla, Séverac and Turina.
This concert is dedicated to Pablo Casals, and takes place in the presence of Fréderic Lodeon.
Sunday 6th October
17h30 at Vivès in the Salle Communale:
The saxophone ensemble 'Minima Distancia' of David Salleras playing works by Salleras and Piazzolla.
Saturday 12th October
20h30 at Maureillas in the church Saint-Etienne:
Quintet comprising soloists fro the Orchestre de Montpellier, playing works by Mozart, Martinu, Villa-Lobos, Connesson, Malipiero and C.P.E. Bach.
Friday 25th October
20h30 at Céret in the church Saint Pierre:
The ensemble 'Tutti Bassi' – 7 cellos and a double base with soprano Ulrike Van Cotthem, playing works by Morera, Stradella, Bellini, Piazzola, Vila-Lobos, J.S.Bach, Garcia, Bruch and R. Strauss.
Saturday 26th October
20h30 at Reynes in the church Sant Vincent:
The wind quintet 'Kafka' from Gerona, playing works by Mozart, Grieg, Ibert, Arnold, Ligeli and Fauré.
Sunday 27th October
17h30 at Le Boulou in the church Sainte Marie:
The 'Orchestre Carrefour des Arts' with the choir 'Amuvall 2013' and soloists from the 'Glorquestra de Girona'. Works by Mozart, Massenet, Saint-Saêns and Gounod.
Saturday 9th November
5 pm, in the church of N.D. des Anges in Collioure
The quintet 'Mare Nostrum Musicae' will accompany the Ensemble Madrigalis for Handel's Messiah under the baton of Maryse Tatangelo.
Information: 04 68 95 83 61 or 06 46 23 19 93
Sunday 24th November
5 pm in the Theatre Jean Piat in Canet en Roussillon
A concert with works by Mozart and Prokofiev.
Information: 06 12 11 28 29
Friday 29th November

12.15pm in the Carré de l'Archipel in Perpignan
A lunchtime concert 'Couleurs Hébraiques' for piano and cello.
Information: 04 68 62 62 00
Sunday 15th December
5 pm in the church of N.D. des Flots in Canet en Roussillon
A concert with the quintet 'Mare Nostrum Musicae' accompanied by the Choeur de Chambre de Perpignan under the direction of Didier Basdevant. French music from the 19th century (Saint-Saens, Massenet, Fauré, Franck).
Information: 04 68 53 10 00 or 04 68 55 09 92
Ticket prices are 15 € or 12€ for members of F.C.P.C
Further details will be found on: www.amuvall.org
Advance booking: tel. 06 99 88 90 43