P-O Life Arts Anthology
In times of crisis, we turn to the arts.
Picasso's Guernica, McCrae's In Flanders' Fields, even Newton's discovery of gravity… times of hardship give rise to great creativity and we're sure that our current situation is no different!
Each week during the Covid crisis, we published your artistic offerings based on a chosen theme.
This week we revisit some of those great pieces of art and poetry from readers during those troubled times, starting with Springtime.. Check out the previous themes of FREEDOM, WATER and COURAGE… they really are worth a look!
.Enjoy!
---
Terry Parker
Terry says: My wife suggested I do a pictorial wildlife diary to keep me out of her way during lockdown. Here are the last few weeks' offerings.
---

Ansua Dutta-Wystup
Ansua says : I love the idea of having flowers tower over me, much like a beetle (Kafkaesque or otherwise) or an ant. And nothing speaks more of the spring meadow and blue skies than a sea of daisies.
---
Another Spring by Caroline Papworth
Another Spring – 2011
When we could travel and the only worry was volcanic ash!
The engine roars, flaps rise,
our shadow shrinks
as we soar over rusty moors.
Instructions half heard: breathe normally
in the unlikely event of landing on water.
Our journey has begun.
Wispy clouds of spun gold float below
as we fly through unseen volcanic ash
and a thousand shades of blue paint the sky.
A sinuous river twists and ties itself in knots
as the trees beside its banks are replaced by vines.
A swallow, head gleaming blue,
swooping and diving seems to race the plane
as our shadow dashes to greet us.
Heat rushes at us through the open door:
Montpellier melts in the midday sun.
The hand brake found, the hire car pushes on
hugging the shoreline.
Past Cathar country, Narbonne and Perpignan we drive:
the Canigou, still iced with snow, shimmers.
At Céret cherries hang heavy in the orchards,
geckos hang from lamp posts catching flies,
and lizards bask in sun.
---

Graeme Frost
Grame says : It's Spring and this cockerel has only one thing on his mind!
---
Springtime by Daisy
We went to the river
We wanted to see if the fish
Would recognise us – 'cause we've been before.
I am 'Autumn' I whispered into the wind
And my friend here beside me
Her name is 'Summer' – remember last year?
Of course, you may wonder
What has happened to 'Winter'?
Well, she disappeared without saying good-bye.
A splash in the distance we both could not miss
As the trout jumped up high and embraced the blue sky.
"It's Springtime girls' – we've been waiting for this!
---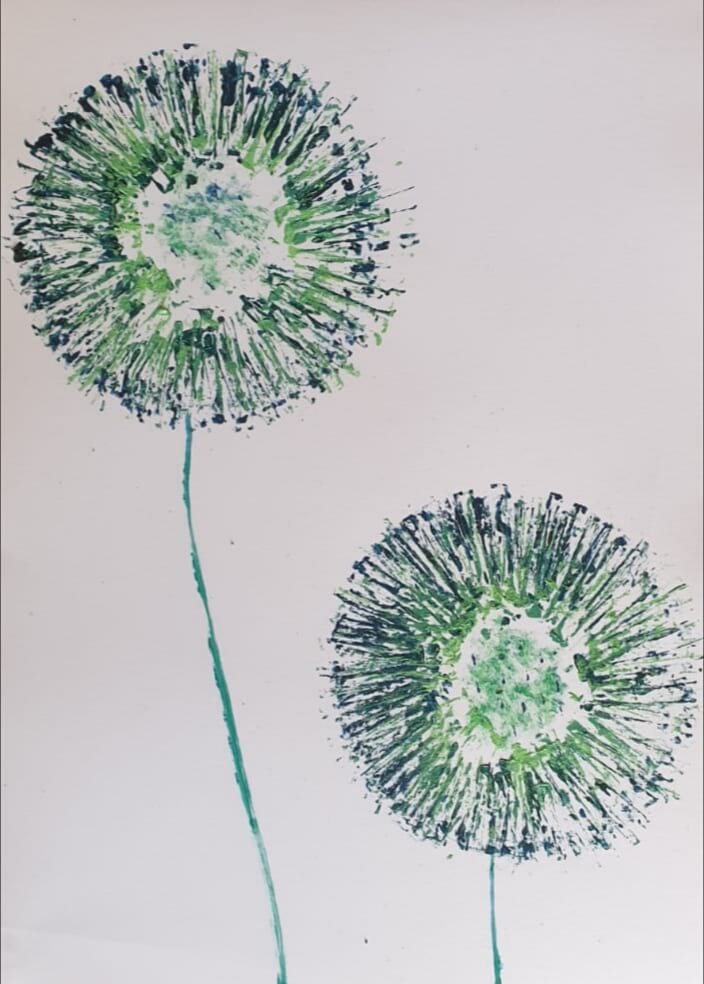 Nina Mclellan
Nina says : a rainy take on the springtime blooms.
---
All readers, whatever your medium or ability, are invited to send us your musings by email to laura@anglophone-direct.com, and they will be published in the following week's newsletter.
We're looking for poetry, drawings, paintings, short stories, sculptures, embroidery, music recordings or even face painting!!
The only rule is that the work must be YOUR OWN (if you prefer to remain anonymous, just let us know!)
Extra marks if your creation is P-O related, of course!
Let's keep the creative juices flowing, share a little beauty with our fellow readers and who knows, perhaps launch a budding career or two?!
So if you've been inspired by this week's collection, pick up your paint brush, get out the guitar and send over your work.