Local Author Margaret Cunningham
P-O Life readers are a mightily talented bunch. During lockdown, we celebrated professional visual artists, and amateur creators. Now we're delighted to share with you local word-smith, Margaret Kennedy, who writes under her maiden name, Cunningham.
"You have to dream before your dreams can come true."
If nothing else, Margaret is a dreamer – but not the realistic, goal-setting type. An atrocious student, she hated school, yet dreamt of fame & fortune.
Her resourcefulness helped her muddle through her 20s, marrying, divorcing, having 3 amazing kids and always managing to earn a living… though the dream of moving somewhere exotic and becoming a famous writer got parked.
After meeting Paul, the new couple's first holiday with Margaret's girls saw them visiting the P-O art haven: Collioure. As they drank coffee overlooking the famous bay, they agreed that one day this could be home!
Many years later, as the girls flew the nest, Margaret and Paul were ready for the next chapter. Jolted into action by a traumatic burglary, awake one night, Margaret said to Paul, 'Why don't we just go and live in France?' His simple answer: 'Yeah, why don't we?'
They did!

The books
Although her three novels were drafted during the family holidays to the region, the frenetic Dublin family lifestyle always prevented Margaret from completing them.
Taking the plunge and moving to the P-O, first to Joch (near Vinça) and then to Torreilles, Margaret was able to find the necessary head space to edit and finalise her works.
She's now pleased to present not one, not two but THREE fabulous novels.
Clouded Issues

16 DAYS Despite the volcanic eruption in Iceland in 2010 being moderate in size, the consequences were widely felt with international aviation coming to a virtual halt for a period of 16 days, disrupting the travel of approximately 10 million people.
7 LIVES In Dublin alone, there were 7 lives that would never be the same again. The suspension of air travel unwittingly exposed a plethora of lies, deceits and violence that could have gone undetected were it not for the world grinding to a halt.
1 ACT OF FATE These seemingly unconnected lives shared a common link that carry the reader through a series of events that ultimately bring about 1 act of fate – a tragic destiny born from exposed truths and murky pasts.
Read CLOUDED ISSUES to discover just what can happen when the truth is laid bare!
Buy it here.
Double or Quits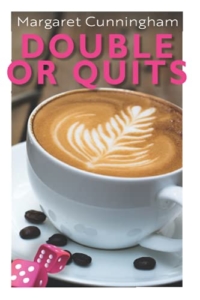 Could Jenny Clarke, at almost thirty years of age, have finally met the man of her dreams? It certainly seems that way, but Mike Scott has skeletons in his cupboard. Shortly into the marriage, cracks appear and her newfound happiness is threatened as she is thrown into a roller coaster existence of lies, deceit and loss.
Sarah Brennan is Jenny's happily married friend. She has three young daughters and a trouble free life, until her world is shattered when her beloved mother develops Alzheimer's. Her relationship with her father deepens as together they take her mother through this cruel illness.
Geoff Connolly is Jenny's boss and close friend. Without much thought as to what he stood to lose, he sleeps with a business associate and jeopardises all he has held sacred. Faced with losing his wife and family, he vows that if he is afforded a second chance, he will never take it all for granted again. But, will he get that chance?
Buy it here.
Metamorphosis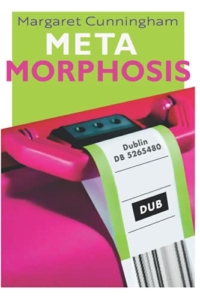 Two sisters whose lives undergo a total metamorphosis when a covenant to their father's will is made known to them six months after his death.
Grace is long suffering as a result of a difficult marriage. Her husband flees from the family home when confronted with concrete proof of his infidelities, leaving a devastated Grace to rebuild her life and that of her two teenage children.
Kate, her free spirited sister lives an alternative, bohemian life style with her like-minded husband and is fundamentally happy with life, apart from the vacuous hole created by their inability to have children.
The surprise covenant bequeaths them both a sum of money with strict guidelines as to how it must be used and an instruction to reconvene in the solicitor's office in twelve months' time to report back on progress.
Buy it here.
Future projects
Margaret is now working on a new series of novels, set in a fictional French village in this region, with a plethora of characters, both ex-pat and French, based on the many experiences she has had or heard about since moving here.
She's also working on some children's picture books, illustrated by her daughter.
Watch this space!