P-O Life Arts Anthology
In times of crisis, we turn to the arts.
Picasso's Guernica, McCrae's In Flanders' Fields, even Newton's discovery of gravity… times of hardship give rise to great creativity and the past weeks have been irrefutable proof of that!
Each week we have published YOUR artistic offerings based on a chosen theme : FREEDOM, WATER, COURAGE ,SPRINGTIME, MOUNTAINS, TRAVEL
Your talent, imagination and skill have blown us away and kept a smile on our faces at difficult times. We hope it has been the same for you!
We now find ourselves emerging back in to 'normal life', although the exact form this will take is still far from certain!
What is certain, though, is our good fortune at living with the fresh air and sunshine that our beautiful region is known for.
Now, more than ever, is the time to support local businesses, (re)discover local monuments and enjoy – whilst respecting social distancing and hygiene precautions, of course- the local landscape.
That's why, for this, our final Arts Anthology, we have asked you to share creations inspired by YOUR P-O LIFE.
We'd like to say a big merci to everyone who has contributed over the past 6 weeks, be sure to check out our bumper summer magazine when it comes out, we might be publishing your work!
Stay safe and stay in touch : the Arts Anthology may be over but we always love hearing from you!
---
Songe d'une nuit d'été à Collioure, by Caroline Papworth
(Inspired by being able to sit outside on a summer evening under the clear, usually starry skies while enjoying the rich and varied art and culture found in the PO. It is based around watching A Midsummer Night's Dream being performed outdoors in the chateau in Collioure several years go.)
On a dreamy summer's night,
twinkling stars, giants and dwarves red and white
illuminate the sky.
In the cobbled courtyard of a chateau haunted by its past
a star-studded cast illuminate an earthly stage,
breathing words by a bard from a bygone age.
As fairies dance and Puck casts his girdle around the earth
the audience suspends disbelief.
A shooting star streaks towards the earth:
trillions of years have elapsed since its birth.
The audience gasp and applaud as nature outperforms art,
and magic seems to rule the sky.
Dreams are made, stars are born and die.
Artists go and come as
science seeks to explain why
in the arrow of time
the afterglow of starlight
illuminates all.
---
Summer days, by Lynn Hall

Lynn says : This time it's a watercolour. Inspired by summer days on the beach at Le Racou.
---
Canigou to Calpe, by Hilda Cochrane
3.00 a.m. and nothing stirs, not even a mouse …. ah …. not true! John, myself and Bari the cat are on the move. The previous day and with sadness, we had said goodbye to our French life, to our friends, so a last farewell, and at 5.15 a.m. we are off with Bari in a cage on the back seat of Penelope-the-patient. Away we go, headlights shining through the darkness. Canigou, our mountain, is invisible and I am glad I can't see her. She has enthralled us for fifteen years; brown-green in summer, snowy-capped in winter. We know we will miss her!
I am a little perturbed with the prospect of this journey from the Catalan north to the south of Spain with a cat! For some weeks, acquaintances have forewarned us with wagging fingers of 'friends with tales' of 'cats-in-cars-woe', of fearsome non- stop yowling and scrabbling. This came in addition to the doomful forecast of 'holiday season' and traffic!
We sail along, no sound from 'the cage'. This continues well into Spain. Dawn comes with rosy fingers and we risk stopping for breakfast (which we eat in the car). Bari gives a semi-effort of complaint then mournfully sighs before settling back into silence! Barcelone proves a doddle. We zoom through, (perhaps not quite 'zoom', more 'chug') with only a few similar-minded travellers. Still no sound from 'the cage'. I am beginning to wonder if Bari is ill, keep checking his nose which is, indeed, warm.
Penelope-car trundles on …. or zooms if you like but she is nineteen years old …. so …. a cranky zoom at best! A bit of traffic appears on the motorway as we pass Valencia, then becomes a steady stream towards Alicante. At 12.30 p.m. we arrive at Calpe (now Calp) and our new home; the long drive is over and not a sound from Bari …. never did he become the travelling cat from hell!
He and ourselves are safely installed in a temporary guest apartment and Bari is let out of his cage. This moment, too, came with dire warnings from friends in Catalan France and I wait for Bari to go 'ape'! He doesn't! He finds the darkest corner, in the darkest bedroom, under the darkest bed and stays put for two days!
---
Mosquitos
It wouldn't be fair if we got it all good, all the time. Mosquitos help to level the playing field with other regions 😉
***
A P-O mosquito called Bert
Honed his sting til it stood up quite pert
Then he dived for the kill
and drunk blood to his fill
After rolling with glee in the dirt!
***
The mosquitoes in the PO
Give bites that just grow and grow.
They start small and white
But by the end of the night
They're large, red, itchy and glow.
***
The buzz, and itch of the bite
Disturbed me all through the night.
So I hid in the fridge
To escape from the midge
And gave my wife one hell of a fright!
***
Kept awake half the night by the hum
Then next day wasn't much fun.
Pushed earplugs right in
Which cut out the din
But still got a bite on the bum.
***
Kept awake half the night by the buzz
I awoke the next day in a fuzz.
I heard that some cheese
Solves the problem with ease.
I don't know quite how, but it does.
---
Train jaune, by Bridget Rook-Waterhouse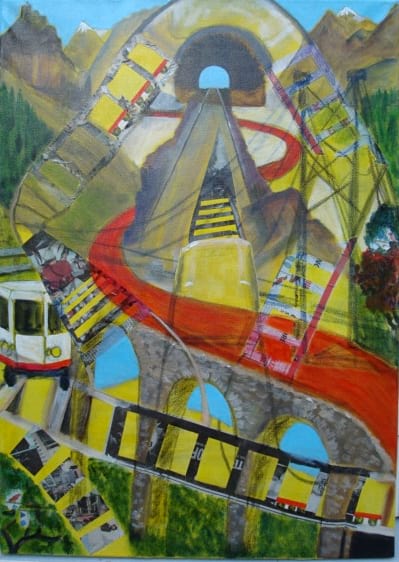 ---
Towns and villages
A popular girl from La Jonq
Stopped work after her 50th bonk.
She walked round the town
Cos she couldn't sit down
Til numbed by a litre of plonk.
***
There was a young man from
Canet
who when peeing had tendance to spray
He was much in demand
For a walk in the sand
to soothe jelly fish stinging away
***
There was a young woman from
Elne
Who swallowed some pips from a mel'n
When asked "does it hurt?"
She unbuttoned her shirt
and displayed a large tum with a bell on!!
---
You got your reasons, I got my walls, by Irena Gapkovska

Irena says: I got the inspiration while looking at the patterns of the walls on rue des Fabriqués Couvertes in the historic centre of Perpignan.
---
A taste of la vie française, by Daisy
The Hotel was buzzing. The evening before, on her arrival, Louise had been too tired to notice anything of her surroundings. She just managed to complete the visitor form, grab her room key and with only a perfunctory bathroom routine, fell into bed and was instantly asleep.
A noise early in the morning startled her out of her deep slumber. She leapt out of bed and gingerly opened one pair of windows, then carefully prised open the shutters to investigate. Immediately a cacophony of voices, clattering of tables and chairs intermingled with music from the adjacent bar, rose towards her.
She realised it had been the early market activities which had woken her rather harshly. To her astonishment and delight she discovered that the sun was already bright and welcoming. Louise marvelled at the spectacle of colourful stalls right outside the hotel entrance and greedily breathed in the wonderful perfumes emanating from beneath her window.
She dressed hurriedly. Found her way to the tiny breakfast room and was grateful for the very welcome cup of coffee which promptly arrived at her table, thanks to the efficient waitress service. She would have a good look around the market, she promised herself. But first, she would enquire at reception about what to do and where to go in town. Louise rummaged in her handbag for some paper and pencil and approached the girl behind her desk.
Luckily for her, the receptionist spoke some English, albeit not in a conventional way. A tall, sun-tanned Frenchman standing nearby overheard the somewhat confused exchange and offered his assistance. Louise gratefully accepted his intervention and wrote down carefully all the relevant information given to her with the help of this stranger. Then, to her surprise, the charming Frenchman told her that he and his mother – no longer as young as she would like to be, he smiled – were regular visitors to the area and in particular this town and this hotel.
Louise turned round and saw a still beautiful woman standing behind him, dressed in a stylish and colour coordinated outfit of pink and grey, embellished with a charmingly arranged Hermes scarf. She nodded at Louise sympathetically. Both mother and son were about to go for a little reconnaissance and realising that Louise was new to this part of France, invited her, in his impeccable English along, if she so wished. She felt honoured and immediately decided to attend to the market at a later stage and happily agreed to their kind offer.
The morning was already warm. The real heat would be later when they had returned from their outing and needed to stay behind cooling shutters, Pierre, her newly acquired "friend", told her. He guided both women to his silver Peugeot for a short drive to Château Pico which was holding a special art exhibition at the moment. Both he and his mother were great art lovers and came to the P-O region at least twice a year to visit the art exhibitions of Collioure, Perpignan and Céret.
On the way to the Château, they passed carefully manicured vineyards and Pierre explained to Louise why the vines were grown the way they were. He explained about the history of the region, pointed out the massive contours of Mount Canigou, which could be seen from practically any angle in the region. At some point, much to Louise's horror, she saw Pierre take what she thought was the wrong way round a roundabout, only to realise just in time that she had forgotten where she was.
Pierre, as a typical Frenchman, soon arrived at the subject of food, and fish in particular. Asked Louise if fish was an important food in England and did she like to eat it? "Well, I'm a little conservative as far as fish is concerned," she answered. "Whilst you are here you must try some of our wonderful dorade dishes," Pierre suggested, seemingly in a world of his own now and not expecting a reply from Louise. "Ah, what joy," he continued, "I can smell and taste the Mediterranean as I speak. The wonderful flavour of tuna captured just off the coast at Port Vendres, the rouget (red mullet) and espadon (swordfish) prepared to perfection in local restaurants."
Pierre briefly turned towards his mother who, sitting at the front of the car, had not even attempted to join the conversation, knowing it would be difficult for Louise to hear and understand her from where she was sitting. She listened to mother and son discussing the merits of this or that fish dish, understood a bit and was dazed by a profusion of words like 'adorable', 'haute cuisine' and 'sublime'.
Finally, at the end of a most magnificent avenue of palm trees, an enormous courtyard opened to display the full grandeur of Château Pico. A truly imposing building straight from the pages of a Hans Christian Anderson story. In the sunlight its slate roof tiles added an air of mystery. Its turrets reached skywards, sombre and graceful…..
It was the start of a very special day.
---
Casot Catalan, by Bridget Rook-Waterhouse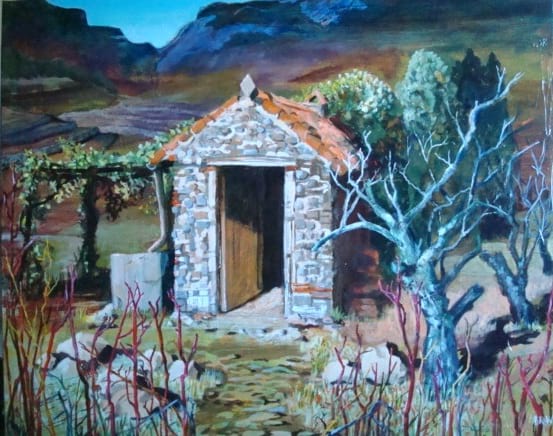 ---
And finally, an ode to Kate; the brains, heart and soul behind P-O Life…
Twinkling eyes Smiley face
Empty chair In her place
No one else Could fill the space
How I miss That smiley face
Bubbly laugh Smiley face
Comments always Made with grace
Never tries to Force our pace
She'll be back With her smiley face