Festival du Tropique, Elne
---
14th September 2019

-

15th September 2019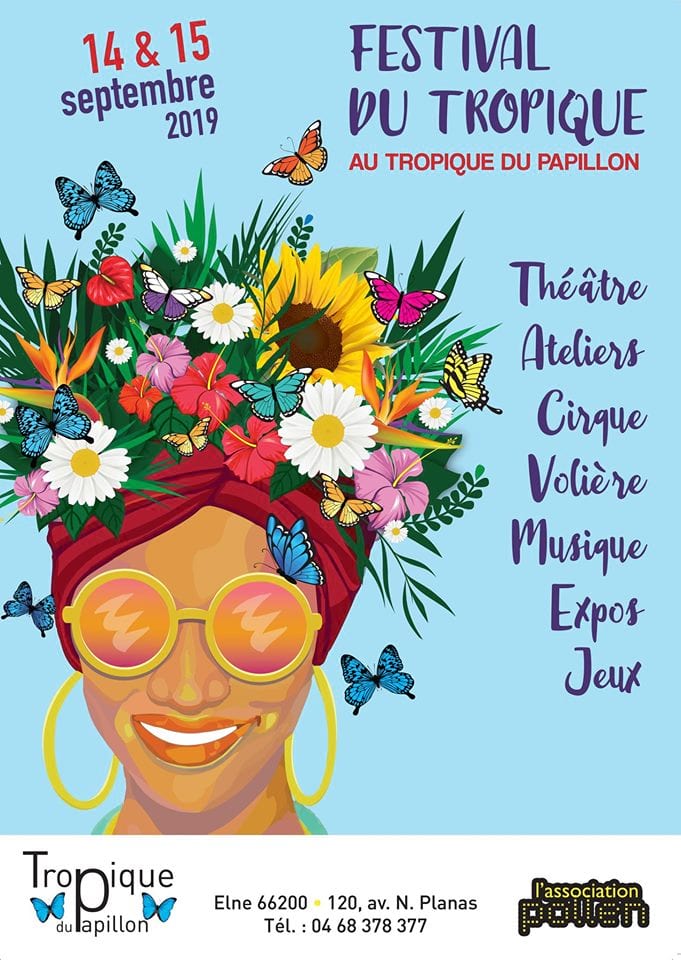 A relaxing and magical place, with murmuring fountains, greenhouse garden of bananas, lotus and hibiscus and the magnificent colours of the softly fluttering butterflies all around you – the Tropique du Papillon in Elne is a gentle oasis of peace and beauty.
Each year, this extraordinary environment hosts a weekend bursting with fun for the whole family: the Festival du Tropique.
theatre performances
circus workshops
games
guided tours
live music
and much, much more…!
Here's how it looked last year…
Prices
Adult day pass 12€
Child 3 – 12 years day pass 7€
Adult weekend pass 20€
Child 3 -12 years weekend pass 10€
Saturday evening pass 10€
4€ is bought in conjuction with day/weekend pass
Gérard Roussel Exhibition
In the lead up to the festival, the Tropique du Papillon is proud to launch an exciting new project: a garden dedicated to ecological art.
The first exhibition is that of Gérard Roussel, a talented sculptor but also a keen garden lover and passionate about the history of the Bishnoïs people.
Since the 15th century, this community in Rajasthan, northwest India, has turned respect for the lives of all living beings in to their religion. They are considered to be the first ecologists in the history of humanity.
Daily hygiene, language, food, compassion, forgiveness, the status of women and environmental protection are among the 29 fundamental truths that have been meticulously followed for centuries.
Gérard Roussel, in his latest work, pays tribute to the Bishnoïs and more particularly to a key event in their history: the murder, in the 18th century, of 363 people who came to protect the trees from the soldiers of Maharadja Ajit Singh. Surrounding the trees to prevent their felling, they sacrificed their lives in an attempt to prevent deforestation.
The Tropique du Papillon is proud to host this exhibition and invites you to join them at 6.30pm on Friday 6th September for the opening.
They are also keen to find other, environmentally-engaged artists for subsequent exhibitions. If you are, or know of anyone, who could fit the bill, be sure to get in touch!