THE INCREDIBLE DRUM SHOW
---
28th June 2016 at 20h25

-

22h30
Event Navigation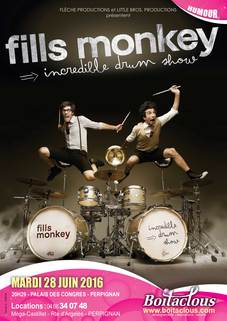 FILLS MONKEY: THE INCREDIBLE DRUM SHOW
…..a must-see show for drum fans
The Fills Monkey show is a unique blend of technique, poetry, juggling, mime and humour.
Energy, talent…. Sébastien Rambaud and Yann Coste, are drumming extraordinaires.
a must-see show for drum fans!!A combination of comic slapstick and perfectly performed drumming duets with skilful incorporation of props, from ping pong bats to lightsabers, bubbles, head torches, a chainsaw, tennis balls and exciting lighting, this is a show that has everybody's feet tapping, young, old or in the middle.

Hilarious and completely crazy, if you're looking for something a little different and very lively, this is the show for you!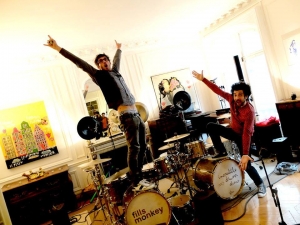 Sébastien Rambaud and Yann Coste first got together in 2005 when performing a demo act at a commercial fair. They decided to have a go at mixing technique with humour and fantasy and started online in 2010.
Their quirky videos were soon spotted', leading to them working with stage director 'Gil Galliot, whose extensive experience brought structure and direction to the show.
Six months later they sold out at Trianon, Paris.
After an appearance at the 'Avignon Fringe Festival', Le Parisien's review concluded with the words "If you only see one show in your life, see this one"