WALK THE REGION WITH LYN AND ARTHUR SAVILLE
---
Cassanyes to Belesta Circular

This is a lovely walk, which takes about 31/2hours including lunch break (take a picnic) and an occasional pipi break! (pause pipi sauvage)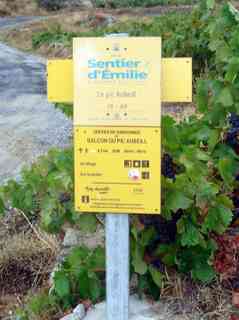 ☤ Drive to Cassagnes and park by the cemetery.
☤ Cross the road, turn right and follow yellow sign 'Balcon du Pic Aubeill'. The gravelled track goes uphill fairly steeply. At a notice saying Piste F134 keep right.
☤ Shortly after this the track continues uphill, but you take the left turn and follow it snaking uphill until you come to a T-Junction of tracks with a sign. This has an arrow pointing left saying Balcon du Pic Aubeill and an arrow showing Cassagnes 1.7 kilometres (POINT A) turn right.
☤After about 5 minutes you come to another sign, which has an arrow on it pointing right for Belesta 1 hr 15 minutes, or left to climb to the summit of Pic Aubeill 10 minutes (POINT B). Take a left here and go down a narrow fairly steep path. At this point we had been walking about an hour.
☤ Eventually the path flattens out and becomes wider, you pass the ruins of St Bartholomew's Chapel on your left. There are lots of yellow horizontal marks to follow at this point and lovely views left down towards the Barrage de Agly.
☤ Turn left by a sign saying 'A Travers Les Ages' 'Boucle du Pic Aubeill ' 'Dolmen'. Subsequently you pass round a superbly preserved Dolmen ( or perhaps its been restored). You pass a hippie encampment (although we have never seen anybody there) then go steeply downhill on a stony, rocky path at the bottom turn left at a sign saying- 'Belesta 350m' 'Boucle du Pic Aubeill'.
☤ Shortly after this you enter the village of Belesta following the horizontal paint marks passing the now derelict Cave Co-op on your left and turn right along the D21 Chemin De Pic Aubeill, go left steeply downhill passed the post office. You will come to a children's play area and picnic tables on your left. This is a good spot to have your picnic lunch. We got here about 2 hours after starting the walk.
☤ Continue down hill along the road and at the bottom go sharp right up a track away from the village.
☤ Ignoring all lefts and rights continue to a t junction of tracks which shows a left turn, the track winds about eventually coming to a road which you cross and turn left, then turn right uphill where there is a sign which says 'Travers Les Ages' 'Boucle du Pic Aubeill'.
☤ Continue uphill with views of Belesta accompanying you to your left for part of the way. As that disappears you will see below you again to your left the ruined chapel you passed on the way down. Eventually the track meets POINT B again where you can, if the mood grabs you, turn uphill to climb the Pic Aubeill (it didn't grab us!) Otherwise continue along the track ahead until you return to POINT A.
☤ Here you have a choice. You can either turn right and go down the way you originally came up, this will take about an hour back to your transport, or you can turn left where it says Cassagnes 1.7 kilometres a bit steeper but only 25 minutes.
We wimped out and took the quick way back. A lovely walk, well worth doing.