Another world, underground!
Situated in the heart of the Catalan sanctuary, 300m from the medieval fortress town of Villefranche-de-Conflent, discover the magic of the UNESCO classified world heritage site: La Grotte des Canalettes.
This network of spectacular caves leads visitors deep into the heart of the Massif du Canigou mountain range, following a qualified guide along specially adapted bridges and walkways.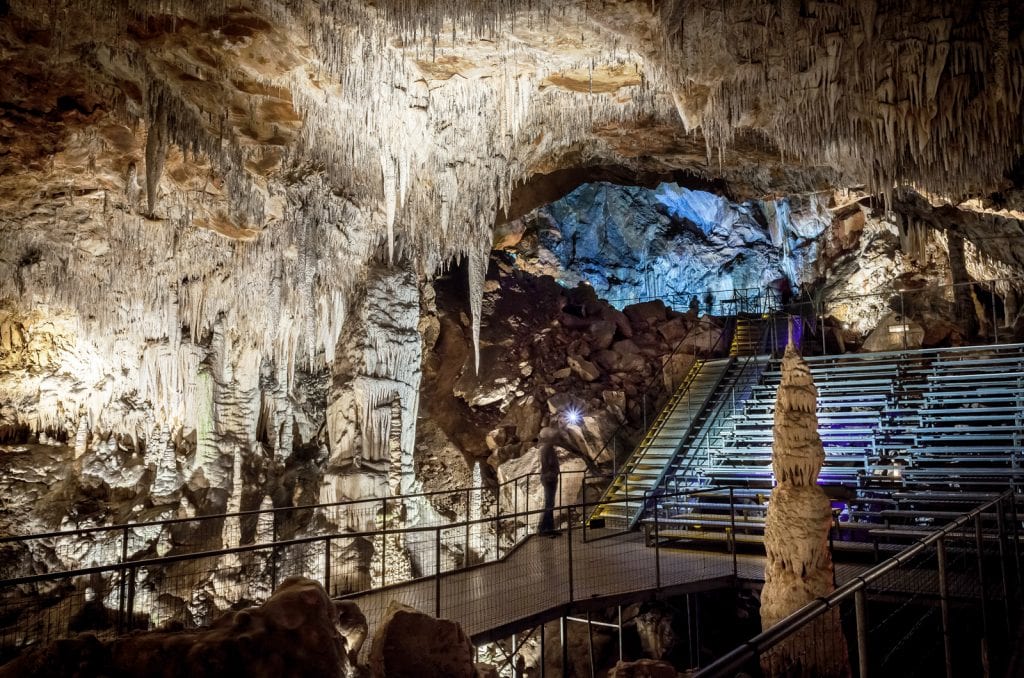 Narrow and imposing tunnels afford close up views of the unique geology of our region, while vast, open spaces invite contemplation and wonder of the spectacular forms and colours created by the force of Nature.
Opened in 1954 by the Castillo family, these fascinating caves have been formed naturally by erosion from water trickling down through the rock and turning into underground rivers that have hewn passages, sculpted walls and created vast chambers.
The chambers contain wonderful stalagmites, stalactites and coloured pillars of mineral rock. Each cave is named according to the shapes of its stalagmites and stalactites, such as La Sagrada Familia, after Gaudi's famous architecture in Barcelona.
Absolutely fascinating and beautiful – but not for the claustrophobic even though the trail is wide and high!
There is a constant temperature of 14° – worth taking an extra 'woollie' if you get chilly easily.
Riverside picnic area, bar and shop on site. Open for the school holiday in February, then open for the season in from April onwards.
In July and August, each day will end with a sound and light display, showcasing the very best of the underground cathedral, highlighting the colours of the minerals, to the accompaniment of Strauss, Bach, Casals and Pavarotti.
Tarriffs
Adults 11€
Children (6 – 12) 6€
Under 6 FREE
*GET 1€ OFF YOUR TICKET ON PRESENTATION OF P-O LIFE!