La Route des Catalans
It's June 2010. A group of Catalan friends sit on a bench in Pollestres. "How many communes are there in the P-O and who knows their names?" asks one. Much chin stroking, 'bof' and 'ben' later, the conclusion is unanimous. Nobody knows!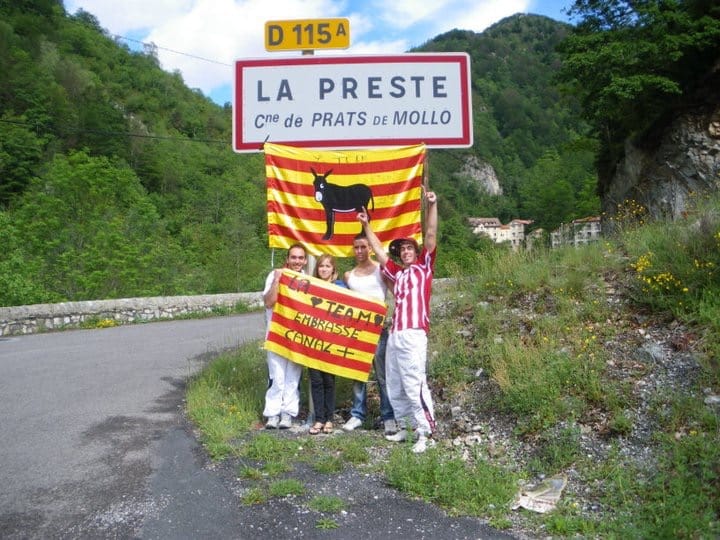 The gauntlet is thrown, the challenge is accepted; the beginnings of an adventure taking Melinda, Lionel, Richard and Mickaël to every corner of the Pyrénées-Orientales, the aim to be photographed in front of every town, village and hamlet sign.
And so the story of P.O Express began ….
In the Vallespir, the first photo was taken in front of La Preste near Prats de Mollo. So far so good. A few hours and villages later, in Lamanère, the most southerly village in France, they realised that there was much more to each commune that just a name, that each village was full of its own, little known history and heritage.
Eight more days out followed, culminating in a 4-day Mountain Trek to complete the loop of the Vallespir villages.
And this was just the beginning. Caught by the bug, they went on to visit all 12 regions (Albères, Cote Vermeille, Aspres, Vallespir, Plaine du Roussillon, Salanque, Corbières, Fenouillèdes, Ribéral, Conflent, Cerdagne, Capcir), covering the 226 communes of the P-O département. Next, they intend to get up close and personal with the many peaks and passes of the region.
Did you know that Eyne is the highest resort in France, Le Lanoux the largest lake in the Pyrenees, St Leocadie the highest vine in Europe (St Leocadie), and Mont Louis the highest fortified city in France?
Catch it all and much more by following their amateur video reports on www.poexpress-laroutedescatalans.com.
.