REVIEWED IN AUGUST 2012
LE CÉDRAT

JOACASINO, LE BOULOU
by John Fairclough
In one of his French themed books, the humorous travel writer, Stephen Clarke tells of fixing a first date with one of his many new girlfriends, on her suggestion, at "The Casino".
Excited at the prospect of an evening of glamour by the roulette wheel, appropriately booted and suited, imagine his dismay when it turns out that their final destination is the café of the supermarket of the same name in some dismal suburb of Nantes.
No such problem here in Le Boulou. The Casino on the main D900 Le Boulou to Le Perthus road, in common with many of the region's gambling establishments, has been incorporated into the JoaCasino chain.
Fortunately, this is a group that prides itself on the quality of its catering.
Recent chefs have been members of the Toque Blanche decoration. The most recent is due to retire, and his replacement, keen young Wesley Durand, is a graduate of the celebrated Paul Bocuse School in Lyon and the winner of the 'Jeune Talents' award. He brings a modern flair and freshness to his creations.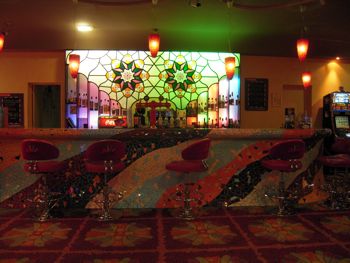 As one would expect in a casino, the surroundings are comfortable and plush, recently renovated, with an interior inspired by Catalan architect, Gaudi.
A little apart from the hubbub of the slot machines and gaming tables, the food area is well appointed, with a choice of a sheltered outside terrace or a spacious, air-conditioned, dining room.
The kitchen is open from Wed lunch to Sun eve inclusive. At lunchtimes Wed to Sat, a large buffet with both hot and cold dishes is offered at a very reasonable 14€ whilst Sunday Lunches are a gourmet 28€ 4 course affair.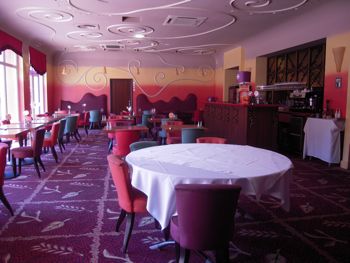 The entry level is the 14€ menu du jour.
Three courses, no choice and changed every day.
On this occasion it consisted of a starter of tartine catalane, elegantly presented and decorated with anchovies, a main of strips of marinated chicken, grilled and served with a light barbecue sauce with small fresh local veg, followed by a home made creamy flaky pastry gateau.
You can upgrade, as we did, to the Decouverte menu at 18€, basically the menu du jour, but with extra choices added in.
Currently, this consists of a delicious cold melon soup or a mixed Roussillon salad as starters, followed by an excellent fish tian gratineed with parmesan cheese, or traditional Catalan dish, boles de picoulat, home made and by some distance the best I've tasted.
Dessert introduced more of the chef's fancy and tasty creations, or a plate of local cheeses for those with no sweet tooth.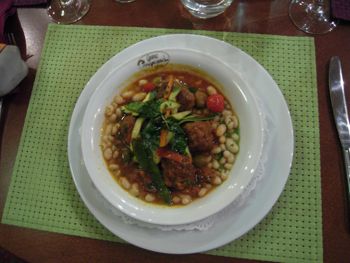 There is also the Gourmet menu at 28€ for special occasions.
Ever keen to impress, Wesley provided us with a few select nibbles from this menu, including a superb foie gras with apricot chutney, and pieces of his succulent home-smoked salmon.
Mains include a trio of locally caught fish, and fillet of beef. Of course all the dishes, plus a few more are available as an à la Carte option, but I'd certainly recommend sticking to one of the menus for value for money.
Wines are plentiful. Though not publicised, there is a pichet wine from the Le Boulou co-op at 4€50 per 50cl.
Also good value is the JoaCasino house wine. Red, white or rosé vin de Pays d'Oc at 13€ a bottle, all good quality.
The fairly extensive list of wines from all over the French regions include some rare vintages, at prices that are commensurate with the surroundings. In general, outside that, drinks prices are average for the area.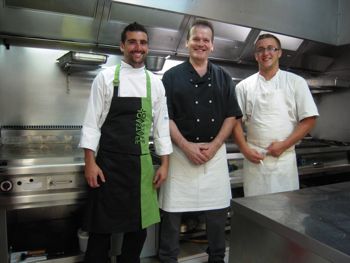 Service is prompt, efficient and very friendly. Wesley takes the trouble to come out to chat with diners and oversee the service of his food, in which he clearly takes great pride and enthusiasm.
Several of the waiting staff speak pretty good English.
Interestingly, and to their immense credit, although this is first and foremost a gambling house, there is no Las Vegas style hard-sell to diners to partake of visits to the bewildering array of slot machines or gaming tables.
Of course it is there, and a brief round of Roulette (either English or French!), Blackjack, or Poker could be a fun way to round off your meal should you so wish. Or not.
One important point to remember is that to gain entry to the Casino and Restaurant you will need to show some form of ID.
Either a French ID card or a passport will suffice, but they are very strict on this…no ID = no entry. Children under 18 can therefore not eat in the restaurant.
All in all, for an evening out with a difference, and a little glamour thrown in for good measure, coupled with an excellent meal produced by an up and coming young chef, the JoaCasino in Le Boulou is a welcome option for locals and tourists alike.
Further info on www.joa-casino.com.
Tel 04 68 83 01 20 .
Reservations, though not necessary, would be sensible at busy times.