Restaurant Review Autumn 2014
With Kate and Mates
I am no gourmet 'foodie' but I know what I like. Fresh, tasty food, good and friendly service, clean cutlery, crockery and loos, and prices that don't send me into shock compared to the quality of the meal. The following reviews are not adverts, they are just restaurants that I have enjoyed, or that friends have recommended. Bon appétit.
MED…….
La Bartavelle, Argelès village…..
with Kate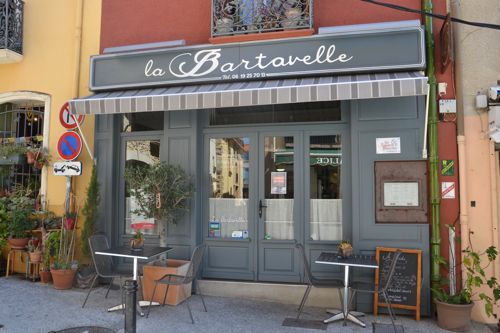 Situated in the narrow Rue de la Republique opposite the church in Argelès village, La Bartavelle really is all about the food. Small on covers, but BIG on taste and quality, the presence of several locals who clearly make eating here a regular date, pretty much speaks for itself.
In the open kitchen, talented chef, Thibault, can be seen creating original dishes using only fresh, local ingredients, whilst partner, English-speaking Stéphanie, manages front of house with warmth and discretion.
There is just one lunchtime menu (15€ for 2 courses and 19€ for 3 courses), with no choice of dishes – but the menu changes daily, alternating between fish and meat, and they are happy to make up something else if there is really nothing to suit on that day. Ring in advance, and they will also prepare veggie options.
We started with an absolutely delicious creamy reduction of lobster bisque, followed by filet mignon of pork with lemon thym reduction, mange tout and haricots verts. I'm not a trifle gal, but the 'trifle' on this menu was like one I've never had before, with crunchy white chocolate crumble, stewed apricots (giving an astonishing fresh ginger taste) and rosemary whipped cream, topped off with strawberry and ice cream on a stick! This leapt right to the top of my favourite all time desserts list.
Food is beautifully presented, 'nouvelle cuisine' style, but we found the lunch time portions spot on for two hungry ladies-who-lunch.
A strong, local wine list had been picked with care, but the reasonably priced 'vin maison', from Mas Christine between Argelès and Collioure, changed regularly, was just what the doctor ordered, and we looked no further.
Evening menus are from 28€ to 37€, with more choice, including dishes such as 'stuffed squid with pork as a tournedos and mussel cream' or 'roasted lamb loin on vine shoots'.
There's no outside space for those who enjoy dining al fresco, but the interior is cool and pleasant. One of the 'must visit' small restaurants of the P-O in my opinion.
24 Rue de la Republique,
Argeles-sur-Mer
06 19 25 70 13
…..AND MOUNTAIN
Le Point d'Art, Montbolo……
with Andrew and Emma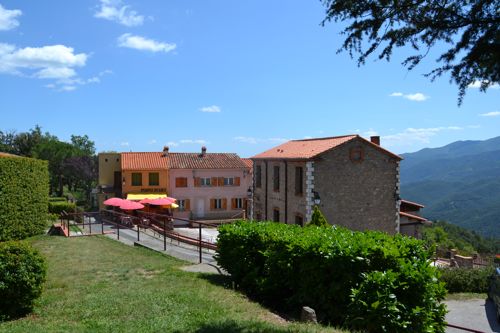 A fairly short but winding uphill drive from Amélie-les-Bains brings you to this restaurant with stunning views up the Vallespir and down to the sea, in a picture postcard hamlet. Well worth the journey, you will not be disappointed with Le Point d'Art.
Cosy but charming little restaurant with 20 covers inside and nearly as many outside, and run by Florence, (Catalan with perfect English) with husband Peter (English) in the kitchen. On a Tuesday lunchtime, we were surprised to find it full and were glad we had booked.
We had the 19€50 menu with a choice of 3 starters, mains and deserts. The cheaper 16€ menu looked tempting too, but had only one item per course. Many dishes are proudly labelled Catalan.
The starter of Serrano Vieille Reserve with melon was tasty and refreshing, and the baked figs wrapped in ham and topped with blue cheese were lovely too. For mains we had Filet Mignon of pork topped with goats cheese and chorizo, and a tender piece of lamb cooked in 9 spices – all beautifully presented with courgettes and chips. The third choice was fillets of Rouget cooked with ginger and Kaffir lime.
The desserts were glace, fromage or Dessert Maison – today a tasty roulade with cream and Banyuls inside.
Surprising to find such quality cuisine in such a small out-of-the-way place. Very good food and lovely ambiance. Do give it a try.
Closed Sunday evening and all day Monday.
8 Rue de L'Eglise, 66110 Montbolo
04 68 82 58 63
pointdart@montbolo.cat
…..AND SOMEWHERE IN BETWEEN!
La Salamandre, Sorède…..
with Leigh and Merry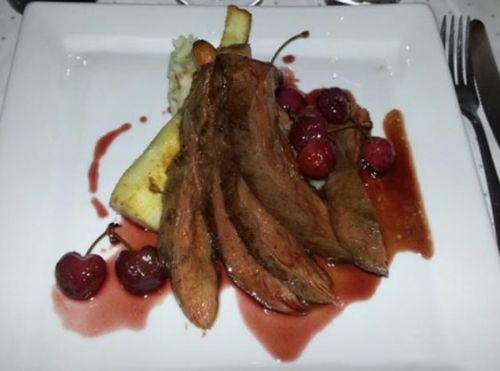 Our favourite place to eat is in Sorède, La Salamandre is a friendly, family restaurant, displaying some quirky local art.
Chef, Anthony Arnould, can be seen working in the kitchen, while English speaking wife Valérie greets you warmly Their Facebook page lets you know of any special soirées, and I think my google translation of their style captures it well:
"Hybrid, tasty, subtle, this kitchen all at once surprising and explosive enchant all gourmets."
We are always tempted with the 3 courses for 28€, but you can settle for 2 courses for 24€. There are 6 choices for starters, 10 choices for mains (fish, meat or veggie) and 7 choices for desserts. The starter of Flan de Saint Jacques, coulis de langoustines (supplement 4€) is a favourite as it is light and so full of flavour. We also tried the tomates anciennes cottage cheese starter which was delicious. For mains I had the Pluma de porc Ibérique, poivre vert de Madagascar. This is a loin cut from a special type of pig, related to a wild boar from Spain. It was so tasty and tender. My husband had the Magret de canard poivre long, served with tangy mango. Many of their main courses are served with an interesting selection of vegetables and their own creamy quinoa recipe. Delightful! It is refreshing to come across some new dishes that are beautifully presented but still tasty and satisfying. The dessert selection always provides a difficult choice with fruity, creamy, chocolaty or cheese options all covered.
It is nice that they show case very local wines, including two of our favourite family-run vineyards, Domaine du Mas Rous at Montesquieu and Deprade-Jorda at Argelès-sur-Mer. Both of these are worth a visit to their cave for a friendly tasting session. (Domaine du Mas Rous, 66740 Montesqieu des Albères and Cave Domaine Deprade-Jorda 98 route Nationale 114, 66700 Argelès-sur-Mer)
3 route de Laroque
Sorède
Tel, 04 6889 2667